Profile of Rupani, Nitin Patel and all ministers who took oath today
December 26, 2017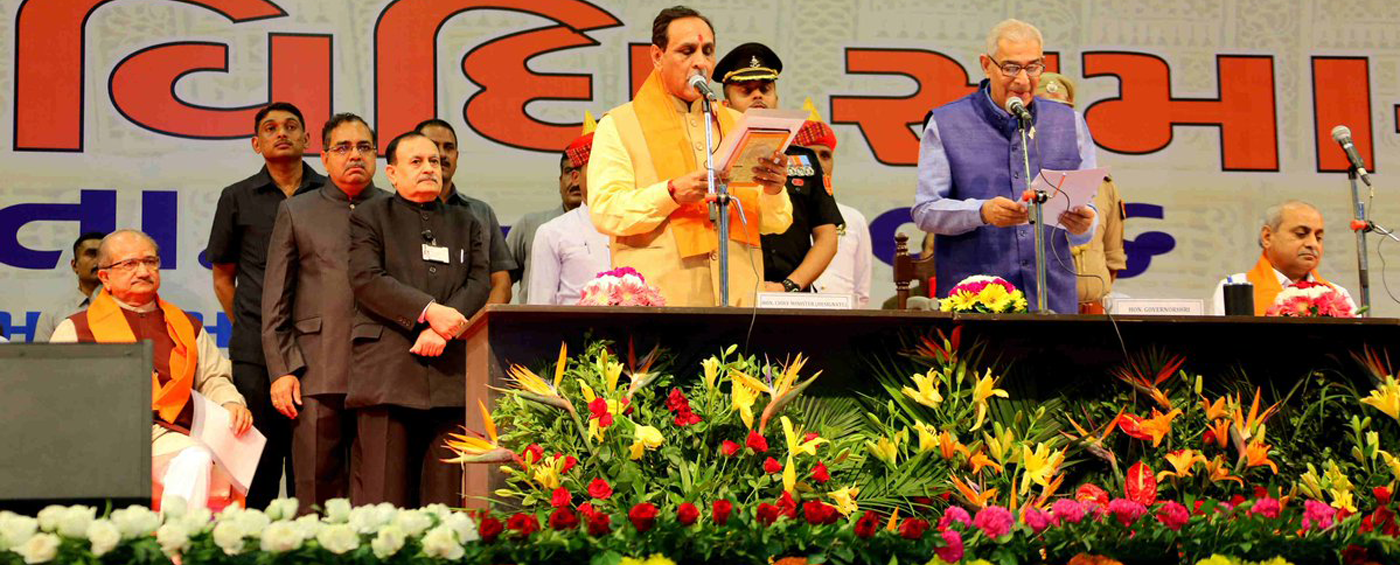 Gandhinagar: Embedded here is PDF document containing profiles of Chief Minister Vijay Rupani, Deputy Chief Minister Nitin Patel and all Cabinet ministers and Minister of State who took oath today in Gandhinagar Sachivalaya ground.
Mr. Vijaybhai Ramniklal Rupani
The new incumbent Chief Minister of Gujarat since 07-8-2016, is really a true and polished courteous political personality. He was born on 2nd August of 1956 in a Jain family in Burma (Ragoon city), but the nurturing of his childhood and construction of his qualitative career, took place at Rajkot.
He actively joined the people's movement during the emergency and was jailed for a year in the prisons at Bhuj and Bhavnagar at a very tender age under the "MISA" law in 1976. He stepped on the scenario of BJP only at the age of 24 years. His journey, from here on, started getting momentum as a Corporator in 1987. Later, he became mayor of Rajkot city.
During 2006 to 2012 he was elected to Rajya Sabha and performed his duties as an MP well. Mr. Rupani got elected as MLA from Rajkot-69 constituency, which proved his efficiency of knowing the tendency of local mass. He took charge as the Minister for Transport and water supply, labour and employment department.
On 19th February 2016, Mr. Rupani was appointed as party President, for Gujarat's Bharitya Janata Party. He took oath as the Chief Minister of Gujarat State at Mahatma Mandir, Gandhinagar on 07 August 2016. Mr. Rupani declared that his Government will be active mainly on the following four principles – Transparent Government, Sensitive Government, Decisive Government, and Progressive Government.
Mr. Rupani won the Rajkot (West) assembly seat with huge margin of 54,000 votes proving him to be the popular leader of the people of Gujarat. The leadership and guidance of Mr. Rupani played a major part in getting BJP, a majority in the State assembly. Hence, the BJP legislative party once again put faith in his leadership and on 22nd December-2017 he was re-elected as the leader of ruling party that is Chief Minister of the State.
Deputy Chief Minister Mr. Nitinbhai Patel
The Deputy Chief Minister Mr. Nitinbhai Patel elected from Mehsana Assembly constituency No.25 was born on June 22, 1956. He is a commerce graduate and runs cotton ginning and oil industry.
He is getting elected to the State Assembly since 1990. He was a member of Public Undertakings and Estimate Committees during 1998-2002; Health Minister from March 19 to October 20, 1995; Agriculture Minister from March 31, 1998; Small & Medium Irrigation Projects and Roads & Buildings Minister from May 16, 1998 to October 7, 2001 with additional charge of Revenue Minister from October 7, 2001 to December 22, 2002; Urban Development, Water Supply and Resources Minister from 2007-2012; Finance, Health & Medical Education from 2012; Health and Roads & Building Minister in the Anandiben Patel Ministry up to 2014 and subsequently Deputy Chief Minister in the previous Vijaybhai Rupani Ministry from August 2016 onwards.
Mr. Patel was a Member of Kadi Nagarpalika for 20 years and also it's President. He is associated with a number of educational and other organizations.
Cabinet Ministers:
1) Mr.R.C Faldu
Cabinet Minister Mr.R.C Faldu was born on 7 th August, 1957 in Kalavad, Jamnagar. He
was associated with various projects related to agriculture from 1998-2002 in the 10 th
General Assembly of the state and was re-elected for the next term as the State President
of BJP.
2) Mr.Bhupendrasinh Manubha Chudasama
Mr.Bhupendrasinh Chudasama was born on 8 th May 1950. He represents the constituency
of Dholka and has been associated with affairs related to education and law. He had been
taking care of education, law and justice, public welfare and customer grievances,
panchayat and rural housing and development since 2012 before becoming a Cabinet
Minister in the Rupani Government since August 2016.
3) Mr.Kaushik Jamnadas Patel
Mr.Kaushik Jamnadas Patel was born in Ahmedabad on 20 th September, 1954. He started
his political career as a Municipal Councilor of the Khanpur Ward of Ahmedbad in the
year 1989 and got elected as the MLA of Khanpur in 1990 for the first time. He has been
elected as an MLA five times i.e in the year 1990, 1995, 1999, 2002 and 2017.He has
been elected from the Naranpura Constituency in Ahmedabad for the 14 th General
Assembly.
4) Mr.Saurabh Patel
Mr.Saurabh Patel hails from the Botad constituency and was born on 28 th August, 1958.
Having completed his M.B.A from USA, he hails from a business background. He was
elected in the 10 th General Assembly in the year 1998. He has had a wide range of
experience in administrative matters in the state due to a diverse range of portfolios such
as Minister of Energy, Protocol, Finance, petrochemicals etc. He served as a Cabinet
Minister under the former Chief Minister Anandiben Patel from May 2014.
5) Mr. Ganpatbhai Vestabhai Vasava

Mr.Ganpatbhai Vasava was born in the Umarpada taluka of Surat on 1 st June, 1971 and
hails from the constituency of Mangrol in the district of Surat in South Gujarat. He has
been serving as an MLA in various capacities since 2002 and became the centre of focus
when he was made as the first Speaker from a tribal background in the 16 th State
Assembly. He has had a bright political career for bringing effective policies for
upliftment of the tribals. He was elected as the Minister of Cabinet in the Rupani led
government in August 2016.
6) Jayesh Radadiya
Mr. Jayesh Radadiya was born on 20 th December, 1981 in Jamkandorna in Rajkot. He has
been elected as an MLA from Jetpur and is involved with various social groups and
NGOs and is a civil engineer by background. He was a Minister of State for the Ministry
of Tourism and Civil Aviation since 2013. He has been serving as the Cabinet Minister
since August 2016 in the Rupani led government.
7) Mr. Dilipkumar Virajibhai Thakor
Mr.Dilipkumar Thakor was born on 1 st June 1958 and has been elected as an MLA from
Chasma. He has been associated with animal husbandry and welfare and served as an
MLA from 1990-95, 1998-2002 and 2002-07. He has been serving as a Cabinet Minister
since August 2016 under the Rupani government.
8) Ishwarbhai Parmar
Mr.Ishwarbhai Parmar was born on 1 st March, 1971 in Bardoli, Surat. He is a graduate in
Commerce. He is an MLA from Bardoli and served as a Minister of State from August
2016 under the Rupani led government.
Ministers of State:
Ministers of State (MoS)
Mr. Pradipsinh Bhagvatsinh Jadeja
Mr. Pradipsinh Bhagwatsinh Jadeja has been elected from 43-Vatva assembly constituency. Mr. Jadeja has graduated in science stream with the subject of chemistry. In the twelfth assembly from 2007 to 2012, he was active in law and judiciary as well as state minister for statutory and parliamentary matters. In the 13th Legislative Assembly, he took over as Minister of State for Law and Justice, Medical and Parliamentary Affairs, Devasthan, Pilgrimage Development, Non-Resident Gujarati Parties and Protocol Department from year 2012. He gave noble services as the Minister of State in the Government headed by Chief Minister Mr. Vijay Rupani from August 2016.
Mr. Parbatbhai Savabhai Patel
Mr. Parbatbhai Savabhai Patel has got elected as an MLA from Tharad constituency. Born on September 4, 1948, Mr. Patel is a law graduate and active in social service since 1985. He got elected as an MLA in 1995 and also held post of minister of state for finance.
Mr. Purshottambhai Solanki

Mr. Purshottambhai Solanki got elected from Bhavnagar (Rural) constituency. Mr. Solanki, an electrical engineer (diploma), was born on May 23, 1961. He got elected in March 13, 1998 and held post of minister of state for animal husbandry, fisheries, and cow breeding. He was holding a portfolio in the ministry of Mr. Rupani too.
Mr. Bachubhai Khabad
Mr. Bachubhai Khabad has got elected from Devgadh Baria assembly constituency. He was born at Pipero village of Dhanpur Taluka on April 1, 1955. He has studied up to S.Y.B.Com. Earlier in the ministry of former Chief Minister Mrs. Anandiben Patel, he had served as minister of state for fisheries, forest and environment departments.
Mr. Jaydrathsinhji Chandrasinhji Parmar
Mr. Jaydrathsinhji Chandrasinhji Parmar, a commerce and law graduate, got elected from Halol Assembly Constituency. Earlier he had held post of minister of state several times for Gujarat Govenment, including in the ministry of Mr. Rupani. He was born at Vadodara on July 25, 1964.
Mr. Ishwarbhai Thakorebhai Patel
Mr. Ishwarbhai Thakorebhai Patel, an arts and law gradute, was born at Kudadara village of Hansot Taluka in Bharuch district on June 25, 1965. He got elected several times as an MLA and held the post of minister of state for co-operation, sports, youth and cultural activities.
Mr. Vasanbhai Gopalbhai Ahir
Mr. Vasanbhai Gopalbhai Ahir, an MLA from Anjar assembly constituency, was born at Anjar town on July 30, 1959. Professionally he is attached with farming. He has also served as minister of state for social and education (welfare of backward classes).
Mrs. Vibhavariben Vijaybhai Dave

Mrs. Vibhavariben Vijaybhai Dave was born on 9th January, 1959 and has been elected from the constituency of Bhavnagar (North). She hails from a family with a strong background of social service. Her career as an MLA began from 2007 where she got elected for the 12th General Assembly. She was the first woman Mayor and Deputy Mayor of Bhavnagar Municipal Corporation. She served as the Parliamentary Secretary from August 2016 under the Rupani led government.
Mr. Ramanlal Nanubhai Patkar
Mr. Ramanlal Patkar was born on 1st June, 1952 in Ghodipada in Umargao taluka of Valsad district. He was an MLA in the 9th, 10th and 12th Legislative Assembly.
Mr. Kishorbhai Kanani
Mr.Kishorbhai Kanani was born in Amreli on 1st December, 1962 and is an MLA from Varacha Road (Surat City). He was a Mayor of Surat Municipal Corporation and was also a member of 13th Legislative Assembly.
Biodata of Gujarat CM, Dy CM and ministers by DeshGujarat on Scribd
19 of 20 ministers are crorepatis
The Gujarat Election Watch and Association for Democratic Reforms (ADR) analysed the self-sworn affidavits of all 20 ministers including the CM and published a report terming total 18 in the new lot as crorepatis (millionaire).
According to the report, the average assets of 20 ministers is estimated to be Rs 13.34 crores.
The minister with the highest declared assets is Saurabh Yashvantbhai Dalal Patel from Botad constituency with assets worth Rs.123.78 crores. He is followed by Parsotambhai Odhavjibhai Solanki from Bhavnagar Rural constituency with Rs 45 crores while Jayeshbhai Vitthalbhai Radadiya from Jetpur constituency with Rs 28 crores is the third richest minister.
On the education front, there is a mixed bag of ministers.
A total of 9 (45 per cent) ministers have declared their educational qualification to be between 5th-12th pass while 10 (50 per cent) are graduates or have higher degrees and one minister has declared his education as 'diploma in electrical engineering'.
Out of these one has received education only up to primary level while two have passed the middle school.
Meanwhile, Chief Minister Vijay Rupani has expressed faith in senior MLAs with most above 51 years of age. A total of 3 (15 per cent) ministers have declared their age to be between 31-50 years while 17 (85 per cent) ministers have declared their age to be between 51-70 years. Out of the 20, Vibhavari Dave is the lone woman minister.
DeshGujarat