S Gurumurthy in Gujarat explains the idea behind Hindu Spiritual and Service Fair
January 05, 2018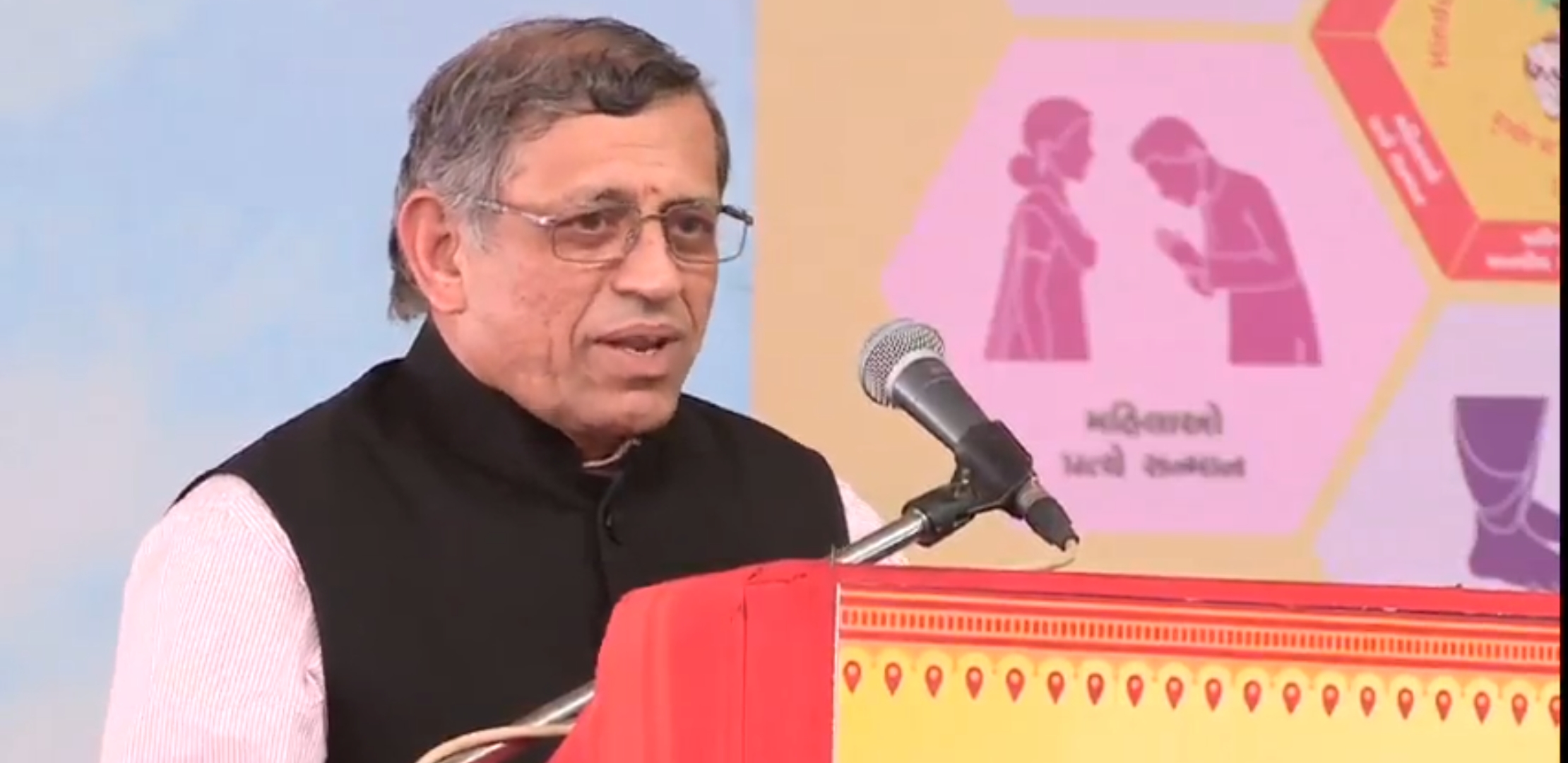 Ahmedabad: Speaking at Hindu Spiritual and Service Fair in Gujarat today, S Gurumurthy said upcoming Kumbh Mela will witness Kanya Pujan involving a million girls and Tulsi Vandana involving a million saplings. Gurumurthy said Prime Minister Narendra Modi himself mooted this idea and proposed to be it a part of Kumbh Mela which attracts 8 crore pilgrims in a month long period without a single invitation sent to anyone.
'The Prime Minister said you must have Kanya Pujan(worship) of million girls and world must see how we respect our women. He also said we must have Tulsi Vandana of million saplings and the world should see how we respect environment and ecology,' Gurumurthy said in inaugural function of Hindu Spiritual and Service Fair here.
Gurumurthy said the idea of holding Hindu Spiritual and Service Fair(HSSF) was born after a remark by political leader in Indira Gandhi Award for International Understanding function that philanthropy is not very celebrated thing in India and India doesn't know much philanthropy. The remark was carried in American newspaper Wall Street Journal and impression had been created that Hindus were not much into service, charity, dharma and philanthropy.
To correct the image of Hindu civilization, Gurumurthy said HSSF was conceived after a meeting of over 100 persons in Ahmedabad in 2005.
'We are very straight thinkers because we don't want to conquer and rule the world. We want all religions to grow, so there's no strategy. Only destroyer will have strategy and we are peaceful civilization. But we must know strategic thinking to safeguard out own civilization,' Gurumurthy said to give background of how HSSF was conceived.
'When we asked Ramkrishna Mission in Chennai, how many schools and colleges they run, they said they didn't know, they said Guru Maharaj had said to offer service and not talk about it because talking about it would be a sin,' Gurumurthy said adding that 'all religions do advertise about themselves and collect fund and then do conversion of others, this is the world Hindus live in.'
Gurumurthy spoke about how in 3 district of Andhra Pradesh, the Satya Sai organization laid 3600 km pipeline for drinking water supply and built 2700 overhead tanks in addition to 270 reservoirs, the service which was hailed by the 11th planning commission with remark that even government had not done such work.
'We thought all Hindu spiritual organizations should be brought together. Chinmaya Mission was first to give us manpower to do the fair. 30 organizations participated in the first fair in 2009 which later increased to 300. Later educational, community, government organizations joined it. The 6th edition of fair was participated by one million people. Later we started projecting what is Hinduism itself. We don't say my God is superior and please come to join. Hindu is a way of life and it has samskar to live with nature. It has sankar to live with differences. We projected six teams – forest conservation, environment, respect for elders and teachers, patriotism and respect for women,' Gurumurthy said throwing further light on HSSF.
'In Virat parva of Mahabharata, there's a shloka that says there can not be tigers without forests and forests without tigers. There were 40,000 tigers in year 1900 with 42% forest coverage here. Today there are 1800 tigers and forest coverage has come down to 19% even after forest protection law, security force and all which has failed to protect forest as it can be protected only by wild animals. We need forest and for protection of forest, wild animals must be worshiped. Our leadrs, intellectuals and media don't talk about it. In fact researches show that it is Christianity that destroyed environment in the world because it destroyed reverence for nature,' Gurumurthy said in his speech.
Gurumurthy said the next edition of HSSF will be held in American city Houston next year. Gurumurthy described HSSF as a huge civilization movement.
DeshGujarat