Jio announces Republic Day 2018 plan
January 23, 2018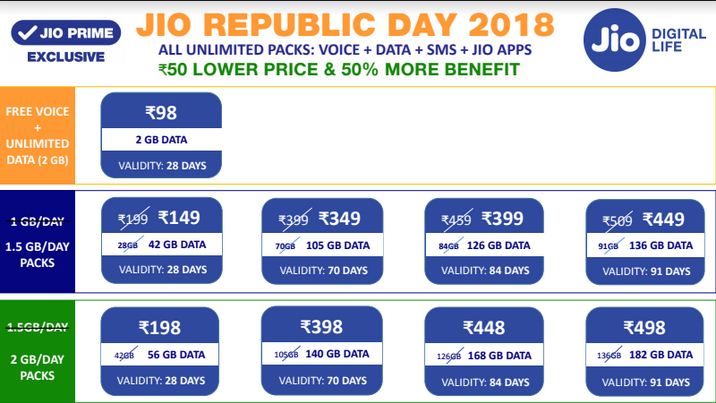 Mumbai: Jio offers Rs50 lower price than competition and 50% more data on its plans. Beginning from Republic Day, January 26th, Reliance Jio also introduces lower price point of Rs98 for free voice and unlimited data for 28 days to enable more consumers to adopt Jio Digital Life.
Jio packs to be Rs 50 lower than competition and to provide 50% more data at similar price points. The tariffs are now Rs 50 lower for similar validity packs and also offers 50% more data entitlement at similar priced packs.
All existing 1GB per day packs enhanced to 1.5GB per day; 1.5GB per day packs enhanced to 2GB per day. For an instance, under 1.5 GB a day plans, for Rs499 customer gets 136 GB data for 91 days. Under that, the effective price comes to less than Rs4 for 1.5 GB data a day.
At the same time, Jio has introduced a lower entry price-point for Free voice and Unlimited Data for 28 days at Rs 98. This will enable millions of new consumers to adopt Jio Digital Life. The flagship MRP 399 plan will now provide Free voice, Unlimited Data (1.5GB daily), Unlimited SMS and Premium Subscription to Jio Apps for 84 days – truly unmatched by any other operator.
These plans have been launched as a response to Airtel's tariff changes. With these changes, Jio reinforced its tariff supremacy and confirms its PRIME customers that they will ALWAYS GET THE BEST TARIFFS IN THE INDUSTRY. The new tariffs will be available from 26th January, 2018.