40 youths undergo diksha ceremony to become monk at Gondal in Gujarat
January 25, 2018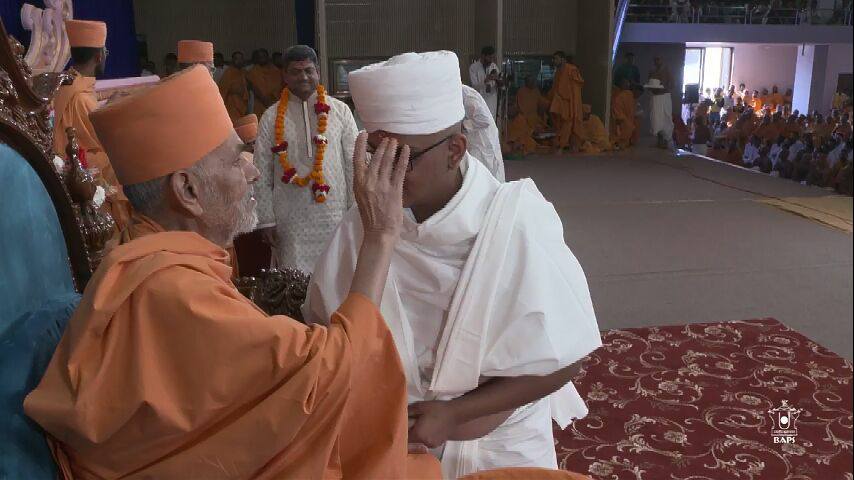 Rajkot: 40 youths including those who have completed engineering and MBA education today took diksha to become Swaminarayan monks and left worldly life at Bochasanvasi Akshar Purushottam(BAPS) organized Akshar Deri Sardh Shatabdi Mahotsav in Gondal in Rajkot district.
Out of 40, 35 youths underwent Parshadi diksha(primary diksha during which they dress in white and live like a monk but are not given full monk status) while 5 underwent Bhagwati diksha(final diksha after they pass Parshadi diksha stage and become saints with saffron dress).
In both kinds of diksha, a diksharthi(one who undergo diksha) gets new name.
With this the total number of existing diksharthi saints in BAPS sect of Swaminarayan faith is 1055.
– Sadhu(Bhagwati) Diksha Names –

1.Dijendra Bhagat – Sadhu Adhyatmavivek Das
2.Apurva Bhagat – Sadhu Purnamangal Das
3.Punam Bhagat – Sadhu Somyavadan Das
4.Umang Bhagat – Sadhu Guravmuni Das
5.Uttam Bhagat – Sadhu Dhyemuni Das
– Parshad Diksha Names –

1.Yogeshbhai – Pu. Janak Bhagat
2.Shilbhai – Pu. Anirudh Bhagat
3.Harikrishna Bhai – Pu. Anshuman Bhagat
4.Hemang Bhai – Pu. Ramanuj Bhagat
5.Narendra Bhai – Pu. Dhrvu Bhagat
6.Amolbhai – Pu. Balram Bhagat
7.Ghanshyam Bhai – Pu. Puranjan Bhagat
8.Harikrishna Bhai – Pu. Dhananjay Bhagat
9.Ravindra Bhai – Pu. Dushyant Bhagat
10.Hemendra Bhai – Pu. Shukhdev Bhagat
11.Priyank Bhai – Pu. Vibhishan Bhagat
12.Akash Bhai – Pu.Virat Bhagat
13.Priyal Bhai – Pu. Sahadev Bhagat
14.Bhumesh Bhai – Pu. Abhimanyu Bhagat
15.Vinit Bhai​ – Pu. Yudhishthir Bhagat
16.Tushar Bhai – Pu. Bhaskar Bhagat
17.Keyur Bhai – Pu. Bhagat
18.Mayur Bhai – PU. Vinayak Bhagat
19.Anand Bhai – Pu. Jaydev Bhagat
20.Mihir Bhai – Pu. Janmejay Bhagat
21.Rahul Bhai – Pu. Namdev Bhagat
22.Yogi Bhai – Pu. Dashrath Bhagat
23.Suketu Bhai – Pu. Naysat Bhagat
24.Hiren Bhai – Pu. Gurang Bhagat
25.Parth Bhai – Pu. Harishchandra Bhagat
26.Hardik Bhai – Pu. Sujat Bhagat
27.Nilesh Bhai – Pu. Shravan Bhagat
28.Nirmal Bhai – Pu. Sgar Bhagat
29.Chirag Bhai – Pu. Bhagirath Bhagat
30.Rashmin Bhai – Pu. Parikshith Bhagat
31. Tejas Bhai – Pu. Parth Bhagat
32.Bhagirath Bhai – Pu. Pundrik Bhagat
33.Jaikishan Bhai – Pu. Sudhanva Bhagat
34.Harikrishna Bhai – Pu. Kadraj Bhagat
35. Chirag Bhai – Pu. Eklavya Bhagat
DeshGujarat