Adani Wilmar to replace its Fortune edible oil packaging with recyclable material
February 13, 2018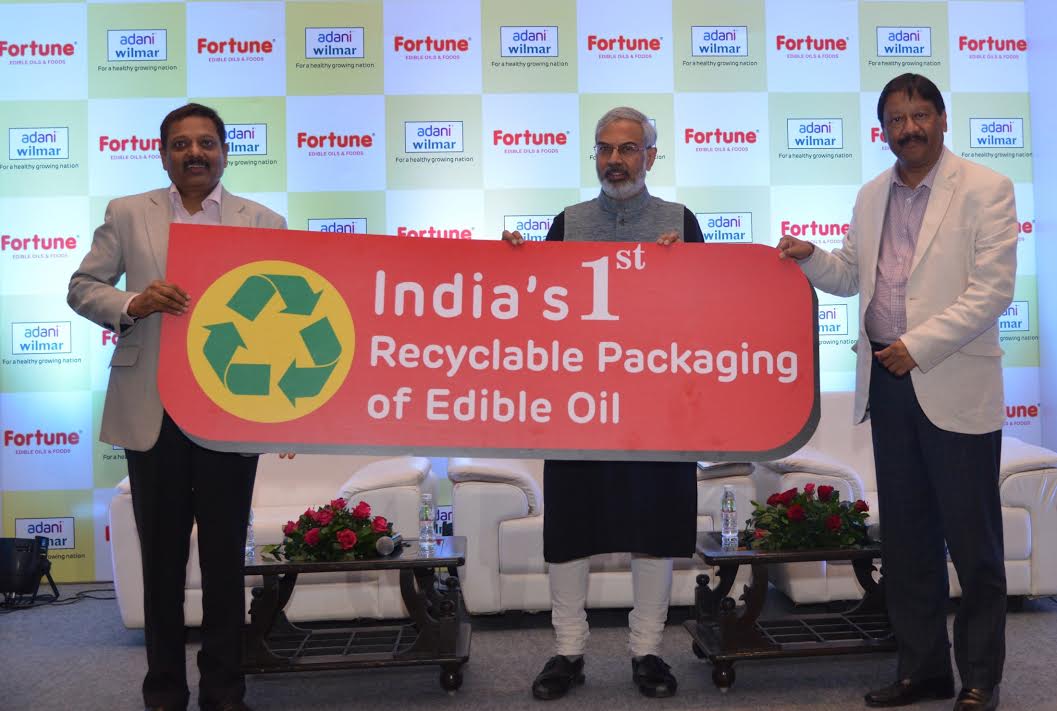 Ahmedabad:
Adani Wilmar Limited, the largest seller of edible oil in the country, today announced that it will undertake a gradual overhaul of its edible oil packaging to make it entirely recyclable from Q1 FY-2018-19.
Currently, Adani Wilmar sources nearly 300 MT of plastic films for packaging per month and one kilogram of film produces approximate 130 pouches. As part of the plan, the fastest growing Indian food FMCG company will now source plastic films comprising a novel formulation of polyethylene (PE) resins to create a new, sustainable, all PE
laminate solution from its dedicated supplier Vishakha Polyfab Private Limited (VPPL).
Adani Wilmar will also have a 9-month exclusivity contract with VPPL, during which time, it will hold 'sole usage rights' of using and marketing the innovative packaging in the entire edible oil industry.
"The new edible oil packaging will be rolled out for 1 litre pouches for the first time ever in the industry, for our Fortune brand of edible oils initially and will successively cover our other sub-brands. We are talking of nearly 47 crore pouch/litres of oil per annum being packed sustainably. While no direct benefit is attributed to consumers, the empty pouches can now be resold to scrap dealers and recycled entirely instead of disposing and creating pressure on the environment. The
cost of production rises minimally for us to incorporate the chemical that allows the packaging to be recycled. This will not be passed on to consumers and will be absorbed by us totally," said Angshu Mallick, COO, Adani Wilmar.
The formulation of polyethylene (PE) resin has already been certified by the Central Institute of Plastics Engineering & Technology (CIPET), an agency under the Department of Chemicals and Petrochemicals, Government of India. The certificate of endorsement states that the co-extruded multilayer film can be recycled. The new
recyclable pouch has also passed the company's internal laboratory tests covering a DRAT Impact test, a drop test and an ink adhesion test.
"It all begins with spreading awareness and adopting technology early. Adani Wilmar has become an enabler and I do hope that more edible oil companies follow this path and show their commitment to the environment," said Kartikeya Vikram Sarabhai, a renowned environmental educator.
Adani Wilmar's portfolio comprises cottonseed, soyabean, sunflower, rice bran and groundnut oils. In addition to Fortune, other brands such as Aadhar, Kings, Fryola, Raag Gold and Alpha have garnered a healthy market share. Every edible oil pouch will carry a prominent, enlarged international symbol for recycling symbolized by curved, folded arrows forming a triangle in the front of every pouch.
Adani Wilmar exports to 19 countries across the world, making a mark in the global market too. After having dominated the industry as a numerouno producer of edible oils, the company has already expanded its portfolio adding consumer essentials such as soya nuggets, basmati rice, besan, pulses and vanaspati.
DeshGujarat