Gujarat Chief Minister chairs high-level meeting to review drinking water situation in Gujarat; Rs 206 crore works in progress
March 04, 2018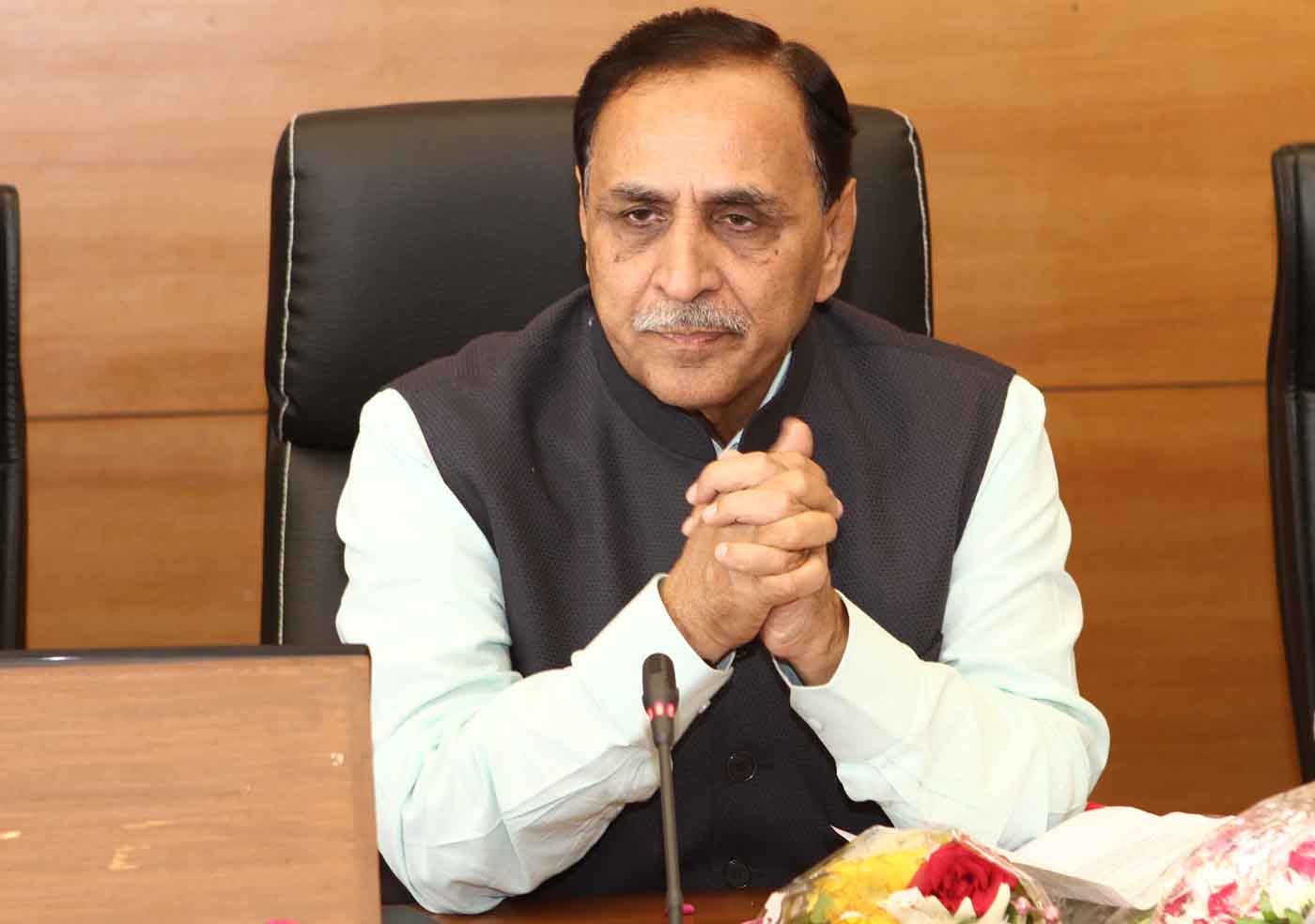 Gandhinagar: Gujarat Chief Minister chaired a high level meeting to review and discuss the drinking water situation in the State.
The meeting reviewed progress of 32 works worth Rs 206 crore which were approved
Instruction was issued in the meeting to reserve water in reservoirs of Saurashtra and Kutch for drinking purpose.
At present, Narmada oriented schemes supply drinking water to 8,630 villages and 165 urban areas. The government supplies irrigation water for Rabi(winter) season, but from 15th March onward, the Narmada canal water will be reserve only for drinking purpose. While main canal and Saurashtra branch canal will carry drinking water, the other branch canals will be closed.
More than 1400 villages and 23 cities/towns are going to get water through alternate arrangement.
Apart from reserved Narmada water, the government will also supply water from other dams such as Sani, Vartu-2, Ozat-2, Brahmani-1 and 2, Fodala, Fatehgadh, Godhtad, Mitthi, Suvai among others in Kutch-Saurashtra region.
The meeting reviewed progress of plan to add additional water to Tappar and Aaji-1 dam to satisfy the needs of Kutch and Rajkot areas.
The Chief Minister directed the officials and district collectors to review the drinking water situation once a week.
Instruction was also issued to supply water to salt workers in Surendranagar district and coastal Gujarat by moving more tankers.
More bore wells, hand pumps are to be activated in needy areas.
One of instructions issued by the Chief Minister was about making a long-term planning for daily drinking water supply to municipalities in Kutch and Saurashtra.
The officials shared details in the meeting that there were enough source of drinking water in South and Central Gujarat districts of Valsad, Dang, Navsari, Tapi, Surat, Narmada, Chhota Udepur, Dahod, Mahisagar, Panchmahal, Vadodara, Kheda and Anand. Tankers are to be moved in needy areas of these districts.
Repairing teams are to be moved in tribal areas to repair hand pumps.
280 villages of Sabarkantha district are dependent on Fatepur and Khed ponds. These ponds shall be filled with Narmada water via main canal and pipeline network.
The State government has made Rs 206 crore plan of which Rs 22.40 crore are for Ahmedabad district, Rs 44.50 crore for Devbhumi Dwarka, Rs 41.32 c rore for Kutch, Rs 20.66 crore for Morbi, Rs 26.20 crore for Bhavnagar, Rs 17.80 crore for Surendranagar, Rs 14.20 crore for Junagadh, Rs 9.50 crore for Rajkot and Rs 7.34 crore for Patan-Banaskantha districts. All these works were reviewed in the meeting.
Some of works in progress were Rs 16 crore works for water supply to 126 villages of Mandal, Viramgam an Detroj districts through Zinzuwada branch canal's first bridge, Rs. 7.69 crore Ghee reservoir main pipeline works, Rs 1.14 crore works for 80 villages of Khambhalia taluka and 39 villaeges of Lalpur taluka and Panchdevda pond main pipeline work for three cities, Rs 32.40 crore works for 17 km pipeline from Sani dam to benefit 99 villages and 3 cities of Kalyanpur and Okhamandal areas, Rs 2.71 crore works of 10 km pipeline from Bantwa Khar dam for Junagadh districts's Manavadar city and taluka rural areas, Rs 2.40 crore works for Ozat-2 dam pipeline, Rs 1.65 crore works for Fodra dam pipeline for Porbandar district based villages, Rs 9.50 crore works for 14.50 km long pipeline connecting Bhadar-1 dam of Rajkot district and Amarnagar headworks.
Rs 20.66 crore works for 79 villages and 1 city in Halvad and Muli taluka through Brahmani-2 dam oriented pipeline for Morbi and Surendranagar, Rs 1.32 crore work of 2 km pipeline for 23 villages of Surendrangar district through Nayka dam, Rs 1.56 crore works of Vadod dam oriented pipeline for Limbdi town and 14 villages, Rs 8.27 crore works for 4.25 km long pipeline for 57 villages of Surendranagar district and for Dhrangadhra town, Rs 2.35 crore new pumping machinery at Dholidhaja dam to supply water to 324 villages and 2 towns of Surendranagar district's Sayla Chotila, Thangadh, Muli, Wankaner talukas.
Rs 4.17 crore work for 2 km pipeline from Fatehgadh dam of Kutch district to benefit 57 villages of Rapar taluka. Rs 2.02 crore Godhatal dam linked pipeline to benefit 21 villages, Rs 16.74 crore for 23 km pipeline from Mitti dam covering 27 villages of Abdasa taluka, Rs 7.41 crore project for 13.32 km long pipeline from Suvai dam, Rs 1.48 crore 6.50 km long pipeline from Gajansar dam for 8 villages of Kutch district, Rs 26.18 core Valbhipur-Budhel bulk pipeline for 162 villages and 2 towns of Bhavnagar district.
DeshGujarat