Gujarat High Court issues notices to state, center on Gir Lions death, seeks reply in 3 weeks
March 26, 2018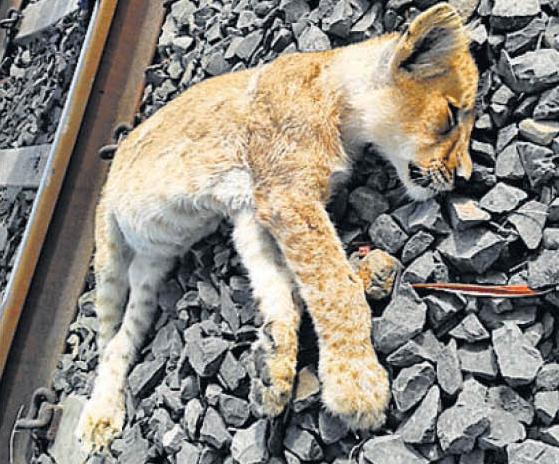 Ahmedabad:
The Gujarat High Court today issued notices to the center, state government in connection with the death of 182 Asiatic lions in Gir forests in last 2 years.
The division bench of Chief Justice R Subhash Reddy and Justice V M Pancholi also sought reply from the center and state government in 3 weeks time.
The court was hearing the matter after taking a suo moto action on a report pertaining to the government reply in the Gujarat assembly of March 5 in which the Forest Minister had accepted that in 2016 and 2017 a total of 182 lions had died.
The court also warned the government to not to take the issue lightly.
As per the reply of minister Ganpat Vasava in the assembly on March 5, a total of 184 lions have died in last two years in the Gir forests and around it in Saurashtra region of Gujarat, which was the only abode of Asiatic lions in the world.
However only 32 ( 7 male, 17 female and 8 cubs) of these had died unnatural death while 152 ( 32 male, 57 female 63 cub ) lost their lives owing to natural reasons.
Vasava had informed this in the state assembly today in reply to a question.
He said that of the 184 lions (74 female, 71 male and 39 cubs) died in last two years, 104 deaths ( 12 unnatural, 92 natural ) were in 2016 while 80 (20 unnatural and 60 natural) were in 2017.
Notably, the five yearly Lion Census conducted last time in May 2015 had estimated the population of Asiatic lions at 523 (27% up compared to previous census in 2010). The population was 411 in 2010 and 359 in 2005. As per the 2015 census, the population of lions in Junagadh district was 268, Gir Somnath 44, Amreli District 174 (highest increase) and in adjoining Bhavangar District was 37. Of them there were 109 males, 201 females and 213 cubs.
DeshGujarat