Book Review: Parimal Nathwani written 'Gir Lion : Pride of Gujarat'
April 11, 2018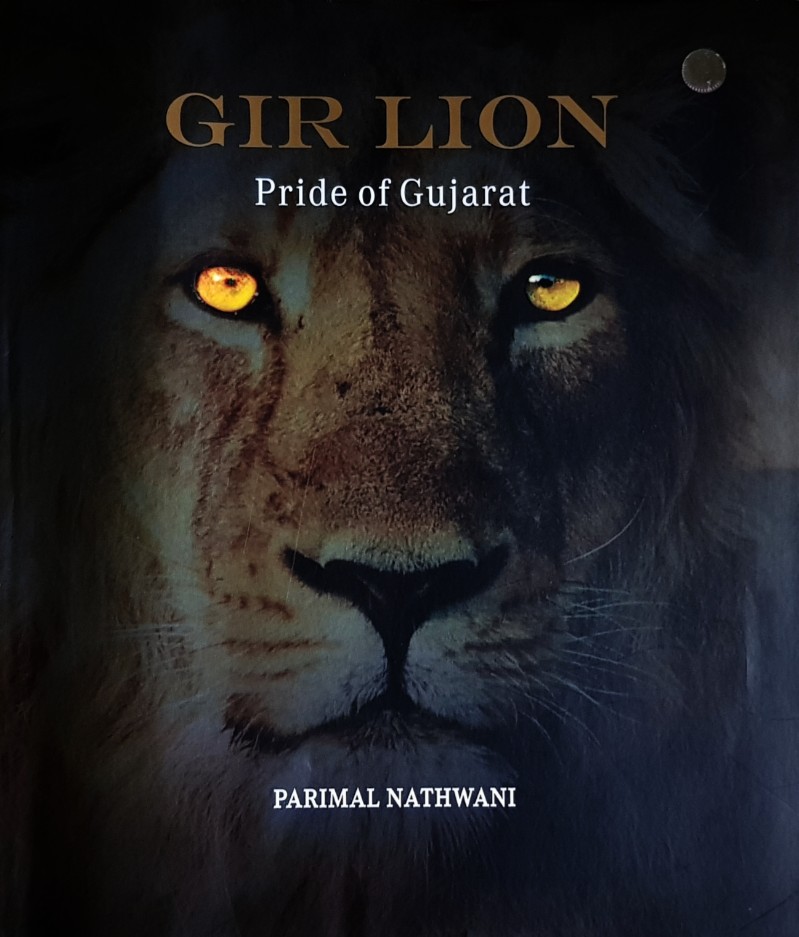 Book: Gir Lion: Pride Of Gujarat
Author: Parimal Nathwani
Style: Coffee Table Book
Pages: 105
Price: Rs. 2000
Publisher: Times Group Books
Availability: Amazon
"Apart from the grand mane which gives him a stately look, it is the manner in which he rules over his pride that clearly shows who is the boss. One growl and the entire joint family knows the boss is annoyed."
Yes, that's about the prized possession of Gujarat the Asiatic Lions. Gujarat is the only state in the whole world where we can find Asiatic Lions in their natural habitat. To celebrate this majestic glory of Gujarat a Rajya Sabha MP and group president (corporate affairs), Reliance Industries Ltd, Parimal Nathwani has come out with a book solely dedicated to Asiatic Lions.
Nathwani feels very passionate about Asiatic lions and its conservation. Do follow his twitter account, and you will find him tweeting lions related issues and new developments regularly. His nearly 135 tweets have been about lions so far. As a Rajya Sabha MP, he regularly raises issues pertaining to lions in parliament which is evident in Rajya Sabha records. When open wells in forest areas of Gir were threatening lion conservation efforts, it was Reliance Group that came forward and took responsibility to fund construction of wall around the wells. As the book mentions, 'rather than doling out money, we at Reliance ensured construction works under our direct supervision.'
Lions are so deep-rooted in the culture of Kathiawar-Saurashtra(from where founder of Reliance Group Dhirubhai Ambani, CMD Mukesh Ambani and author Parimal Nathwani belong to) that virtually every household has their own story to tell involving the Lion King! But these fantastic beasts only make headlines when some unfortunate events happen with them. But not this time. 'Gir Lions: Pride of Gujarat' is a coffee table book with a hundred odd pages full of valuable information, interesting anecdotes, and beautiful pictures. At a first look itself, a pair of piercing, glowing in the dark eyes grab your attention and you just can't put this big sized book down.
It's a lavishly designed book. Once you flip the full page photo of the author standing at the gate of 'Sinh Sadan', entry to the Gir wildlife sanctuary, the smiling photo of the Reliance Industries CMD Mukesh Ambani welcomes you. Yes, Mukeshbhai has written forward for this book. In which he has recounted the memory of his visit to the Gir sanctuary and relish over Maldhari cuisine. The forward is followed by the preface of the author himself. Actually, this book presents a new facet of Parimal Nathwani contrary to his image of a hardcore corporate man. He clearly states that this book is a reflection of his deep-rooted love for the big cats of Gujarat. Oh, before we move on to talk about what other pages of this book offer, it's noteworthy that he has dedicated this book to Mister Prime Minister Narendra Modi.
Starting from the evolution of 'Panthera Leo Persica' aka Asiatic Lions, it is fascinating to learn that the kingdom of Asiatic Lion was once spread to Iraq, Iran, Saudi Arabia, Turkey, Syria, Greece, Afghanistan, Pakistan and Sri Lanka. Such anecdotes are spread across the book. For example, ancient mysterious Egyptian king Tutankhamun tamed lions and worshiped them, it was Egyptian Pharaohs who started the trend of slaughtering lions. From Persian, Arabian, Mesopotamian rulers to Indian kings, lions have always struggled for life. By quoting the 'Rig Veda' and 'Satapatha Brahmana' the author shocks us that in Indian sub-continent Aryans used to sacrifice lions as well as ate them. Tughlaqs, Khiljis, Mughals and later on other Indian kings and the Britishers took enormous pride in killing this royal animal. Our history books are filled with exaggerated incidents of lion killings such as the book notes, 'Jahangir's wife Noor Jahan had once killed four lions with just four bullets.'
The horrific saga of lion hunting continues in following chapters as well. The author notes by quoting a historian that 'at least 1500 Asiatic Lions were killed between 1820 and 1870.' Many Indian kings were also partners in this crime against nature, as they hunted themselves or accompanied the Britishers only to have a photograph with a dead lion. Hunting lions were considered a royal sport. Such rampant lion killings eliminated Asiatic lions from all over the world but in Gujarat's Gir forest. In the year of 1880, there were only a few dozen Asiatic lions left in the world. This was the shocking revelation in the world's first lion census commissioned by Mahabatkhanji 2nd, the then Nawab of Junagadh state. It's the matter of great relief that with the constant vigil and conservational efforts, the population of Asiatic lions has increased significantly. There were 523 lions in Gujarat according to the census in 2015.
The next chapter talks about behavior pattern of lions, their mating ritual, social ties, their style of training the cubs etc. There's an interesting comparison between Asiatic and African lions as well as Asiatic lions and Royal Bengal tigers. The chapter after this talks about the surrounding of Gir lions. Maldharis, Sidis live very much in harmony with lions for centuries. Their amazing encounters with lions are thrilling. One such was 'Charankanya', penned by legendary Gujarati writer Zaverchand Meghani, which tells the story of a teenager girl who singlehandedly fought with lions and saved her cattle. Then there are 'Pagis' who keep track of lions' whereabouts just by looking at their pugmarks and smelling. A small part of the chapter also talks about flora and fauna of Gir as well.
The book has extensive coverage on entire eco-system and major relevant issues pertaining to Asiatic lions and its conservation. Related chapters cover the details of local flora and fauna, local communities such as Sidis and Puggies, nesses of local Maldharis, human-animal conflict, threats to existence of lions such as roads and railways passing through their corridors, lions mentioned in local folklore, lack of mention of Asiatic Lions in wildlife amendment bill and more.
The last chapter speaks about the most serious aspect of Gir lions. There's a huge boost to the lion tourism after Amitabh Bachchan's 'Khushbu Gujarat Ki' ad campaign. 'In 2915-16, an estimated 1.32 lakh visitors came to Gir', notes the author. Too many vehicles, a railway line running through the jungle, an electric fence and open wells claims many lions every year.
There have been talks to relocate some of the lions to three possible sites in Madhya Pradesh. The author puts systematic arguments against this relocation process. In the past, there had been efforts to relocate the lions to Uttar Pradesh and some African lions to Madhya Pradesh had been disastrous. Besides rampant poaching and prevailing gun culture in MP are also grave points of concern. The author effectively convinces us about possible perils of the relocation of Gir lions.
The book, 'Gir Lion' is a coffee table book, hence it doesn't aspire to be an exhaustive deep research material. It's an easy read with lucid language and short articles which can be completed even before your cuppa of tea is over. Besides layout of the book, you would also like the style of numbering all pages with beautiful pugmarks. Back in 1990s a Junagadh based photographer Chandrakant Patel had published a reach Gujarati book on lions titled as 'Sinh Darshan' with local appeal. The English book by Mr. Nathwani is richer in terms of visual treat and global appeal. Generally, coffee table books don't give great details while conventional books don't offer visual appeal, the book by Mr. Nathwani maintains balance between two. It has world-class photographs in big size, thematic design, best of class printing and the richly covered topics in the language world speaks, and at the same time the book has all relevant details on carefully-curated topics related to Asiatic Lions.
The book relies heavily on large photographs by Rohit Vyas, Bhushan Pandya, Mukesh Acharya and Kalpesh Dudhia. This is a good book to get a quick introduction to the Lion King and would be a nice gifting option or to have it in the library. Let the lion roar.
Video of book launch function at Crossword – Mithakhali
DeshGujarat