Unable to digest humiliating defeat of his camp, Togadia reportedly attempting to float new outfit, to sit on indefinite fast in Ahmedabad from April 17
April 14, 2018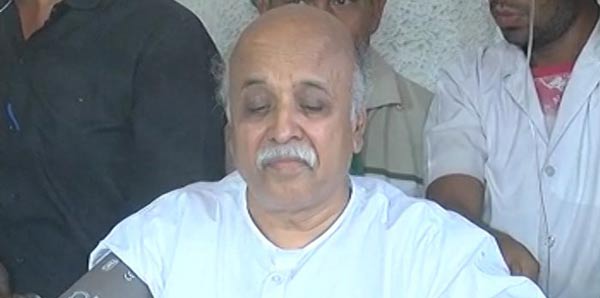 Ahmedabad/New Delhi:
It seems that despite a clear and humiliating defeat of his camp in the VHP election held in Gurugram today, Pravin Togadia was unable to digest it and was somehow attempting to break the organization.
Togadia rather than accepting the defeat of his close aide Raghav Reddy by a big margin of 60-131 in the first ever election of the Hindu outfit, today said that he has been ousted from the outfit after 32 years of service for his constant demand of construction of Ram temple in Ayodhya.
He said that he would sit on an indefinite fast in Ahmedabad from Tuesday ie April 17.
Meanwhile a handful of Togadia's supporters today also held demonstration at the VHP office in Paldi in Ahmedabad. They also shouted slogans.
Togadia who was in lime-light recently for wrong reasons in the past few months including an embarrassing episode of his mysterious dis-appearance in Ahmedabad, was also reportedly trying to unite disgruntled and ousted leaders of VHP to float an outfit which could later openly stand with anti BJP and anti RSS forces. Togadia is said to be in touch with Shri Ram Sena chief Pramod Mutalik and some other leaders for the same.
Notably Vishnu S Kokje has been elected as new international president of VHP and Alok Kumar and Ashok Chaugule have been made new working presidents after defeat of Togadia camp.
DeshGujarat