Jio announces JioPostpaid, international calling and roaming plans
May 10, 2018
Mumbai: Reliance Jio Infocomm Ltd. ("Jio") announced its new Postpaid offering,  JioPostpaid which will be available for subscription starting 15th May, 2018. Jio said its JioPostpaid offer marks a paradigm-shift in the way postpaid services are offered and consumed, just like Jio did with its prepaid services.
Jio has also announced International Calling and International Roaming tariffs for all its customers so that they can remain connected wherever they are without worrying about the bill shocks that they have been used to for years.
About JioPostpaid
INDIA's FIRST ZERO-TOUCH SERVICE EXPEREINCE – All postpaid services such as Voice, Internet, SMS, International calling will be PRE-ACTIVATED
Unlimited Plan: no high overages, bill shocks and unpredictable bills!
AUTO-PAY and stop worrying about bills (never face barring/ billing issues) – zero click payment monthly
E-Bill at your fingertips: Check your bill in real-time and also get it in your inbox at the end of the month
ALWAYS-ON: A service that never stops, anywhere in the world
 TARIFFS IN INDIA & ABROAD
Unlimited India plan at only Rs 199 per month
International calling starting at 50p per minute
International roaming at home-like rates:
(Starting at Rs 2 – 2 – 2 for Voice – Data – SMS, i.e., Rs 2 per min for voice, Rs 2/MB for data, Rs2/SMS) OR UNLIMITED SERVICES starting at Rs 500/day (plus taxes)
INTERNATIONAL CALLING WITH PRE-ACTIVATED ISD, WITHOUT SECURITY DEPOSIT
No Security Deposit required to start International Services
Calls starting at 50paise/min
No rate-cutter or service charges to get good International Calling rates
ROAM ABROAD LIKE HOME (INTERNATIONAL ROAMING)
One-click activation of International Roaming services
Activate international roaming for free – without any monthly charge or Security Deposit
Best tariffs globally for both budget and high-users:
Unlimited data and voice packs to roam around the world conveniently
Lowest rates across the world (even without opting for any pack)
No Bill Shocks due to high overage rates
JOIN JIO WITHOUT CHANGING YOUR EXISTING NUMBER
Retain your existing number – Join Jio with the same number
Simply opt for Mobile Number Portability (MNP)
Home Delivery and Activation for convenience of SIM activation
Seamless and quick process – 5 minutes to complete the eKYC process
 TARIFFS PLANS
JioPostpaid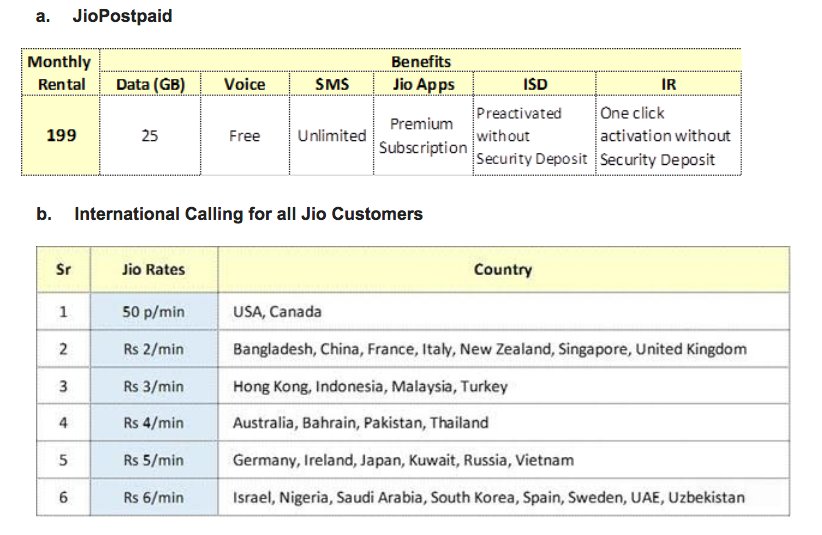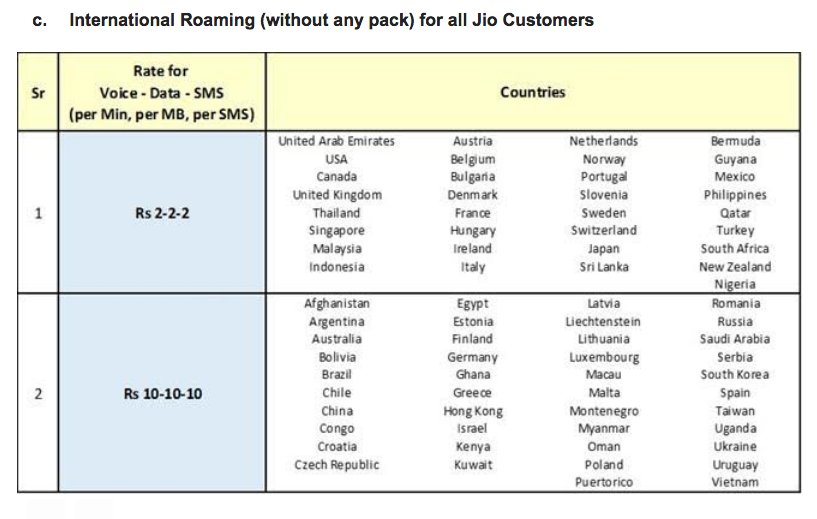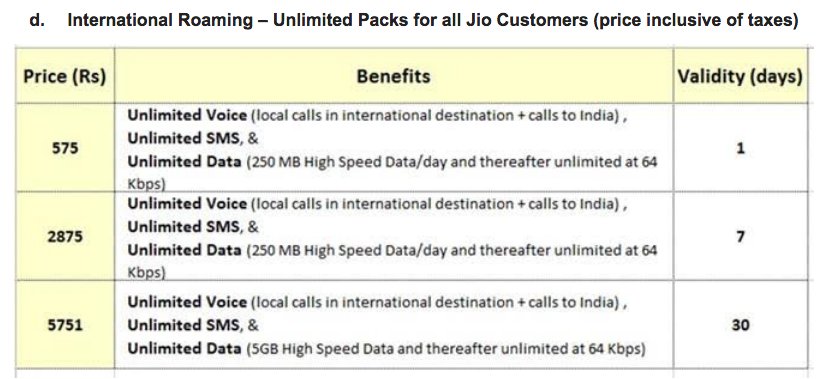 Unlimited services available in: United Arab Emirates, United States, Thailand, Singapore, United Kingdom, Germany, Sri Lanka, Malaysia, Italy, Spain, Netherlands, Turkey, New Zealand, Philippines, Hungary, Greece, Portugal, Romania, Czech Republic, Ireland
Note: The International Calling and International Roaming tariffs are available for Prepaid Subscribers as well.