BJP emerges single largest party in Karnataka, short of majority by few seats,ball in Governor's court
May 15, 2018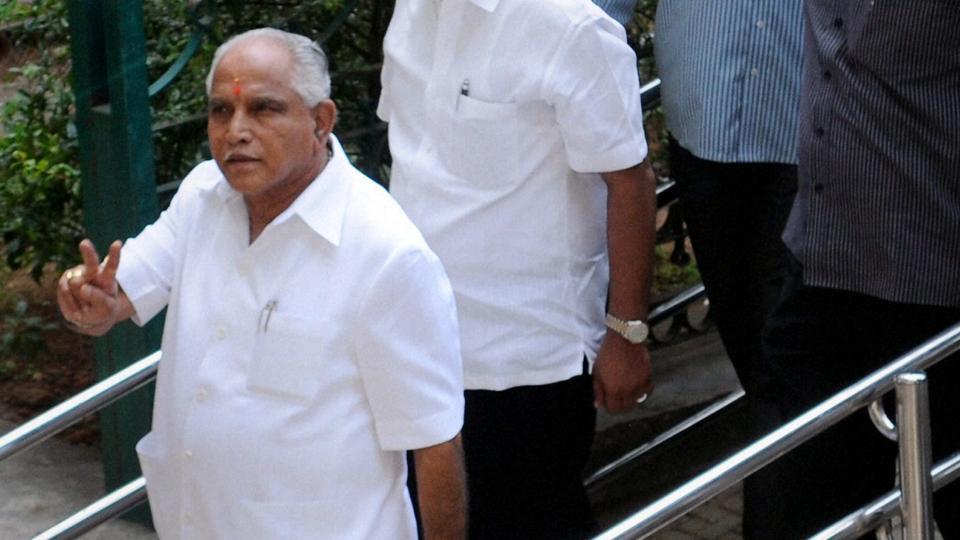 Bengaluru: The BJP has emerged as the single largest party in the Karnataka elections in Karnataka assembly elections.
The BJP has won 104 seats leaving Congress and JDS behind at 78 and 37 seats respectively.
The halfway mark however is 111. And therefore BJP is short of few seats.
On the other hand Congress and JDS, both parties that fought against each other have come up forming post-poll alliance, and their joint strength is above halfway mark. Congress leader DK Shivkumar also displayed support of one independent to media persons outside the Governor's house. One MLA has been elected from Bahujan Samaj Party(BSP) which is ally of JDS.
Citing that it can not form the government on its own, Congress in the afternoon, offered JDS Chief Ministerial candidate Kumarswami (son of former PM HD Devegauda) its support to stake claim to form a government.
Governor Vajubhai Vala refused two delegations of Congress to meet and sent them back from outside the Raj Bhavan. The Governor was of opinion that he should meet any political representation only after he gets official list of victorious candidates from Election Commission.
At 5.00 pm BJP's Chief Ministerial candidate BS Yeddyurappa called on the Governor. He said he had got appointment to meet Governor. Yeddyurappa met Governor Vajubhai Vala and staked claim to form government as BJP had emerged single largest party. Yeddy also sought opportunity to prove majority on the floor of the house.
Prior to visit to Raj Bhavan, Yeddyurappa held meeting at Bengaluru based State BJP headquarters with other senior leaders and office bearers of Karnataka BJP. On the other hand, in Delhi, BJP chief Amit Shah held meeting with ministers Prakash Javdekar, Piyush Goyal, Dharmendra Pradhan and JP Nadda. Nadda and Dharmendra Pradhan have been made observers for Karnataka. They will attend legislative party meeting of BJP at 11 am on Wednesday in Bengaluru.
On the other hand,the Congress party met the Governor at 6.00 pm jointly with JDS leaders and staked claim to form government of post-poll alliance claiming that they had the number.
It has to be seen whom, Governor Vajubhai Vala calls to form the government. According to sources, Governor is taking legal and constitutional consultation and studying the precedence. As per the convention, he may call the largest single party to form the government and prove majority on the floor of the house.
Karnataka has a total 225 constituencies, of which one member is representative of Anglo-Indian community nominated by the Governor of Karnataka. Of the remaining 224 constituencies, votes of 222 constituencies are being counted today, remaining 2 being Rajrajeshwarinagar and Jayanagar. While Rajrajeshwarinagar voting was postponed in wake of thousands of voting IDs being seized, it was decided to countermand polls in Jayanagar following the demise of BJP candidate and sitting MLA BN Vijaykumar.
BJP's jump in number of seat has indicated that Congress party's ploy to divide Hindus by proposing minority status for Lingayats has backfired. BJP has been victorious in most of Lingayat seats. Congress has lost all seats where Rahul Gandhi did campaign for party. Ten ministers of Congress have lost election. Congress party's central face in Karnataka elections, Chief Minister Siddaramaiah has lost Chamundeshwari seat against rival JDS candidate. Sidda struggled to win Badami seat against BJP candidate in neck to neck fight and ended up winning it with margin of less than 2,000 votes. BJP Chief Ministerial candidate Yeddyurappa on the other hand got shinning victory on Shikarpur seat with margin of 35,397 votes. JDS CM candidate Kumarswamy has won from both seats he contested from.
I thank my sisters and brothers of Karnataka for steadfastly supporting the BJP's development agenda and making BJP the single largest party in the state. I salute the stupendous work of @BJP4Karnataka Karyakartas who toiled round the clock and worked for the party.

— Narendra Modi (@narendramodi) May 15, 2018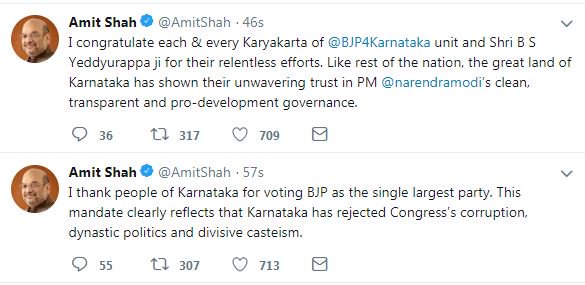 Reacting to party's victory, BJP leader and Defense Minister Nirmala Sitaraman said divisive, toxic and negative politics of Congress party has been completely rejected by people. Sitaraman and another union minister Ravi Shankar Prasad said BJP accept the victory with humbleness. The people of Karnataka choose development politics. It's a historic day. It displays love of people for Prime Minister Narendra Modi,his leadership and trust people put in what he's doing, strategy of Amit Shah, hard work by him and by each party worker. People have put trust and given this Yugantkari victory.
In his reaction, Gujarat BJP chief Jitu Vaghani tweeted: In the battle between Lotus and loot-us, the people of Karnataka chooses lotus over the loot-us government. The Lotus continues to bloom. Gujarat BJP celebrated the victory at State party headquarters 'Kamalam' in Gandhinagar after which State Chief Minister Vijay Rupani spoke to media persons.
Yeddyuarappa stakes claim to form government, prove majority on the floor of house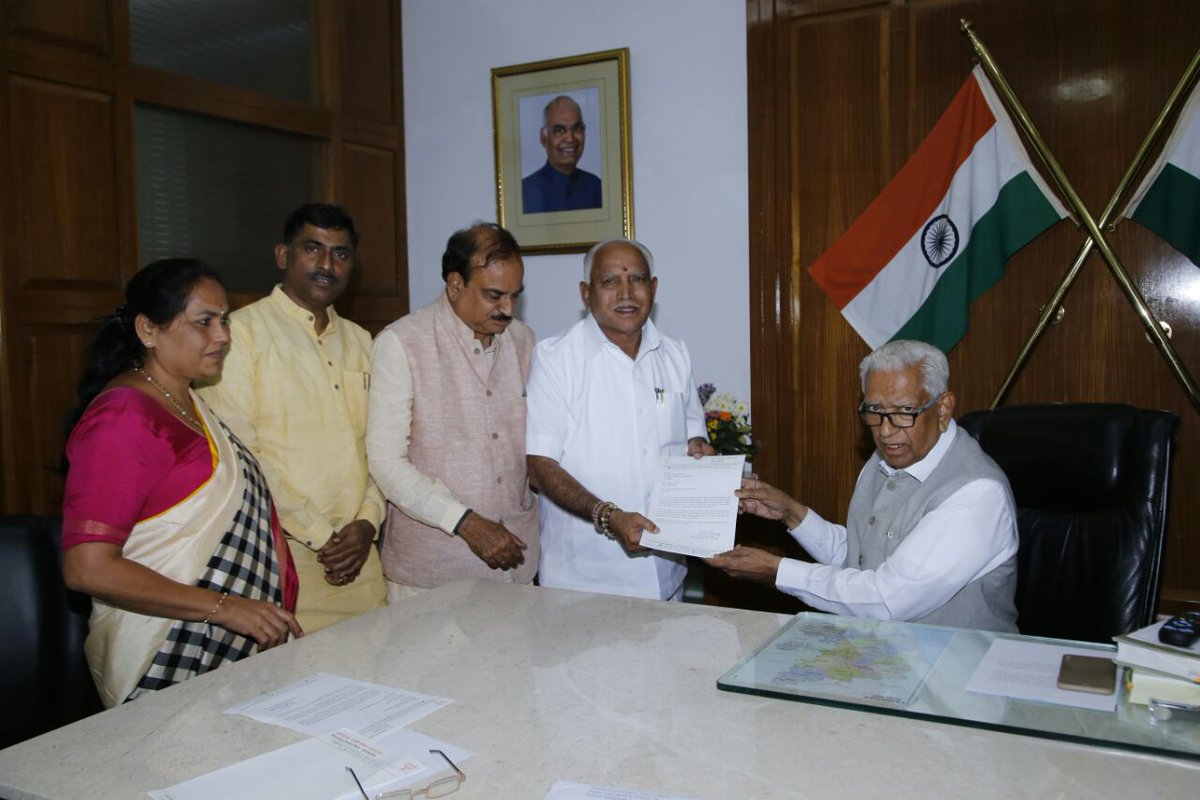 Prime Minister Narendra Modi and BJP president Amit Shah late in the evening reached BJP's national headquarters in Delhi and addressed the party workers.
Asserting that people have voted for a 'Congress-mukt' Karnataka, BJP president Amit Shah today said his party's winning streak will continue and it will win all polls, including the 2019 Lok Sabha election.
Addressing party workers after the BJP emerged as the single largest party in the Karnataka Assembly election, Shah said it was the 15th election which his party had won since it came to power at the Centre and hit out at the Congress for expressing "happiness" at the results.
The tally of Congress has been reduced from 122 to 77 and Chief Minister Siddamaraiah lost from his traditional seat, and barely managed to win from another, he said, mocking the opposition party.
Half of the members of Siddamaraiah cabinet have lost, he said.
Shah accused the Congress of using the "most immoral politics" by joining hands with outfits such as the Social Democratic Party of India (SDPI) and Popular Front of India (PFI) which, he claimed, were involved in anti-national activities and a danger to the country's security.
"Congress used politics of caste to divide the people and tried to incite Dalits on SC/ST Act in Karnataka," Shah said in the presence of Prime Minister Narendra Modi and several other senior leaders of the party.
The winning streak of the BJP will not stop and it will win all polls from now on and notch up a bigger victory in the 2019 Lok Sabha polls than it did in 2014, he said.
Shah said the state has shown trust in Prime Minister Modi's "clean governance" and rejected the Congress' "divisive politics".
He accused the Congress of using money and muscle power in Karnataka and added that the party was rejected by people of the state.
The result: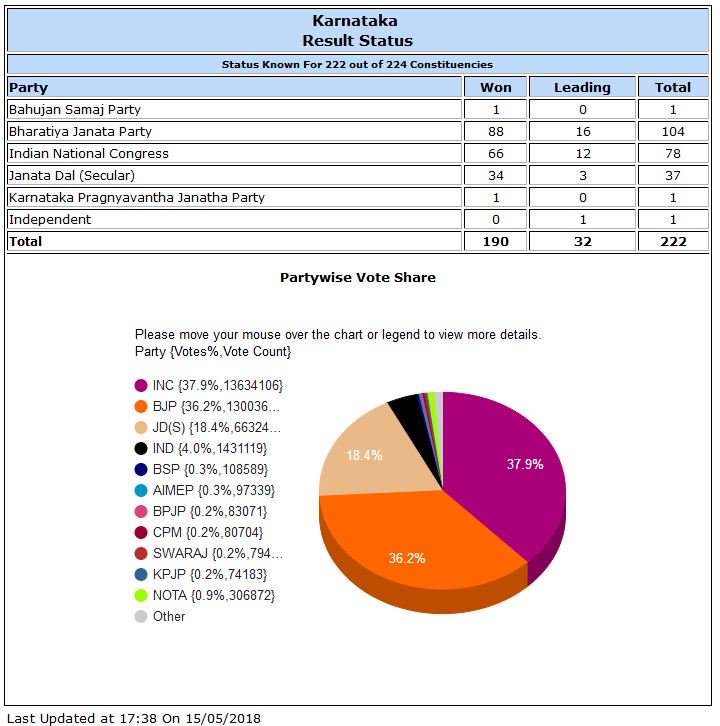 DeshGujarat