GPAC marks Gujarat Day at Toronto in Canada; presents Gujarat Gaurav Awards 2018
May 18, 2018

Gandhinagar: When it comes to North American continent, we often hear about various events organized for the Gujarati community in America, but there was an event organized in Canada recently which was quite significant in terms of its scale, matching to NRG events in America.
GPAC(Gujarat Public Affairs Council of Canada) recently celebrated the foundation day of Gujarat in the city of Toronto and presented 'Gujarat Gaurav Awards 2018' to Jay Chauhan(philanthropy), Ajay Shah(Business), Devang Bhatt(media – journalism) and Osman Mir(Culture).
Chauhan is former judge, lawyer, author and philanthropist. Ajay Shah realtor. Devang Bhatt heads Gujarat TV news channel in Ahmedabad and has interviewed record highest number of dignitaries for his popular TV series in Gujarat. Osman Mir is well known Bhajan and folk singer.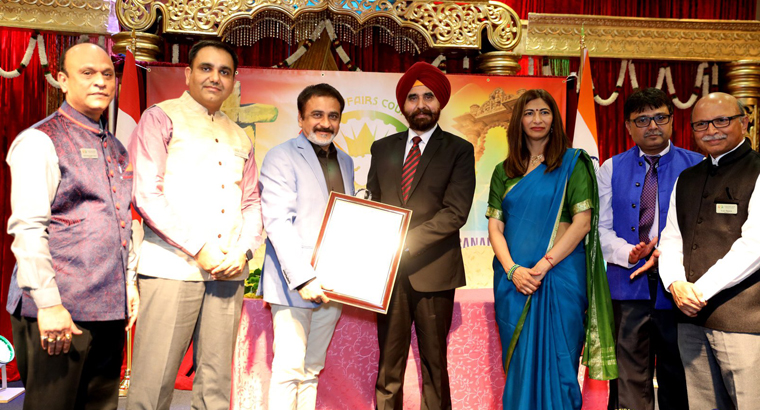 Toronto is believed to have presence of over 4 lakh immigrants who are originally from Gujarat. According to Naresh Chavda who heads GPAC, the idea behind GPAC is to unit the Gujarati community settled in Canada. Chavda said, GPAC is a non-profit organization which intends to bridge the governments of India, Gujarat and Canada. The organization aims to connect Gujaratis living in India and Canada in economic, cultural and social spectrum. Chavda shared the details of GPAC's mission in the function which was also graced by Davinder Pal Singh, Consul (Press, Information &Community Welfare), Dipika Damerla, who serves as Minister of Seniors Affairs in the Cabinet of Premier Kathleen Wynne.
Ahmedabad based Management speaker Dr. Shailesh Thakar launched his latest book' India at 2050′ in this function. Gujarat Chief Minister Vijay Rupani's congratulatory message to GPAC was read out in this function. National anthems of India and Canada were played in the function. Zankar dance group performed Ganesh Vandana, Garba and Dandiya in the function.
The event was anchored by Dhaval Vediya, General Secretary of GPAC. GPAC vice president, Pranav Patel, treasurer NK Patel, directors Ashwin Amin, Bhavesh Bhatt, Chirag Shah, RB Patel, Vijaykumar Pandya worked hard to make this event successful.
DeshGujarat