BJP hits back at Dhanani for demanding special session of assembly, asks what opposition was doing in last session
June 02, 2018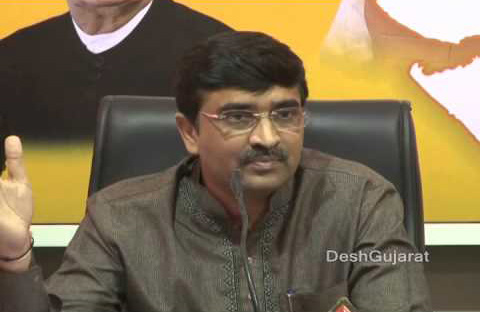 Gandhinagar:
Hitting back at leader of opposition Paresh Dhanani's demand and letter to CM Vijay Rupani demanding special session of Guajrat Assembly to discuss various issues, BJP today said that this demand was only a show-off as the party was not interested in any pro-people issue and was only interested in spreading caste-conflict and anarchy.
Party spokesperson Bharat Pandya said that during the last session of the assembly, Congress instead of giving voice to people's issues only created ruckus, indulged in hurling abuses and even fighting inside the house putting a blot on the democracy. Even the people of Gujarat had seen these acts of Congress MLAs on TV.
'The party has no interest in people's issues or their resolutions. It only want to spread caste conflict and anarchy. It never even goes among the people. Whenever the assembly or parliament remained in session Congress neither asks questions of public interest in the house nor allow the government to put forth the info about such schemes. It constantly disrupts the proceedings of the house and now without being ashamed for its acts, it was asking for a special session,' he said.
He said that Congress itself never approaches people and even try to obstruct the works of people's service. Pandya questioned Congress distancing itself from water conservation campaign Sujalam Suphalam in which social, religious outfits and the common people also participated.
'Instead of participating in such an important scheme, Congress was only indulged in false allegations. The people of Gujarat have already recognized its negative role,' he said.
DeshGujarat