Rupani inaugurates GSRTC corporate office at Ranip, other services
June 12, 2018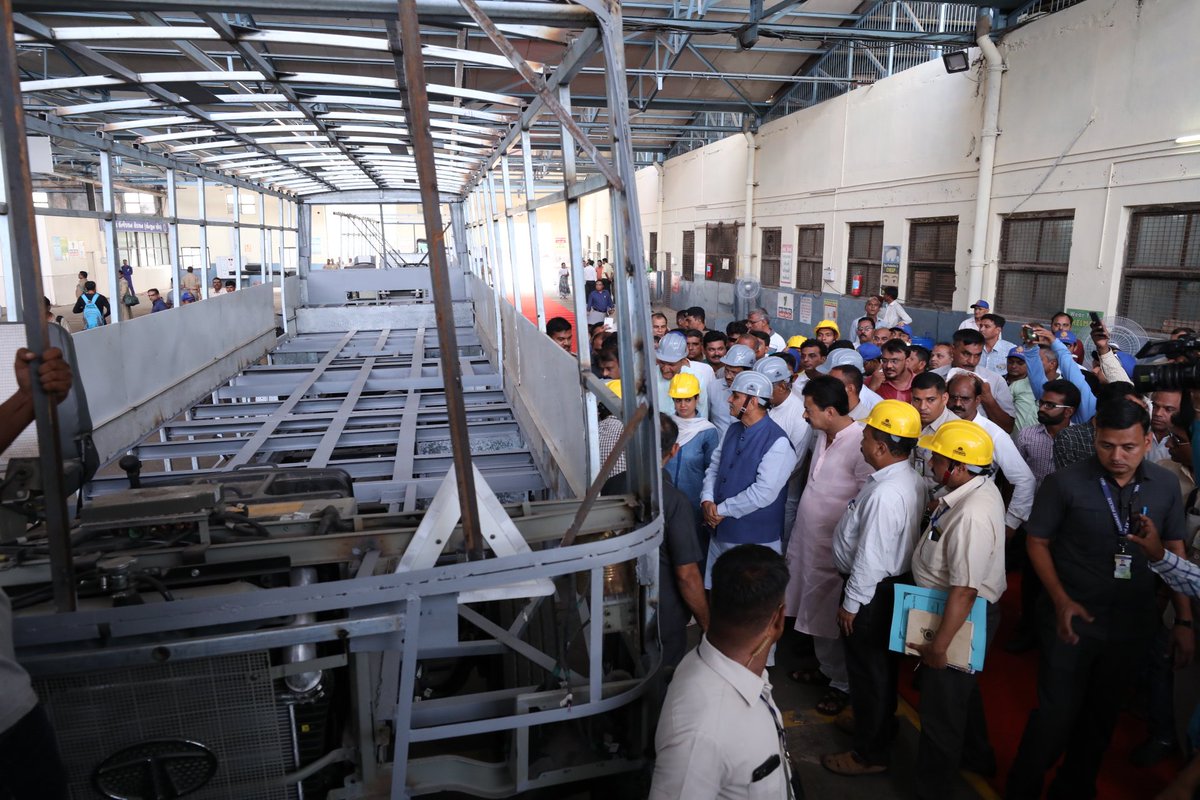 Ahmedabad: Chief Minister Vijay Rupani today reiterated the State Government's commitment for Gujarat State Road Transport Corporation (popularly called 'ST') providing easy, safe and modern transport system to the people on 'No Profit, No Loss' basis.
He was speaking at a function in presence of Deputy Chief Minister Nitinbhai Patel to mark the inauguration of the ST's first-ever new modern Corporate Office Building at Ranip with central 'command and control' room, demonstration of existing central workshop at Naroda, Metro-Link Bus Routes, flagging off buses built at the first-ever ST's in-house bus body building unit, and starting affordable bus service for marriages. The ST's new five-storey central corporate office is built on PPP basis on 4,887 square metre, with modular sitting arrangement at a cost of Rs.7.50-crore.
The 'command and control' room to keep track of departure and arrival of a fleet of 7,465 buses, their halts at scheduled intermediate stoppages through GPS, is to make ST bus service more popular than private ones.
In a first-ever initiative in the country, the ST has undertaken in-house body building of AIS 052 certified super express and midi buses under Central Motor Vehicles Rule and Bus Body Code. It incorporated 29 changes, using fire retardant grade materials with safety measures against fire from short-circuit, with enough leg room, window view for each seat.
While there is Metro-Link Bus Service to link major cities and district headquarters, Midi Bus Service is to be run on 235 routes.
He said the ST will provide buses at favourable prices for marriage party, as an alternative to private bus service, at Rs.700 for single trip and Rs.1,200 for return trip up to 20km, likewise Rs.1,200 and Rs.2,000 up to 40 km, and Rs.1,500 and Rs.3,000 up to 60 km.
Referring to the ST buses reliability and punctuality vis-à-vis private operators, he said that it has undergone change in 24×7 work culture, maintaining drivers and conductors being the mainstay of ST, as it covers 98 per cent of the state's villages and 99 per cent of the population. It offers concession to students, service to senior citizens. Deputy Chief Minister Nitinbhai Patel said that ST has become synonymous with public transport, at the same time being empathetic to the employees' issues.
Transport Minister R.C. Faldu said that ST continues to operate despite difficult situations as it aims at turning a loss-making enterprise into making profit. ST Managing Director Sonal Mishra in her welcome address said launching as many as five projects in one day a Red Letter Day for ST.
– Information