Thousands participate in State-level International Yoga Day function in Ahmedabad
June 21, 2018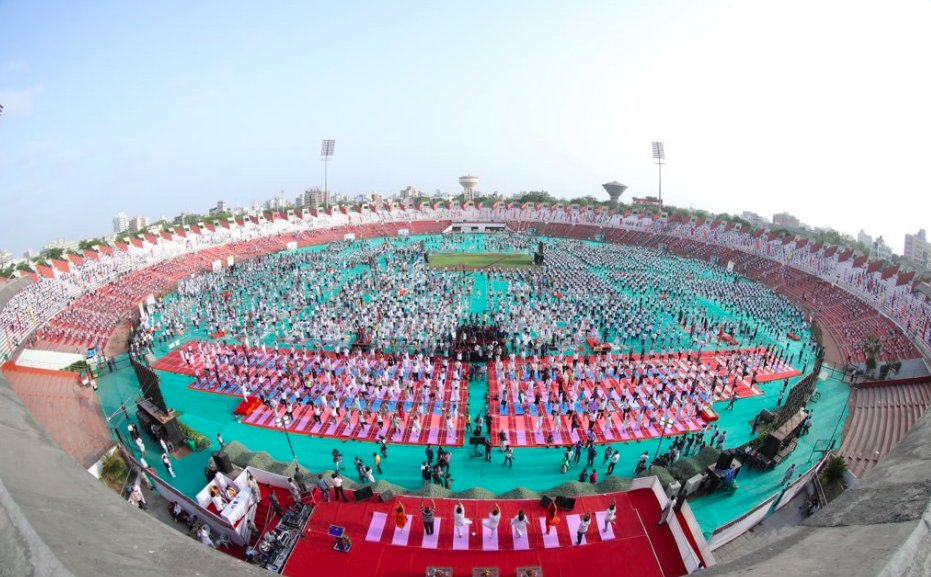 Ahmedabad: The State-level International Yoga Day, being celebrated in the world due to efforts of Prime Minister Narendra Modi, was held at the Sardar Patel Stadium here today, with Governor O.P. Kohli, Chief Minister Vijay Rupani, Union Minister of State for Law and Justice P.P. Choudhary, Ahmedabad Mayor Bijalben Patel and a large number of people joining yoga asana.
Speaking on the occasion, Governor O.P. Kohli said that yoga is a unique confluence of Indian culture, tradition and knowledge, now internationally acknowledged due to efforts by Prime Minister Narendra Modi, a matter of pride for all of us. Yoga is an effective means to link body, mind and soul with the ultimate soul. He said that yoga has also been found effective in Indian systems of medicine, and all the more relevant in modern times for stress and strain.
Chief Minister Vijay Rupani said the world has recognised the importance of India's universal yoga asana to lead a stress-free life, necessary to awaken universal and establish universal brotherhood. It was due to relentless efforts of the Prime Minister that accorded global recognition to International Yoga Day on June 21.
He expressed satisfaction at 75 lakh people joining the mass yoga performance in the state, not a small feat though. He appealed to the people to make yoga a daily habit, and not just for a day or two, to lead a healthy life. He said the state government is committed to promote yoga, and hence college and university students are imparted training in yoga.
Union Minister of State for Law and Justice P.P. Chaudhary said that Prime Minister Narendra Modi's proposal to celebrate June 21 as International Yoga Day was accepted by the entire world.
The Governor and the Chief Minister felicitated the winners of the state and district level yoga competitions at the Khel Mahakumbh and presented them with citations..
Others present during the event included Youth Services and Cultural Affairs Secretary V.P. Patel, Commissioner Satish Patel, Municipal Commissioner Mukesh Kumar, Ahmedabad District Collector Vikrant Pandey and senior officers.
– Information