Two golden brooms made for CM, DyCM to perform Pahind Vidhi for 141st Jagannath Yatra
July 10, 2018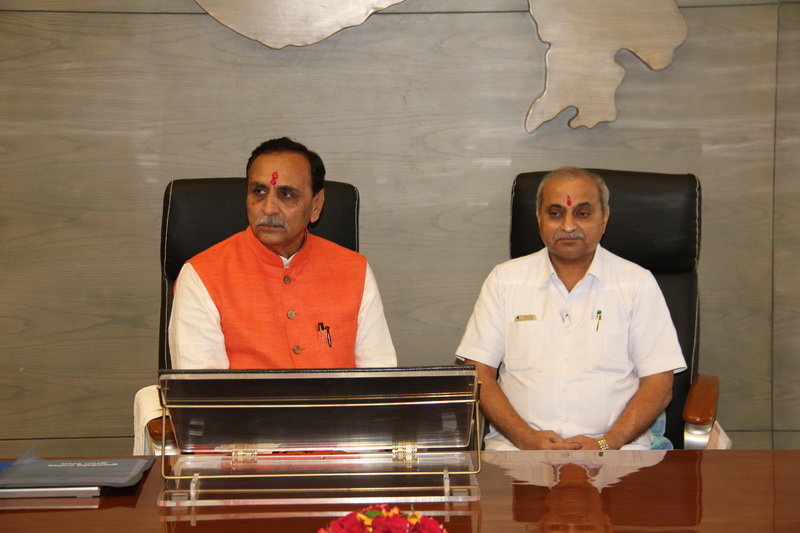 Ahmedabad:
CM Vijay Rupani and DyCM Nitin Patel would do the Pahind Vidhi on July 14 to mark the beginning of 141st Rath-Yatra from Jagannath temple in Jamalpur area of the city.
Addressing a press conference the Trustee of the temple Mahendra Jha today said that two golden brooms, one for CM and another for DyCM have been made for the Pahind Vidhi. Both would do the ritual of cleaning the path of Rath yatra at around 7 am on July 14, the Ashadi beej day and also pull the chariot to mark the beginning of it.
'The Rath Yatra will take the traditional route via Municiapal Corporation, Raipur Chakla, Khadiya crossing, Kalupur cirlce to reach the Mosal at Sarspur and return to the temple via Prem Darwaja, Delhi Chakla, Shahpur, Ghee Kanta, Manek Chowk,' he said.
Prior to the commencement of the Rathyatra, Mangla Aarti would be performed early morning at 4 am. Later the strips tied on the eyes of the three deities Lord Jagannath, Sister Subhadra and Balbhadra on July 2 before the Netrotsav Puja by Governor O P Kohli would be opened.
On the eve of the yatra, Rath Puja would be performed. In the sandhya aarti various ministers of the state including Bhunpendrasinh Chudasama, R C Faldu, Kaushik Patel and Pradipsinh Jadeja would remain present.
He said that 18 decked up elephants, 101 tableau, 30 akhadas, 18 bhajan mandalis and 3 band parties would be part of the rath yatra. Over 2500 saints from across the country would also participate in it. Around 30000 kg of Moong (green gram), 500 kg Jamun (Indian blackberry), 300 kg of mangoes and 400 kg of cucumber/pomegranate would be used for prasad.
Notably, over 20000 security personnel including SRP and para military forces would be deployed on the rath yatra route which would be under the eye of CCTV cameras and drone cameras.
DeshGujarat