RIL reports highest quarterly profit ever at Rs 9,459 crore
July 27, 2018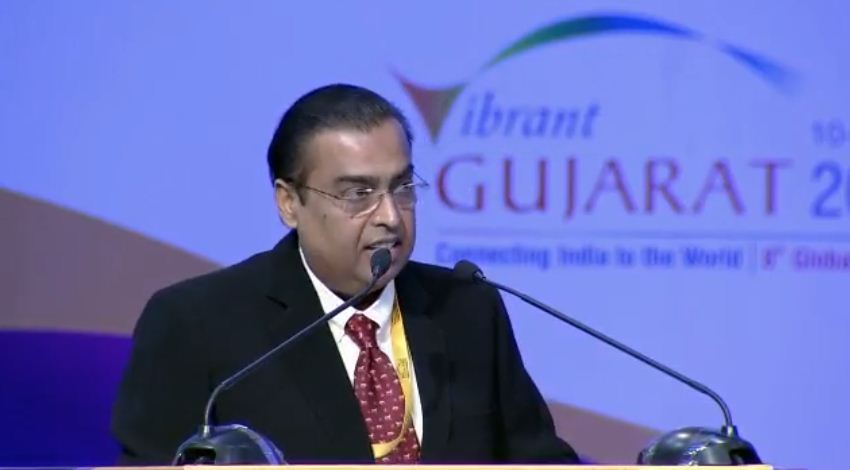 Mumbai: Mukesh Dhirubhai Ambani led Reliance Industries today reported its highest ever quarterly net profit as bumper earnings from the retail business, improved profitability of telecom arm and near doubling of earnings from petrochemical business offset lower margins from oil refining business.
Consolidated net profit of Rs 9,459 crore, or Rs 16 per share, in April-June, was 17.9 per cent higher than Rs 8,021 crore, or Rs 13.5 a share, in the same period of previous fiscal, the oil-to-telecom conglomerate said in a statement.
Revenue was up 56.5 per cent at Rs 141,699 crore.
The April-June 2017 profit has been taken after excluding Rs 1,087 crore exceptional income from the sale of a stake in Gulf Africa Petroleum Corp, Reliance said.
Its retail business, which comprises of 8,533 stores across over 5,200 towns and cities, saw pre-tax profits jump by a 266 per cent to Rs 1,069 crore on more than doubling of revenues to Rs 25,890 crore.
Reliance Jio, the group's telecom arm, posted a standalone net profit of Rs 612 crore, which was 17 per cent more than the previous quarter as subscriber base swelled to 215 million.
It had a pre-tax loss of Rs 22 crore in the first quarter of 2017-18.
The petrochemical business saw pre-tax profits jump by 94.9 per cent to Rs 7,857 crore after the company stabalised operations of a new refinery off-gas cracker and other downstream units.
The operator of world's largest oil refining complex saw pre-tax earnings from the business declining 16.8 per cent to Rs 5,315 crore as margins dipped.
It earned USD 10.5 on turning every barrel of crude oil into fuel as compared to a gross refining margin of USD 11.9 per barrel.
This it attributed to lower crude throughput due to a planned turnaround of one crude distillation unit and softer refining margins.
The pre-tax loss of oil and gas business widened to Rs 447 crore from Rs 373 crore in the first quarter of 2017-18 due to continued decline in production.
With telecom continuing to drain investments, Reliance said its outstanding debt rose to Rs 242,116 crore as of June 30 from Rs 218,763 crore as on March 31.
Cash in hand was marginally higher at Rs 79,492 crore.
Commenting on the results, Mukesh D. Ambani, Chairman and Managing Director, Reliance Industries Limited said: "We continue to focus on strong delivery through operational excellence in our portfolio of businesses. Financial results of 1Q FY19 underscore the strength of the petrochemicals we have reinforced over the last investment cycle."
Petrochemicals business, he said, generated record EBITDA with strong volumes and an upswing in polyester chain margins while refining business performance remained steady despite the seasonal weakness in cracks.
"Continuing strength in global demand for oil products and implementation of more stringent environmental norms for marine fuels augurs well for our refining business," he said.
Ambani said his group's consumer businesses continue to "scale new highs".
"Retail business revenues have more than doubled and EBITDA has trebled on a year-on-year basis," he said. "Jio added a record number of subscribers, highlighting the compelling technology and value proposition that Jio offers vis- -vis other networks."
Return on Capital Employed (RoCE) for the retail business exceeds 27 per cent.
Net subscriber addition for Jio was 28.7 million in April-June, as against 26.5 million in the previous quarter.
The Average Revenue per User (ARPU) stood at Rs 134.5 for the first quarter of 2018-19, it said.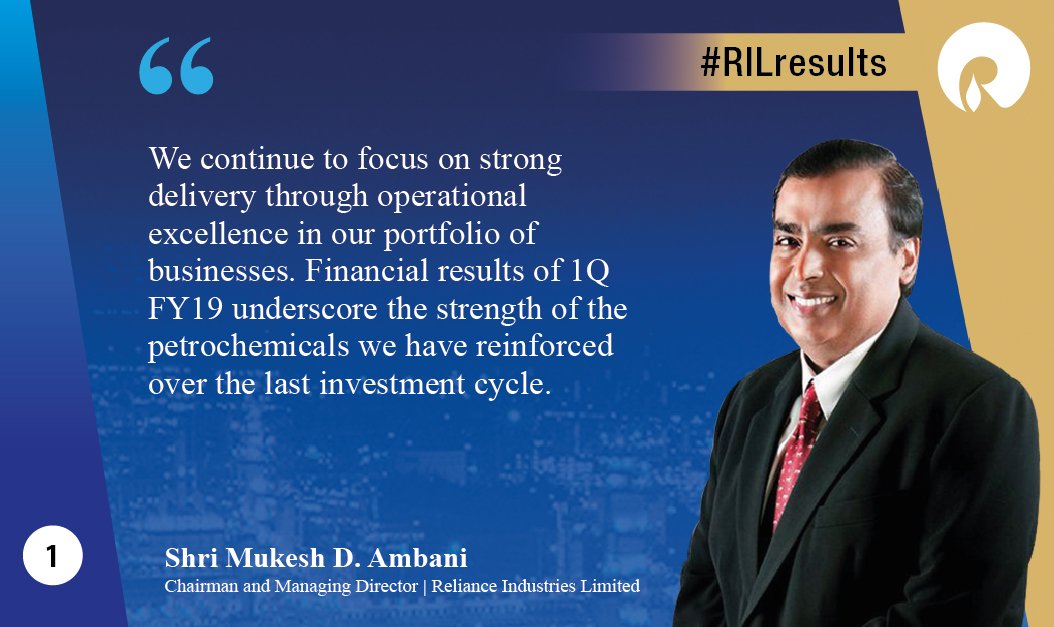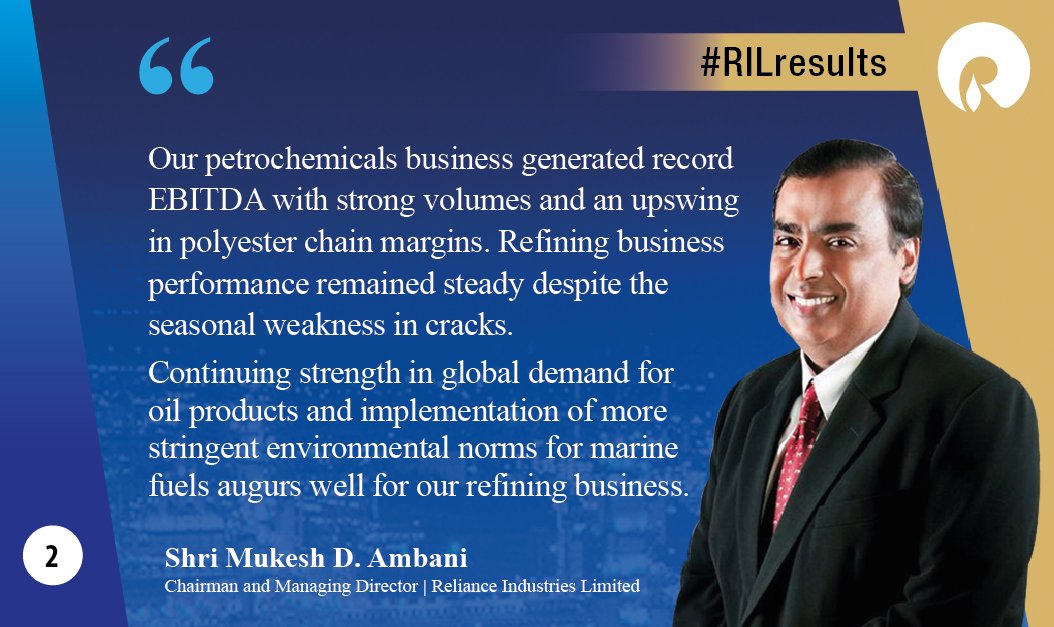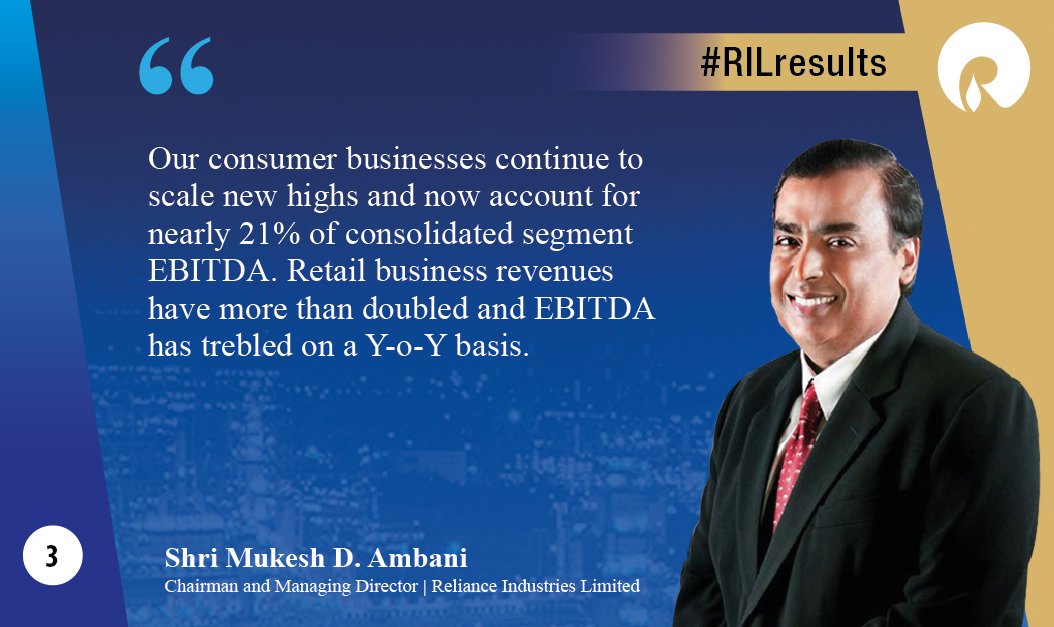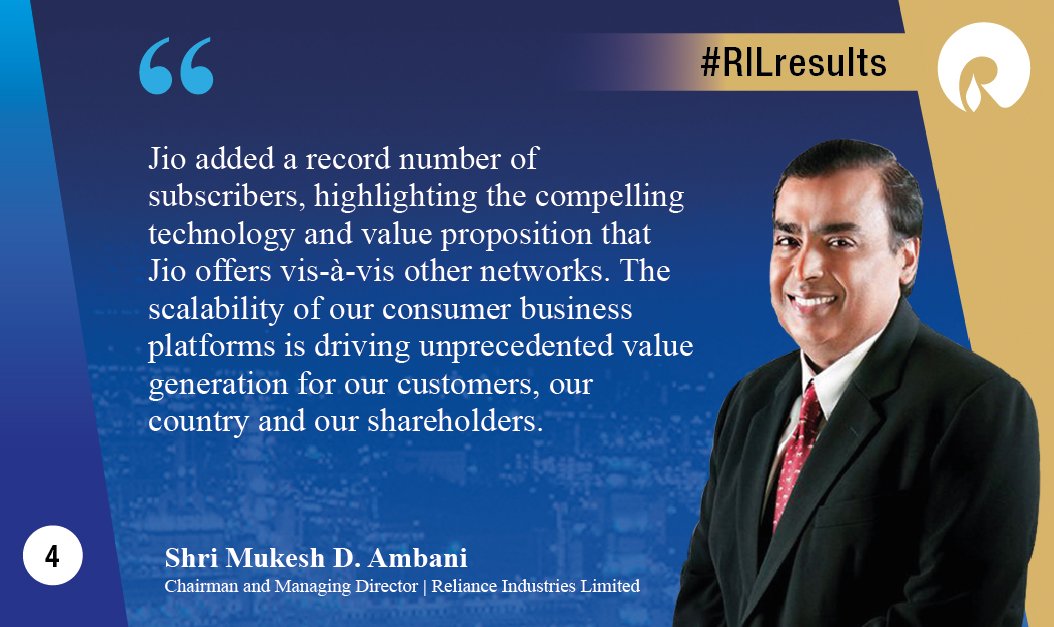 DeshGujarat