CM Rupani chairs review meeting about delay in rain, Dy CM terms situation grim
August 07, 2018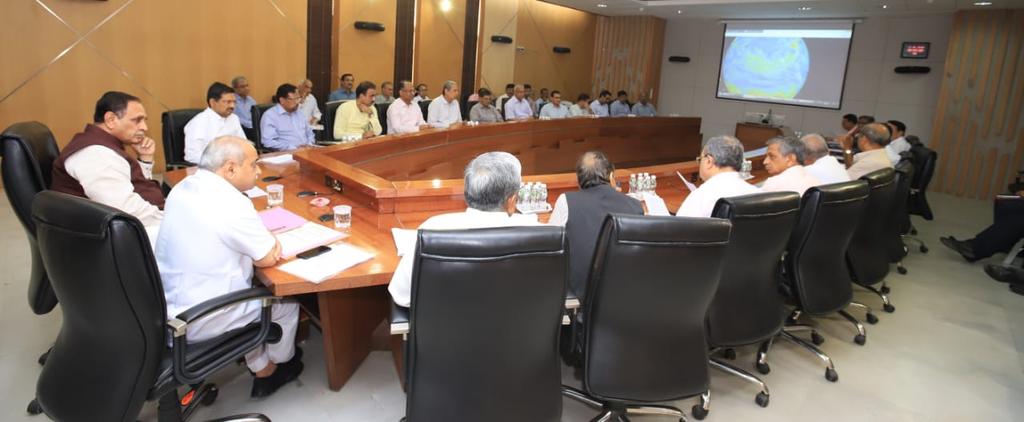 Gandhinagar:
Chief Minister Vijay Rupani today chaired a high level review meeting with regard to the situation arisen due to recent long- break in monsoon rain in the state and took several decision including extending of subsidized electricity supply period for farmers from existing 8 to 18 hours every day.
Addressing a press conference after the meeting DyCM Nitin Patel said that the 44 talukas in the state which have so far received less than 125mm (5 inches) of rain would continue to receive grass for cattle at the subsidized rate of Rs 2 a kg.
'Another decision was taken to extend the electricity supply time for farmers from 8 hours to 10 hours daily across the state so that they could use the alternative sources for irrigation. On the subsidized electricity to farmers the government on an average spends Rs 4500 crore and due to the extension of hours, an additional burden of over Rs 500 crore would be put on the exchequer,' he said.
Terming the water availability situation in the state as serious and grim, Patel said that as in the around 1200 long area of river Narmada no good rain has taken place so far and the Tava dam in the neighbouring state has only 35%, Indirasagar dam has 31% water. Sardar Sarovar dam in Gujarat has also only 102 Milliion Cubic Meter water as against its total collection capacity of 5760 MCM. The water in it is only sufficient for supply for a few more days.
'The water level in Ukai dam on Tapi in South Gujarat that supplies water to Surat city and other 3 districts was also not very good. Kadana Dam and dams in Banaskantha and Sabarkantha districts were also not having a good collection of water. Narmada, Tapi and many other important rivers depend on rain in neighbouring states of MP, Maharashtra and Rajasthan. So the situation was grim and we all must pray to lord that there should be rain in the catchment areas of the rives in these states soon,' Dy CM said.
He clarified that the decision to provide irrigation water from Narmda dam during recent monsoon rains is still on. More than 3 crore people also depend for drinking water on it. Of the total 28 Million Acre Feet capacity of the Narmada project command area, Gujarat has a share of 9 MAFt, but due to scanty rain we have not received it. There is still much time left for monsoon rain and we should hope that the situation would improve soon.
To a query he said that the possibility of taking control of the situation through artificial rain was bleak.
He said that the meeting held at CM residence was also attended by Energy Minster Saurabh Patel, Agriculture Minister R C Faldu, Chief Secretary and other secretaries and officials of concerned departments.
Later talking to newsmen Energy minister Saurabh Patel said that by the decision of extending the electricity supply hours the requirement for the same is likely to increase to 8 crore units from around 6.3 crore units.
DeshGujarat