Worrying picture of monsoon overall so far, but enough availability of drinking water for full year, says Gujarat govt
August 07, 2018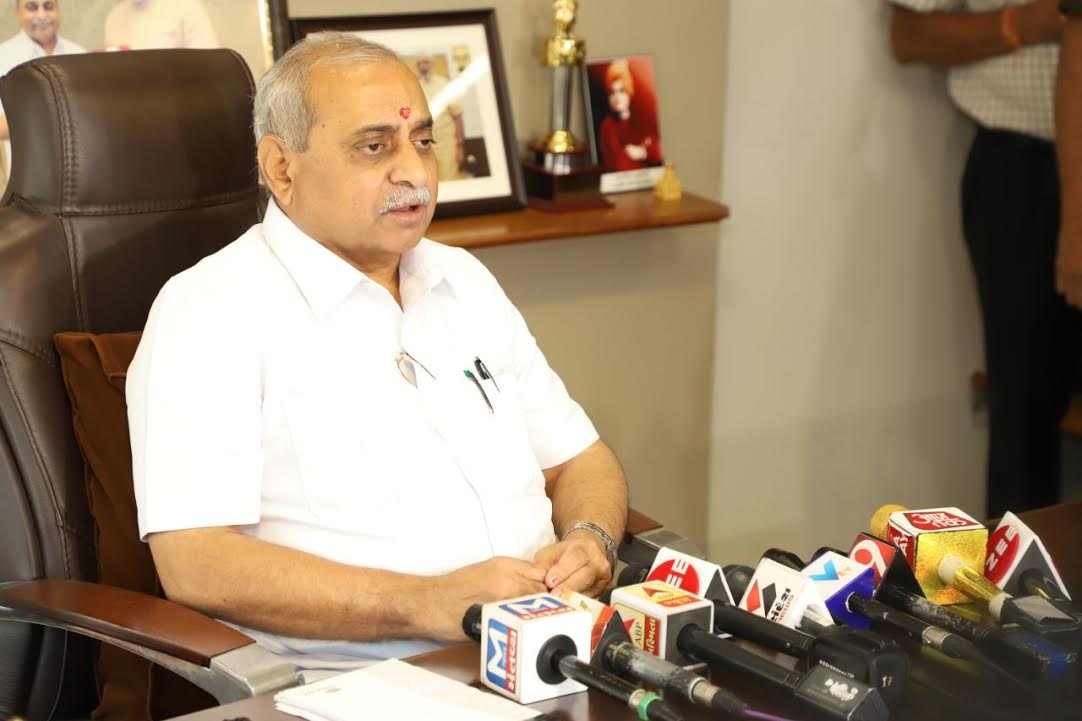 Gandhinagar: The Government of Gujarat today said it was concerned about rain deficiency and delay of fresh round of rain.
Deputy Chief Minister Nitin Patel, addressing the media persons after high-power committee meeting in Gandhinagar to review the monsoon said:
– There are 44 talukas where rainfall of this season is lesser than 5 inch. All gaushalas and panjrapols will continue to get fodder at subsidized rate of Rs 2 per kg for extended period.
– In addition to this, pashupalaks(cattle rearers) will also get fodder for Rs 2 per kg in these talukas.
– In entire Gujarat, agriculture power supply will be increased from 8 hours/day at present to 10 hours/day so that farmers can draw irrigation water.
– The state government will bear more than Rs 500 crore cost for supplying agriculture power for additional two hours.
– In entire state, rain has been on halt after initial rounds.
– Not all areas in the State have received rainfall enough for sowing.
– Gujarat gets water in its rivers and major dams from neighboring states of Maharashtra, Madhya Pradesh and Rajasthan. Ukai dam receives water from Maharashtra. Ukai serves four districts of South Gujarat including the city of Surat. So far Ukai has limited water storage.
– Kadana and Dharoi dams in Northern Gujarat districts of Sabarkantha and Banaskantha received water through rainfall in neighboring state Rajasthan. So far, all three neighboring states have received insufficient rain.
– If 28 million acre ft water is stored across all dams over river Narmada, Gujarat would get 9 maf water as per the tribunal award and Supreme Court decision. If storage of water is lesser than 28 million, then all stake holder states get lesser water in proportion. As per the Narmada Control Authority(NCA) order, Madhya Pradesh needs to give water to Gujarat in prescribed proportion compulsorily. So far instead of 28 million, only 5 million acre ft water is available in the dams of Gujarat and Madhya Pradesh over river Narmada. Gujarat govt is sure that drinking water issue will not arise for entire year with whatever water is available in Narmada dam so far. The government will give first priority to drinking water. Let's pray for best rainfall in upcoming days of monsoon season. As on today, one and half month period of monsoon is still left. Madhya Pradesh generally receives good rain in the end of the month of August.
– Live water in Narmada dam is available for four-five days. If live water(that can be supplied through canal) is not available, then Narmada water will be reserved only from drinking purpose. In other dams especially in Saurashtra region, if water is available in dams, first priority will be given to drinking water. Only if surplus water is available, irrigation water will be released.
– A meeting of committee will be held regularly for assessment and review of situation and decisions will taken time-to-time as per requirement.
DeshGujarat