Office of former BJP MLA also not spared during anti encroachment drive in Ahmedabad
August 10, 2018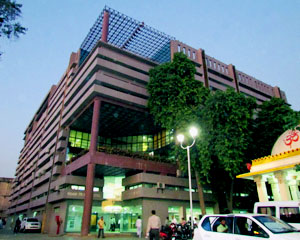 Ahmedabad:
The anti-encroachment drive of police and AMC in Ahmedabad city of Gujarat continued today as well and during it even the office of a former local BJP MLA in the city was not spared.
During the drive the sign board of the office of former MLA from Asarwa seat Ranjikant Patel was pulled down.
An onlooker on the occasion said that this action shows that the drive was completely non-partisan. A JCB machine of the corporation pulls down the sign board of the office of a prominent leader of the ruling party is not a common scene.
'Though there were some reservations about the drive in which many poor people have lost jobs yet the common perception is that it is being done impartially,' he said.
The anti encroachment as well as anti-illegal parking drive in the city continued in several areas today as well. The traffic police team was also scene removing black films from the glasses of several vehicles.
Apart from this checking of the school-vans and other student carrying vehicles in Western zone of the city has also been undertaken by the police and RTO.
DeshGujarat