Vinay Shah ponzi scheme case: Court gives 6 days remand of wife Bhargavi to CID-crime
December 07, 2018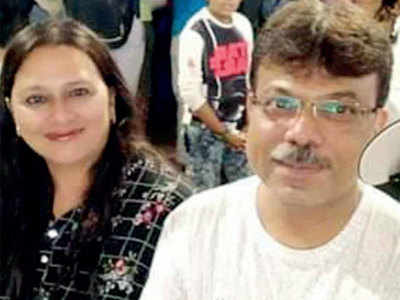 Gandhinagar/Ahmedabad: The CID-crime investigating over Rs 200 crore online ad/investment scam of Gujarat by mastermind Vinay Shah, today produced his wife Bharvavi shah in a court in Ahmedabad which allowed her to be taken on 6 days remand for further interrogation and investigation.
Bhargavi had surrendered before the probe agency yesterday.
In the court CID-crime argued that further interrogation of the accused Bhargavi was important for the case. It sought 14 days remand while the court allowed it for six days ie till November 13 in the presence of woman police official. Bharvagi's advocate had opposed the remand saying that she had got properties from her father and also she was not at good terms with Vinay for past 3 years.
Notably Vinay, who was nabbed by the Nepal police in Pokhara on November 24 with foreign currency worth around Rs 30 lakh,was lodged in jail there.
He was nabbed by the local authorities of Nepal as they become suspicious of him due to his extravagant spending in bars and other such places in Pokhara, one of the main tourist spots in Nepal. He had also reportedly fallen for a Nepali lady Chanda Thapa who worked in a Delhi spa. She was also arrested with him. His alleged wasteful spending had attract the eyes of the locals which in turn brought him to the notice of the authorities leading to his arrest.
Notably Gujarat government had handed over the probe of the sensational ponzi scheme to the state crime on November 14.
CID crime was also competent under the Gujarat Protection of Interest of Depositors (in Financial Establishments) Act, 2003, to recover the scam money from the assets of the accused to compensate it to the victims. An SIT has been constituted for the probe of the scam which as per an estimate has affected thousands of investors.
Shah in a letter earlier had alleged several police officials and others of being the beneficiary of his scam.
Shah had opened an office in Thaltej area of Ahmedabad and allegedly duped numerous people by making them invest in his scheme which claimed to double or more than double different fixed sums collected in the name of running advertisements on two websites created by his company. It also used to give username and password to those who pay a certain amount and claimed to pay also for seeing the advertisement a certain number of times.
Vinay had also made several investors go for sponsored foreign trips.
Allegations were leveled that he had nexus with police and politicians.
CID crime had earlier recovered cash and other items worth over Rs 50 lakh from the residence and offices of Shah here. Apart from cash, over 30 computers, 2 laptops, gold and silver jewelry, 4 swipe machines and other articles and documents were seized. Some of the documents were reportedly pertaining to investment in stock markets.
Vinay could be brought to India through extradition process, once the legal formalities against him are over in Nepal.
DeshGujarat