Photo of Tiger and the place look real but no concrete evidence of its presence could be found so far: DCF Parmar
February 11, 2019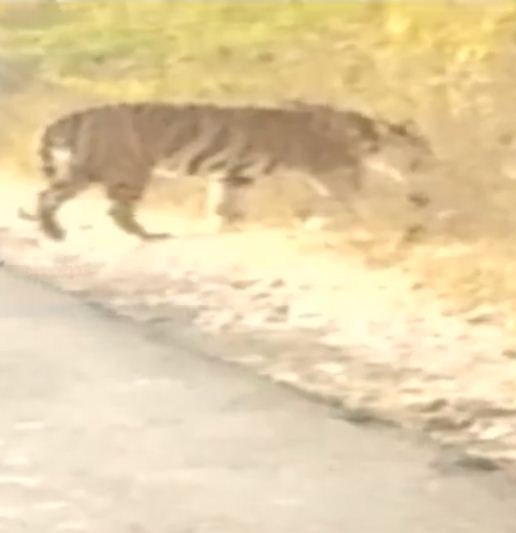 Lunavada (Gujarat): The forest department today said that even though the picture taken by a teacher in a forest area in Mahisagar district of Central Gujarat looks like that of a real tiger, yet no concrete proof about presence of such wild beast could be found so far.
DCF of Mahisagar R M Parmar today said that teacher in Goriya area Mukesh Mehra has claimed to have taken picture of a tiger from his car near Gadh forest around 20 to 25 km from here in the bordering area of neighboring Panchmahal district some four days ago at around 5.00 pm through his mobile camera.
'We have seen the picture taken by his mobile phone camera and it seems like that of a real tiger and also the background area is also of Gadh forest. But any evidence including pug-mark has so far not been visible. Even the villagers claim to have seen such a beast. But merely on these claims presence of a tiger in Gujarat can't be established,' he said.
Parmar said that though it was still a matter of detailed investigation, which in fact was going on, yet many a times villagers and others mistakenly take a hyna (Jarak in Gujarati) or a Panther for a tiger.
'For the past two days we have even put two cameras in the area to track the beast but so far nothing has come up. Now we are waiting for any hunting by the beast in the area. In fact last month a calf was killed in a close by area by a wild animal and again a goat was killed in Santrampur area on February 3 also. But as by that time we did not have this claim about tiger, we did not examine the cases in detail. Now if any such killing happens we will examine it minutely to ascertain as to which animal has killed it. That could be the biggest clue if we don't find the trace in any other way,' the DCF said.
He said that tiger, whose presence in Gujarat has not yet been officially established was never seen in the past in this area.
Parmar said that he has deployed forest-men to keep an eye and track the beast as described by the teacher.
DeshGujarat