Goa CM Manohar Parrikar passes away after fighting tough battle with cancer
March 17, 2019
Panaji:Goa Chief Minister Manohar Parrikar breathed his last at his private residence at Dona Paula near the city on Sunday after fighting a tough battle with deadly cancer for the last one year.
The former Defence Minister of the country was tenth chief minister of Goa. He was 63 and battling advanced pancreatic cancer which was diagnosed in February last year. However, formal announcement about the disease was made in October last year.
Parrikar, born on December 1955, was Chief Minister of Goa from 2000 to 2005, from 2012 to 2014 and from March 14, 2017 to March 17, 2019.
When National Democratic Alliance (NDA) Government was formed under the leadership Prime Minister Narendra Modi, Mr Parrikar was inducted into the union cabinet as defence minister of the country. He was elected Member of Rajya Sabha from Uttar Pradesh.
Parrikar, who was elected as MLA for the first time in 1994, was instrumental to bringing BJP to power in the tiny coastal state.
His wife Medha had died in 2001. He is survived by two sons – Utpal and Abhijat.
Among the first BJP member of the BJP and an IIT Mumbai Graduate in Metallurgical Engineering, Parrikar rose from being a Rashtriya Swawaymsevak Sangh (RSS) 'pracharak' to Union Defence Minister of the country.
PM condoles the passing away of Manohar Parrikar
The Prime Minister, Shri Narendra Modi has condoled the passing away of the Chief Minister of Goa, Shri Manohar Parrikar.
The Prime Minister said, " Shri Manohar Parrikar was an unparalleled leader. A true patriot and exceptional administrator, he was admired by all. His impeccable service to the nation will be remembered by generations. Deeply saddened by his demise. Condolences to his family and supporters. Om Shanti.
Shri Manohar Parrikar was the builder of modern Goa. Thanks to his affable personality and accessible nature, he remained the preferred leader of the state for years. His pro-people policies ensured Goa scales remarkable heights of progress.
India will be eternally grateful to Shri Manohar Parrikar for his tenure as our Defence Minister. When he was RM, India witnessed a series of decisions that enhanced India's security capacities, boosted indigenous defence production and bettered the lives of ex-servicemen".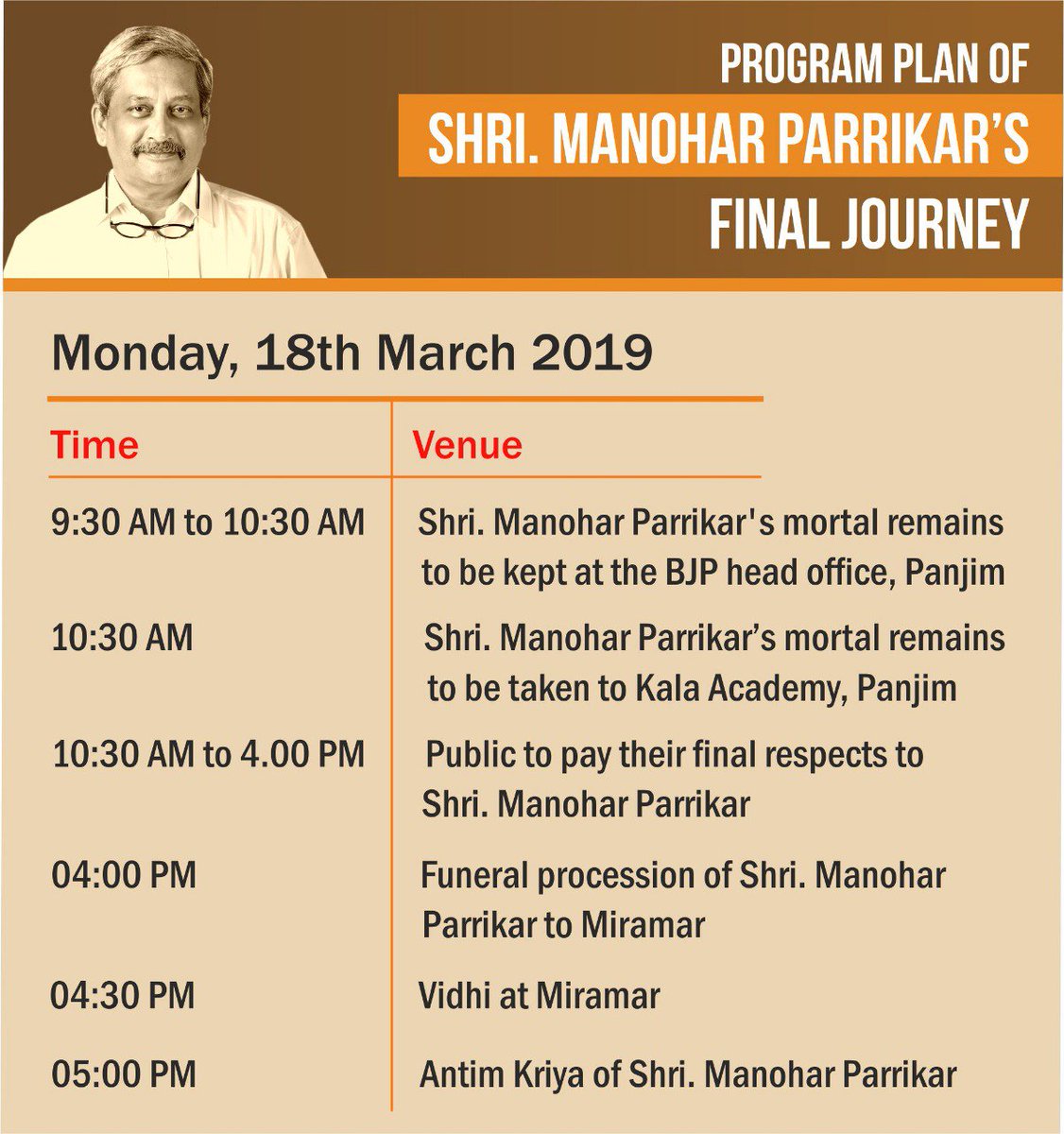 Centre announces national mourning tomorrow following the demise of CM of Goa, Shri Manohar Parrikar. National Flag will fly at half-mast in the National Capital & capitals of States and UTs. State funeral to be accorded to Shri Parrikar. Union Cabinet to meet at 10 am tomorrow.