From fragile 5 in 2014, India became 5th largest economy in 9 years of Modi govt
May 29, 2023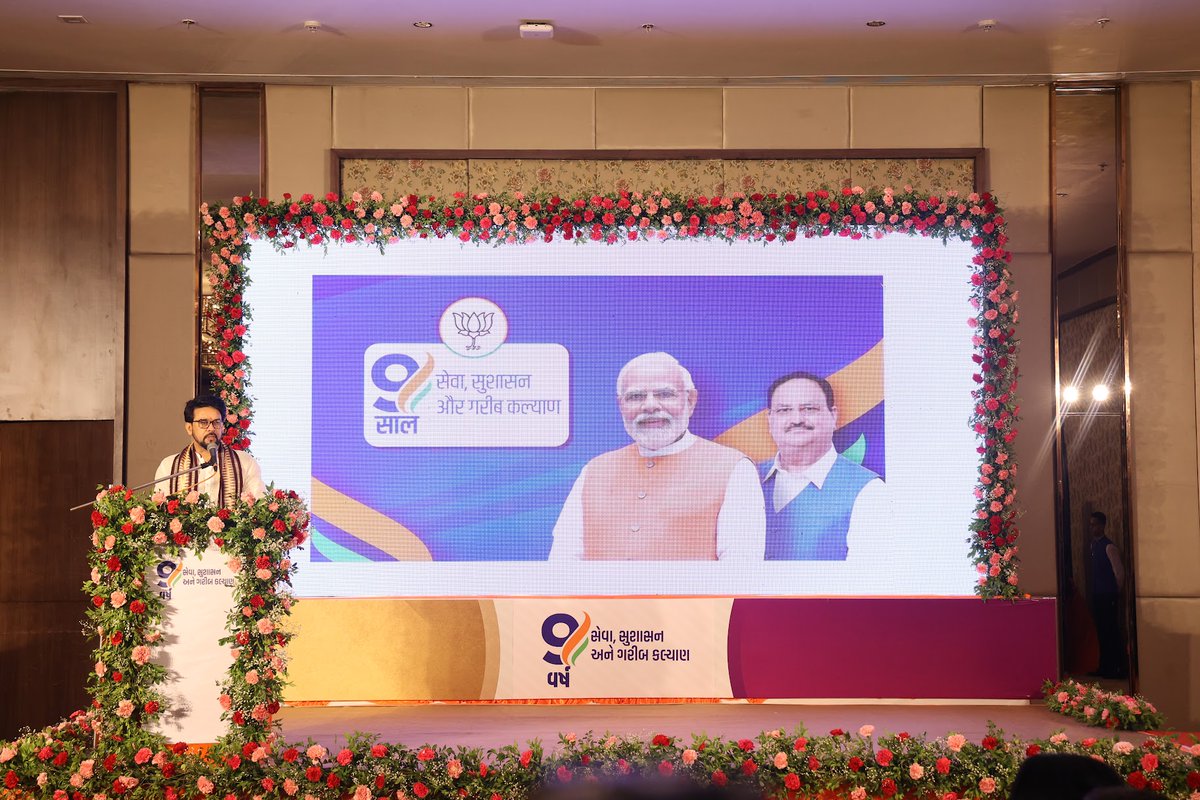 Ahmedabad: The Bharatiya Janata Party (BJP) held press conferences in major cities today to highlight the achievements of the Modi government in the last nine years. Union Minister of Information, Broadcasting, and Sports, Anurag Singh Thakur, and Gujatat Chief Minister Bhupendra Patel interacted with media persons at the Taj Hotel in the Shilaj area of the city.
Addressing the media, CM Patel said, "These nine years have been about the betterment of India's international image, the re-establishment of India's culture, the welfare of the poor, the aspirations of the youth, the empowerment of women, farmer welfare, and a double-engine government."
"Under the leadership of PM Modi, India is holding the presidency of the G20, and G20 meetings are being held in Kashmir. The whole world accepted yoga on the call of the Prime Minister, and Shree Anna (Millets) got global recognition. During the latest visit of PM Modi to three foreign countries, we witnessed that one stateman called him 'BOSS', and another stateman respected him by bowing down. This respect for PM Modi is also shared by 140 crore Indians in New India. The idea for the 'One Sun, One World, One Grid' initiative launched by PM Modi is accepted by the whole world, and India is leading the International Solar Alliance (ISA) for green energy," CM told the media.

"We all witnessed the historic event of the dedication of the new Parliament building to the public, where PM Modi reaffirmed the Indian culture by placing the 'Sengol' there," the CM further added.
Union Minister of Information, Broadcasting, and Sports, Anurag Singh Thakur while addressing the media said, "After becoming the Prime Minister in 2014, PM Modi introduced the Jan Dhan Yojana and PM Swanidhi Yojana. Bank accounts were opened for more than 48 crore needy people in the country today these accounts hold 2 lakh crore. Under the PM Swanidhi scheme, street vendors can obtain a loan of up to Rs 10,000 for one year without any guarantee, thereby including the poor in the economy."
"In the last 9 years under Modi ji's leadership, over 3 crore needy people have received their own houses, with a majority of them registered under the names of female household members. The government has also constructed 11.5 crore household toilets after providing houses under the PMAY scheme. In 2014, only 43.8% of rural households had toilet facilities, whereas today it is nearly 100%," Union Minister said.
Under PM Modi's leadership, tap water has been provided to 12 crore rural houses. The Ujjwala scheme has provided free gas connections to approximately 9 crore 6 lakh people," Thakur said.
Talking about the economy of the county the Union Minister said, "Before 2014, India was among the fragile five economies, but in nine years of the Modi government, we became the 5th largest economy in the world. Today, India is one of the fastest-growing economies."
Thakur also mentioned that approximately 80 crore people have been receiving free ration under the Pradhan Mantri Garib Kalyan Anna Yojana since the COVID-19 period until now. DeshGujarat