PM Modi boosts team India's spirits after loss in World Cup Final
November 21, 2023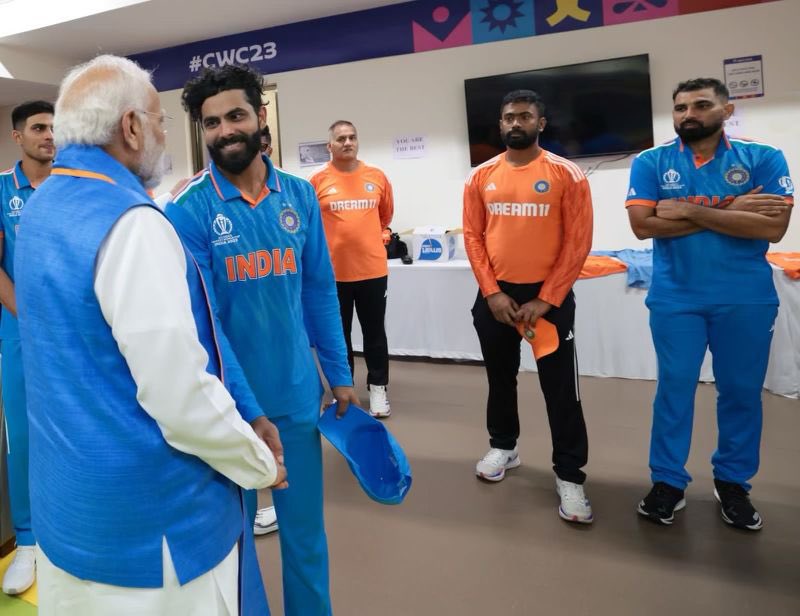 Ahmedabad: Prime Minister Narendra Modi, in a heartwarming gesture on Sunday, visited the Indian players in the dressing room at the world's largest cricket stadium to offer admiration and boost their spirits following their defeat in the 2023 World Cup final.
India's impressive journey in the World Cup came to an end in the final as Rohit Sharma's team suffered a defeat to Australia. During the post-match presentation ceremony, PM Modi, who was the guest of honour, handed over the World Cup trophy to Australia's Pat Cummins and his team.
Following this, PM Modi took the opportunity to uplift the players' spirits with comforting words during his visit to the Indian dressing room.
Watch | Prime Minister Narendra Modi visited the Indian dressing room after the ICC World Cup Finals at Narendra Modi Stadium in Gujarat on 19th November.

The PM spoke to the players and encouraged them for their performance throughout the tournament. pic.twitter.com/ACg3DAM74R

— DeshGujarat (@DeshGujarat) November 21, 2023
In the dressing room, PM Modi provided encouragement, telling Captain Rohit Sharma and former skipper Virat Kohli to cheer up. He also shared words of appreciation with Mohammed Shami, who appeared heartbroken, congratulating him for his exceptional performance in the 2023 World Cup. He lightened the atmosphere, offering light-hearted one-liners during interactions with players like Ravindra Jadeja and Jasprit Bumrah.
In his address to the dressing room, PM Modi acknowledged the team's outstanding efforts, stating, "It happens you won 10 matches in the tournament. Chin up. All of you make sure that you lift the spirits of each other," after praising the contributions of head coach Rahul Dravid.
PM Modi invited the players, saying that he would host them in New Delhi to appreciate their performance. DeshGujarat