Tata's connection with Gujarat's Nano land:1899 and 2008
Tata's connection with Gujarat's Nano land:1899 and 2008
By our correspondent
Chharodi/Sanand/Nano land, DeshGujarat, 7 October, 2008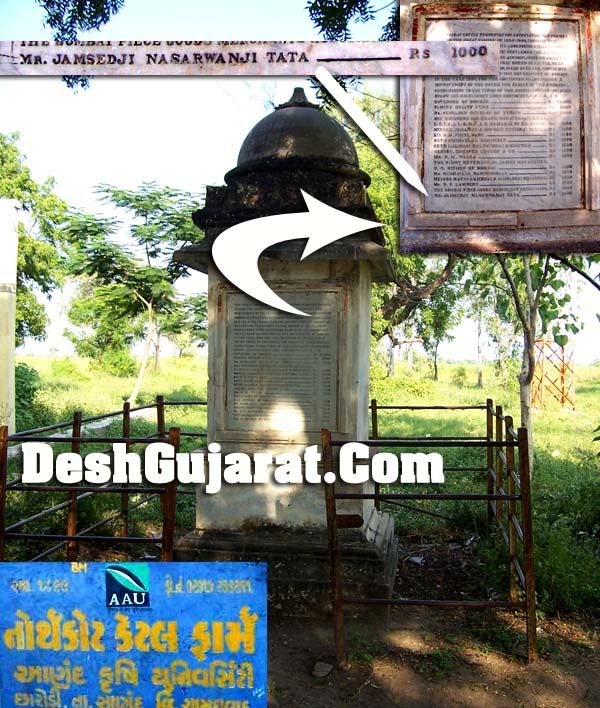 Ratan Tata's great-grandfather and founder of the Tata, Jamshedji Tata had sowed the seeds of piety more than 100 years ago on the very land that the Gujarat government has allotted Tata Motors for Nano project near Ahmedabad. Gujarat Chief Minister in his joint press address with Ratan Tata mentioned this topic in brief. But here are the details.
During the great Indian famine of 18999-1900 in which between 1.25 to 10 million people were killed the Kankrej breed of cow died in large numbers. The donors came forward and helped in saving lives of the animals. Ratan Tata's ancestor Jamshedji Tata donated Rs 1,000 for the well-being of animals housed in the pound which was located on the land offered to Ratan Tata for Nano. While the animal pound no longer exists, a tombstone stands on the land acknowledging the monetary contributions from Jamshedji Tata and others towards protecting the animals.
Writing on a century old plaque installed on the Nano project's plot in Gujarat:
The Gujarat cattle preservation association was formed during the Great famine of 1899-1900, through the munificence of his excellency Lord Northcote, Governor of Bombay & other philanthropic gentlemen. The association having, with signal success accomplished its object to preserving the famous Gujarat breed of cattle, then threatened with extinction, made over the Northcote cattle farm at Chharodi to the Government of Bombay, in the year 1907, for the continued maintenance & improvement of the breed. The names of the principal subscribers to the funds of the association are inscribed below his excellency Lord Northcote, C.C.I.E.C.B.
Governor of Bombay…..Rs 24000
Famine Relief Fund……..Rs 3000
Dr.Scholder Develay of Zurich…..Rs 2000
His Highness Sir Shah Chhatrapati GCSI, GCVO,LLD,MHA,S.Maharaja of Kolhapor….Rs 1600
Messrs Jehangir and Nowroji Pestonji Vakil……Rs 1600
Sir DM Petit Bart…….Rs 1160
Seth Chimanlal Nagindas…..Rs 1000
Seth Lalbhai Dalpatbhai & brother…..Rs 1000
Messrs.Greaves Cotton & Co…….Rs 1000
Mr. N.M. Wadia………..Rs 1000
The Right Reverend Dr.James Mac Arthor D.D. Bishop of Bombay…….Rs 1000
Mr. Madhavlal L Ranchhodlal…….Rs 1000
Messers. Mansukhbhai & Jamnabhai ……Rs 1000
Mr. R.P. Lambert……..Rs 1000
The Bombay Piece Goods Merchant's Association ……..Rs 1000
Mr. Jamsedji Nasarwanji Tata………Rs 1000