Agitating BJP MLA Dr.Kalsaria fields his 39 candidates in local polls
October 14, 2010
Agitating BJP MLA Dr.Kalsaria fields his 39 candidates in local polls
Ahmedabad, 14 October, 2010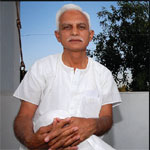 Nirma cement plant agitation fame Gujarat BJP Mahuva MLA Dr. Kanubhai Kalsaria has selected separate candidates for District Panchayat poll in his area, under the title of 'Sadbhavna Seva Samiti'. The candidates are neither connected to Congress, nor BJP, but are called 'Sadbhavna Seva Samiti' candidates backed by Kalsaria.
Kalsaria's SSS is contesting on Bhavnagar District Panchayat's 8 seats and Mahuva Taluka Panchayat's 31 seats. Kalsaria campaign for Congress party in Nagarpalika(local body) election of Mahuva.
Kalsaria, a BJP MLA is opposing Nirma's cement plant in his area. The plant has full backing of the state BJP government. At the same time, Kalsaria's anti-Nirma plant movement is supported by Rahul Gandhi and Youth Congress. BJP has taken no action against Kalsaria, even after his participation in Youth Congress rally, and meeting. Kalsaria has not left the BJP. He has not joined Congress too. In this strange situation, Kalsaria is now facing challenge to prove his political strength. BJP too is trying its best to defeat Kalsaria's SSS and Congress in Mahuva area. Though Kalsaria attracts huge support when he organized rally against Nirma plant, now the fight will be fought through EVMs.
The election is on 21st October. The result will be declared on 23rd.