Ahmedabad's first one-km long elevated corridor's work kicks off
February 22, 2011
Ahmedabad's first one-km long elevated corridor's work kicks
Ahmedabad, 23 February, 2011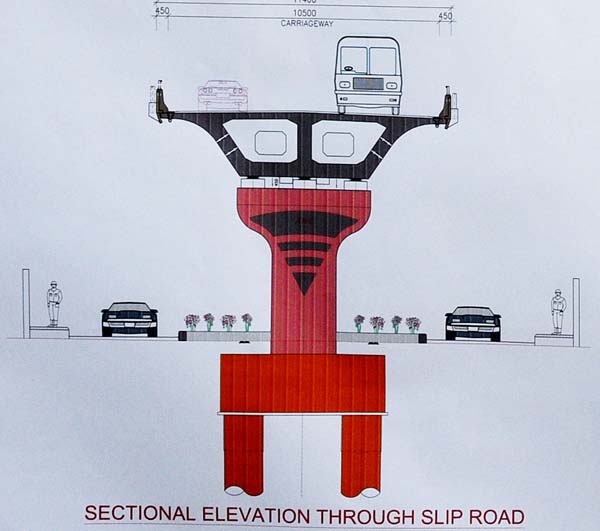 The city of Ahmedabad will be witnessing massive construction work of one km long elevated corridor between Gujarat college Church road and Swami Vivekanand bridge(Ellis-bridge) from this week. Minor construction work for this project was on Tuesdray officially kicked off by state's Revenue minister. Big partitions are now erected near M.J.Library and at other places where construction work is beginning.
This major construction of elevated corridor, first of its kind in Ahmedabad is being under JnNURM project by Ahmedabad Municipal Corporation(AMC)'s BRTS department. Proposed corridor will start near Church on Gujarat college road and will pass through Gujarat college(old Shalin hotel) circle, Gandhigram railway crossing(near Orient club) and will cross the Ashram road to reach Swami Vivekanand bridge on elevated height. Three lanes of this corridor will be 11.4 meter wide in total with carriage width of 10.5 meter.
Ahmedabad Municipal Corporation has submitted the lay-out plan of railway portion of construction to the Railway authority. According to railway department norms, construction over Gandhigram railway crossing will be carried out through steel gurder.
One BRTS bus shelter will be constructed near M.J.Library over the elevated corridor. It will be used by BRTS passengers.
When the construction of turning side(turning near M.J.library) will take place, the heavy and busy traffic of Ashram road will need to be regulated through provision of diversion near M.J.Library and Ellis bridge police station.
Swami Vivekanand's statue located at the starting of the bridge will have to be shifted to proper place.
AMC's contractor of this project is Ranjit Buildcon limited, while Stup consultant private limited is structural consultant. Total project cost estimated is Rs. 60.00 crore. The project was approved by Ahmedabad Municipal Corporation's Standing Committee on 2nd December last year. Target of completion of this project is 20 months including monsoon.