Stone laid for Kabirvad integrated tourism development project
May 25, 2011
Stone laid for Kabirvad integrated tourism development project
Bharuch, 25 May, 2011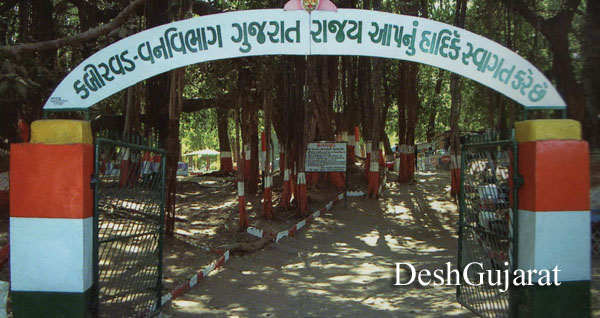 Union Tourism Minister Shri Subodhkant Sahay today laid stone of Rs. 47 crore integrated tourism development project at central Gujarat's Kabirvad, 18 km from district head quarter Bharuch in central Gujarat. Tourism officials of Gujarat government were present on this occasion.
Central tourism ministry is taking up integrated development project of Gujarat Mega circuit covering Bharuch district's Kabirvad, Shuklatirth, Mangleshvar and Angareshvar.
Kabirvad is a single banyan tree spread in over 2.5 acres.This tree is believed to be 300 years old. It is born from a "Datun – Ancient Brush" that was thrown here by "Saint Kabir". Added attractions are kabir temple, kabir museum, boat ride on Narmada river.
To reach kabirvad one has to ride on greenish water of river narmada on medium sized wooden boats powered with diesel engine. Kabirvad is under supervision of Gujarat's Forest Department.
Shuklatirth is a small village on the bank of river narmada known for "Shukleshwar Mahadev" Temple & "Omkareshwarnath" Temple of Mahadevji & Vishnuji respectively.
More about kabir Vad
The Banyan or Vad tree is one of the most beautiful production of nature. Banyan tree of Calcutta botanical garden is national famous for its size, as the largest Banyan tree in India. Another tree, known as Kabir Vad, in Bharuch district is the largest in gujarat.
James, Forbes, an officer of East India Company, Bombay was appointed as Collector of Dabhoi(Baroda) in 1780. He had described Kabir Vad. Forbes visited Kabir Vad near Bharuch and described the tree which by its gigantic spread had taken the from of a small forest on a tiny island on Narmada. Forbes mentioned that high flood swept away a considerable part of the Vad but it survived and then recovered to its gigantic size. Nobody knows how many times it was damaged. He wrote that its circumference was 2000 feet and the large trunks of this tree numbered three hundred fifty and each of these branches sent forth branches and hanging roots, to form other trunks, and became the parent of future progeny. Monkey and bats lived on it in large numbers at that time and they enjoy this tree at resent also.
The tree has changed its shape and dimension over a period. It survived natural calamities, although it was damaged several times. The original trunk is no more and several trunks developed subsequently which are also replaced by new trunks originating from aerial roots.
Sketch of Kabir Vad prepared by James Forbes, the then Collector of Baroda and published by 'Nature' in 1778, Oriental Memories, Vol II. James writes that when he visited the site, Kabir Vad was over two hundred years old.