'Attack with Activa' to win the election
March 26, 2012
Jamnagar/Ahmedabad, 26 March, 2012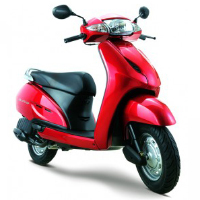 Gujarat unit of Congress party is restless in its efforts to make a ground in next assembly election.
Gujarat Congress is trying various activities in run up to the Gujarat assembly poll scheduled to take place in December this year.
The latest is 'Attack with Activa' programme, that kicked off today morning from in rural Jamnagar by local district unit of the party.
Under this programme, Congress workers led by Pranjivanbhai Kundaria, Secretary(Protocol) Gujarat Pradesh Congress Committee(GPCC) have started exploring rural areas of Jamnagar district on Honda Activa scooters.
A group of party workers are using a fleet of Honda Activa scooters to reach every village with a motive to spread the message of the party.
During this yatra, Congress workers attack the policies of state government.
One of the reasons to name this yatra as 'Attack with Activa' is to add aggressiveness to it, said a party worker.