Union Minister's casteist remark against Modi, BJP seeks apology
Ahmedabad, 17 August 2013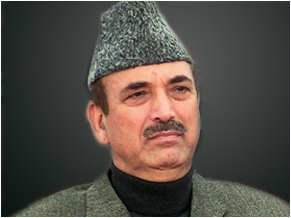 Another day, another union minister/Congress leader compared Narendra Modi with something strange!
Today it was union minister Ghulam Nabi Azad's turn. He compared Mr. Modi with 'Gangu teli.'
Yesterday another union minister Salman Khurshid had compared Mr. Modi with frog. A day before Modi was described as Khalnayak by same minister.
There are angry reactions on micro blogging site against Gulam Nabi Azad's remark.
Swapan Dasgupta tweeted: Ghulam Nabi Azad equated Modi to "Gangu teli". The sneering casteist disdain was evident. Is the PM to be decided by caste entitlement? Ghulam Nabi couldn't have been unaware of Modi's caste when he used the 'Gangu teli' saying. It was a premeditated casteist put-down.
BJP spokesperson Siddharth Nath Singh tweeted: Gulam Nabi by calling Modi a Gangu Teli has not only insulted Modiji but has shown his casteist mindset. He should apologise.
Modi is 'Ghanchi' by caste and therefore Teli. This is not the first instance when Modi has been attacked for the caste he belongs to. Surendranagar MP of Congress party Soma Ganda had from the stage of public meeting passed casteist remark against Modi(watch video) last year.
Shri Ghulam Azad's casteist reference"Gangu Teli"to Shri Modi, slimy & condemnable. Reflective of Cong elitism. Azad ji should apologise.1/n

— Nirmala Sitharaman (@nsitharaman) August 17, 2013
… Congress likes to patronise in the name of caste. Can't engage politically, hence trying to put down by making refernce to caste. Shame!

— Nirmala Sitharaman (@nsitharaman) August 17, 2013
Ghulam Nabi Azad equated Modi to "Gangu teli". The sneering casteist disdain was evident. Is the PM to be decided by caste entitlement?

— Swapan Dasgupta (@swapan55) August 17, 2013
Ghulam Nabi couldn't have been unaware of Modi's caste when he used the 'Gangu teli' saying. It was a premeditated casteist put-down.

— Swapan Dasgupta (@swapan55) August 17, 2013
Gulam Nabi by calling Modi a Gangu Teli has not only insulted Modiji but has shown his castiest mindset. He shd apologise

— Sidharth Nath Singh (@sidharthnsingh) August 17, 2013
Til til tara mila "gangu teli" ka tel Modi Aa gaya toh hum sab jaayenge jail, Chal chal public maaregi joote.. #ghulamnabiazaad

— MeghaSharma (@crazyabtsrk) August 17, 2013
Congress says Modi is Gangu Teli. So its clear that they think of themselves as Raja Bhoj!

— MeghaSharma (@crazyabtsrk) August 17, 2013