JINDIA Opportunity: Go West slogan of Japan and Narendra Modi's Gujarat
January 20, 2014
Ahmedabad, 20 January 2014
In 2011, GoldmanSachs offered their valued customer a new fund comprising of 25 Japanese companies, whose stocks could unlock value based on their exposure or investment plans in India. They called it "JINDIA Opportunity" (#GSSZJIND). Their report focuses on "huge synergy between Third and Fourth Largest economy of the world which largely goes unnoticed." Below is the paragraph I quote from the report.
With the help of our sector analysts, we identified 25 Japanese firms that have or are in the process of building strategic exposure to India in their respective areas, and we created a "JINDIA" basket (Bloomberg ticker: GSSZJIND). While not intended to be an exhaustive list and company disclosure of "Indian market exposure" is limited, we believe these firms are positioned to benefit from the future domestic demand growth potential in India. Our list falls into seven categories, ranging from infrastructure to consumer-related demand:
The list has companies in various segments. While a big number of companies are vying for growth through Indian market, there are few changes taking place on the ground in strategy.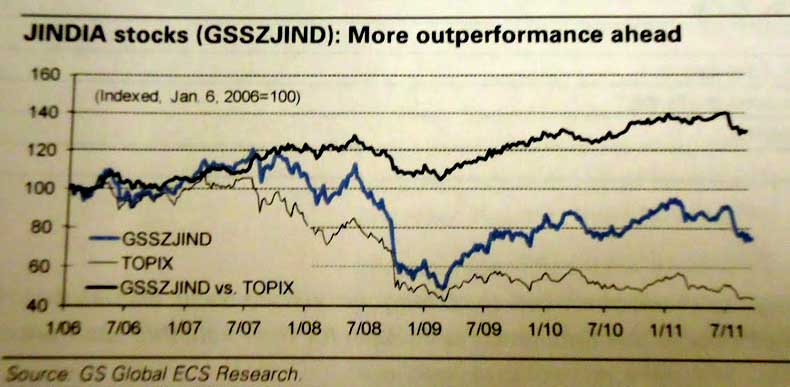 Gujarat continues to attract
What is common between a Japanese leading eye-care brand, largest sanitary ware and one of the most popular functional health-Drink? The companies that own Rhoto Eye-care, Toto Warmlets and Pokari Sweat are all happy investors in Gujarat. In Ohtsuka Seiyaku and Rhoto's case their foray is not limited to domestic market but also plan to use Gujarat as an export base to Africa and beyond. While all media glare is on Suzuki and proposed Honda's entry, it's the household names like above that is making Gujarat even more prominent for Japan.
As Japanese PM Abe who has invested his time, energy and faith in India would be visiting India as a chief guest. He has taken it personally to re-write Indo-Japan relations to new height and relentlessly pursues. However Japanese positive gesture on economic cooperation has met with equally cold response from indecisive leadership of India. Abe's big push on Infrastructure collaboration in the form of DMIC is moving at snail pace, yet his administration is urging Japanese corporates to invest in India in a big way. Abe-san and his administration are very much convinced that Japanese and Indian collaboration is only way to thwart Chinese hegemonic design. Initially Japan pushed their corporations to look to India as a large market. Thanks to UPA's economic mess the growth is fast becoming myth. With even Suzuki, struggling, it doesn't make a great advertisement back home.
Look West through India: Go Global Go Gujarat
In this regards, a new plan was proposed by Japan's External Trade Research Organization (JETRO) to propel both trade and investment with India. You can reach the whole report here. The crux of the message is to look at India to reach out to markets beyond western shores of India. This particular strategy is actually well thought of. Besides being largely untapped market, it is one area where Indian contacts are live since centuries. As per 2012 exports data, Africa-ME together consisted almost 30% of India's exports. As if taking a cue, Osamu Suzuki the patriarch of Suzuki Clan announced something drastic. Suzuki is shifting her global Business unit to India. Read here. This is very significant step and extremely well-tuned in line with their expansion in Gujarat. In the Auto corridors, Suzuki's Gujarat plans are being spoken off as one of the most significant move. When it reaches potential, it will be larger than current capacity in India.The significant strategy shift for Suzuki with Gujarat is to make India their largest Global hub. The proposed Honda drive in Gujarat also has G word in their agenda as they may use proposed large capacity to cater to exports market. Both Ohtsuka Seiyaku and Rhoto also have chosen Gujarat for the same reason. The investment foray has new identity. Suddenly is Go Global, Go Gujarat.

Not just from Japan
Japan was the one of the first G7 countries that wooed Gujarat. Canada was the second country from the group to partner with State for consecutive last two summits. One of the leading brands Bombardier took a record 18 months to complete factory in Savli outside Baroda. It's a world record for company according to CEO Benoit Cattin Martel. The factory would not just cater to booming Metro demand in India but would also use Gujarat plant to cater to Global market. Ford of USA is building one of the most state of the art plants in Sanand. When it inaugurates this year, it will give a huge boost to Ford's capacity in India. An investment of $1 Billion comes with great hope. As per their website, Ford India will focus increasingly on production for export to more than 50 global markets. Gujarat will play needless to say a major role.
Why India's export boost policy did everything but to boost Exports.
India is still lower income country and unless we find natural resources like oil, only way to propel is to earn more foreign exchanges via exports. This is the experience of all the developing countries who could reach middle-income or rich countries. It is not that policymakers of India did not realize this. There was a well-intended policy in early 2000 in the form of SEZ. After learning how China transformed her economy with such large SEZs, India also announced one. Initially SEZ were closer to ports. Later under UPA (just like all other policy initiatives) SEZ also became Land-grabbing schemes. While the idea was to push for manufacturing exports from India, it turned out to be land grabbing Real-Estate projects by IT companies and lately by real-estate developers.
IT companies simply transferred their exports to new locations, by extending their tax holidays and grabbing lands at dirt cheap rates. Even leading developers did the same in the guise of SEZ. In 2006, Shenzhen of China was 20,000 hectare SEZ that alone exported and attracted more FDI than India did. Instead of learning how Shenzen differed, India lost the plot under UPA. Rather than focusing on few areas and deploying resources in Infrastructure creation such as road, water, Power, Ports and human capital, the wise men of UPA made it land grab for all project. Finance ministry was against granting uniform tax benefits as conservative estimate suggested the loss to exchequer worth 100,000 Crores. Currently commerce ministry is undertaking review of why SEZ failed.
How Gujarat Differs
When you seriously engage to be an export led economy, you have to commit to be part of global supply chain. Financial incentives can help companies lower their initial business costs but in mid to long term, it is the robustness of surrounding infrastructure that matters most. World class roads (so that less delay and no breaking during transportation), A high quality assured power supply, Industry grade water availability and most importantly access to ports. If people who criticize Vibrant Gujarat have any clue on how economy should be shaped based on State's comparative advantage, they must learn from Gujarat. Realizing early the comparative advantage of long coast line, Narendra Modi's administration took on Port-led development as their major policy. While comparing Gujarat with TamilNadu, I had written about Gujarat's disadvantage with respect to TamilNadu in Discreet Industry such as Auto and Auto ancillaries. Modi administration made possible in decade which normally would have taken at least double the time. Today Gujarat is being spoken as "Next Generation Auto-Hub" not only it is most sought after destination, it also make Go-West possible for future investments.
Modi means Business:
Above was the TIME magazine tagline when they put Gujarat Chief minister on the front page, many companies find it the statement is true on the ground. Getting Suzuki to invest in State was not a boasting celebration for state but opportunity to go back to drawing board and redraw plan for optimizing opportunity to further improve export infrastructure and human capital. While former was done keeping in mind future prospective demand, the latter is done with the help of investing industries itself. Coupled with robust power/water/road/port infrastructure and sincere administration willing to look into growth, even global companies find working with Gujarat as working for a cause to develop state. No doubt then, even at his old age, Osamu Suzuki likes to visit state at every single opportunity. Not only Suzuki, Gujarat is the flavour for Elite JINDIA group which is trying to solve India puzzle, where more than half of them already have strong presence.
Epilogue
Everything in India has come to standstill. Charchaa over Chai or boardroom is focused on India post 2014 election. India is still an evolving democracy, relative young nation with great civilization. Going forward it is not about which party rules but which ideology would take India to greater height.
For almost 90% of time in the history of Independent India, we have been ruled by Leftist agenda in the guise of Left of Center. It started with Nehru family. During early Rao Period and later UF Govt did try to correct it but it was more under the influence of external forces.It was only during 1999 to 2004 that that India adopted reforms with confidence. At the end of NDA regime India was part of the coveted club of BRICs and global money started pouring in. Alas, from 2004 onwards it is back to leftist ideology and state control, giving rise to unprecedented corruption.
As if dwindling economy and decade of decay was not enough, we have one more party on the block who wants to perform final rites on economy by their own Dolo-nomics.
Interestingly @Dhume in his excellent article "The Candidate Who Won't Save India" in WSJ has following to say and I quote:
"Governance in richer countries tends to be cleaner than governance in poorer ones. …In the long term, anyone serious about ending graft in India must fight it while growing the economy. For that India needs private firms to be treated as job creators, not crooks, and it needs plenty of foreign investment, including in big-box stores."

The difference of ideology stem from a very simple point. When you only focus on Distribution rather than creation and distribution you sacrifice Governance and give rise to Corruption. Many people would agree with Dhume on this point. And it is this feeling both within and outside this simply increase craves for Narendra Modi as PM. How good he will fare would depend on the Team NaMo.