Abki Baar Modi Sarkaar and meaning of Modi – Moude in Japanese
March 11, 2014
By SominduS (Follow author on Twitter @SominduS)
Ahmedabad, 11 March 2014
Last time Nikkei wrote on Modi's advent they used word Kuronin (literally meaning someone whose rise on hard work in spite of adversity), invoking Abraham Lincoln image. Read here my previous article. Now they have used a word Modi-Moude. Read on to know what it means and how beyond chaos, noise and Dramas portrayed in our media, how global media sees Indian Election.
Moditiva, Modinomics and now Modi-Moude:
Any foreigner who stays in Japan for a year and especially over 31-Decemebr night (Known as O-Misoka in Japanese) would be aware of a word "Hatsu-Moude". There is a big tradition in Japan to visit nearby Shrine at the stroke of midnight on 1st Jan. This First Visit to Temple is known ans Hatsu-Moude. Literally meaning "First Pilgrimage"
It is very interesting then Nikkei decided to Rhyme Modi word with Moude and explain the rush by foreign countries in endorsing NaMo as PM Modi scenario becoming all the more evident. The word coined by Nikkei to describe this phenomenon is known as Modi-Moude; could be translated as Modi-Pilgrimage. While Europe, Japan, China and other Asian Nations are known for Modi-Moude even USA also had to take u-turn in their policy claims Nikkei Japan's widest circulated Business Daily.
1222 worded article focuses on India and this time on Impending Election. Whether it is our biased media as many claims, or it is some vested interest but watching Indian media you cant escape feeling that real issue of that is "Economic Slump" is being put on back burner and sensationalism is the only flavour. In this backdrop, it is very interesting to read what Nikkei has to say on India and Election 2014.
The article was published in the morning edition of Nikkei Newspaper on 7th March. The original link can be reached here.
—-Article Begins——
Indian Election to be held next month: Riding Powerful wave Opposition vows to revive Economy
Indian Lower house election is just a month away. Both the ruling party Congress and Main opposition BJP are fighting intensified battle. Economic revival where growth is stagnated at 4% level is the biggest issue this election. While the incumbent Manmohan Singh (81) has already announced his retirement, buoyant opponent BJP is launching an impressive offensive and looking at regime change after a decade by naming Economic Reformer and Development Agent as their PM candidate.
The beginning of an End
The Indian economic downfall started in 2011 and further got aggravated by missteps taken by incumbent government leading to final rites of economy in 2013. However Finance minister Mr. Chidambaram tried to put a brave face by sharing that 2013 Growth rate of 4.9% is above last year numbers. Very lamely ministers are frantically trying to justify management of economy in last five years.
Donning Blue Turban Manmohan Singh spoke at the podium of G20 and declared that this election, main issue would be economic revival. In his first term, Singh tenure did see 9.6% GDP growth in 2006. However he miserably failed in reviving economy, inviting FDI or implementing Fiscal reforms in next term as unrelenting corruption scams paralyzed parliamentary procedures. The lowest point was in 2012, when GDP growth dipped to 4.5%.
The challenger Rises and so is Global endorsement
Gujarat's Chief Minister and BJP's PM candidate Narendra Modi (63) is precisely hitting hard Congress on this point. Modi has thrown his hat in national politics, on back of his solid track record of running a state successfully by investing in power, ports and industrial infrastructure and also attracting top names like Ford and Maruti Suzuki.
In his speeches Modi comes out as a strong proponent of "Brand India" by advocating World class quality in Indian Products. He also does not shy away from telling Indian traders to compete with global majors and not shun. This might be hint that he may not be averse to FDI in Retail completely. As "PM Modi" becoming explicit possibility, even USA, (which had put unofficial diplomatic embargo in the backdrop of religious unrest locally), had to make policy turnaround. Not just USA, there are several countries officials who are in queue for Modi-Moude. (Please see meaning above)
Scared of Dent in Career
The waning fortune of Congress is evident from the fact that even at this stage; they are unable to name their PM candidate officially. The dynasty of Nehru-Gandhi that gave three PMs, is afraid to name the heir apparent Rahul Gandhi (43) as PM candidate to save severe dent to his career.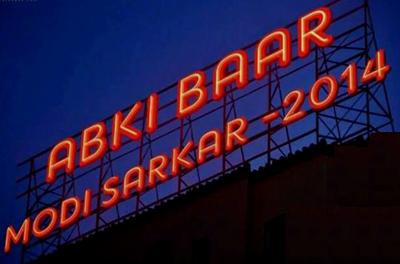 In their last ditch efforts to woo big constituency in rural Area of almost 800 million people, Govt pushed through with Food Security Bill which promises to give 5KG of grain at cheaper rate.
The choice is getting clearer
BJP has taken a dig at Congress by pointing out that it was Grandmother of Rahul Gandhi who in 1970 made "Garaibi Hatao" as a slogan. BJP sharpens attack by pointing out irony that Congress in spite of ruling for so long has done anything for poor. Nation wide Opinion polls conducted by Media shows Narendra Modi as PM choice getting whooping 57% votes, compared to mere 18% for Rahul Gandhi.
The article ends with passing reference to third front and AAP saying one has to see how much numbers they may add to surprise.
——————————Article Ends————-
With waning fortunes of Rahul Gandhi led congress getting more and more evident, stampede for Modi-Moude is going to only increase and that's where you know the writing on the wall. Its "Abki Baar Modi Sarkaar" from the ground, from the globe…
For other articles from @SominduS
Tags: #AbkiBaarModiSarkaar #NarendraModi, #Guajrat #Japan, #Modi-Moude #Modi-Pilgrimage,