Narendra Modi to end 8th phase campaign at Amethi today
May 05, 2014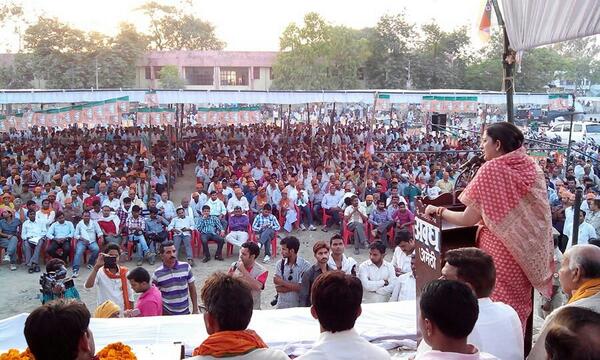 Ahmedabad, 5 May, 2014
Narendra Modi's public meeting in Amethi will take place today just before end of campaign. Modi's public meeting will be held 3 kms away from district headquarters.
Amethi is represented by Congress vice president Rahul Gandhi who is undeclared prime ministerial candidate of party. Rahul is challenged mainly by BJP candidate Smriti Irani. Following Smriti's candidature, AAP and BSP candidates are pushed to corner and almost not in picture anymore here.
Ahead of Modi's visit, Rahul Gandhi yesterday held a road show in Muslim dominated pockets with his sister Priyanka Gandhi. Brother and sister offered chadar at local dargah. They do this before every election. While Rahul left Amethi yesterday itself, Priyanka will leave Amethi today just before Modi's rally.
Congress had earlier organized Sonia Gandhi's rally, and Modi's rally was scheduled just after that. However Sonia decided to cancel her rally.
Amethi is traditionally represented in parliament by Congress candidates. Gandhi family's Sanjay Gandhi, Rajiv Gandhi, Sonia Gandhi and Rahul Gandhi have represented this constituency. But there's also record of Congress candidates losing this seat mainly due to division in Muslim votes. Those who visit Amethi during this election season largely speaks about poor infrastructure, and lack of basic facilities in this VIP constituency. Lot of photographs supporting such facts are available online.
Smriti Irani's campaign is focused on three main points: (1) Rahul and others from his family didn't develop Amethi even after being in power for years, vote to Smriti Irani for development (2) Comparison of track record of Rahul and Smriti in parliament, Rahul's record too poor when it comes to performance (3) Narendra Modi as Prime Minister.
As Amethi is located in Uttar Pradesh, some anger against state minister Azam Khan and exclusive schemes for Muslims introduced by state government is visible among Hindus. BJP is befitting from this factor too, as Samajwadi Party has been Congress supporting party.
Data: Amethi Lok Sabha seat
Details of 8th phase of polling