Chief Minister Anandiben Patel Inaugurates 'Sudama Setu' at Dwarka
June 11, 2016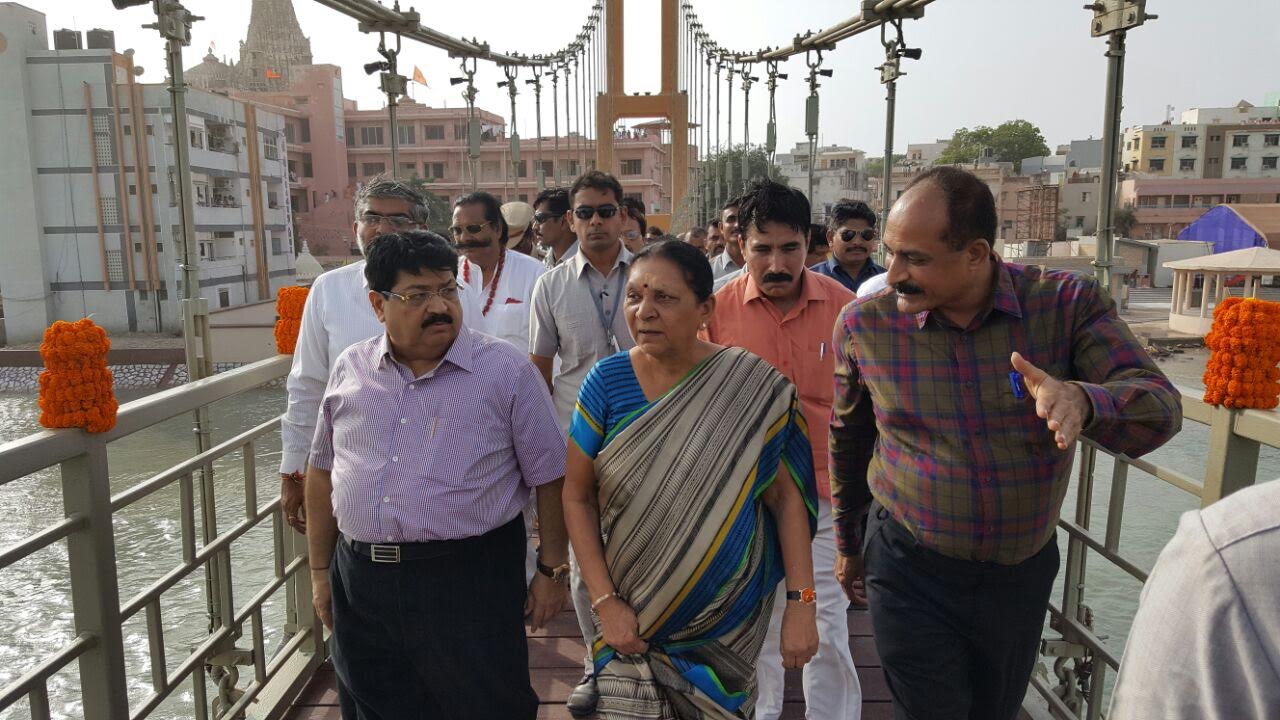 Dwarka:
Gujarat Chief Minister Smt. Anandiben Patel inaugurated 'LaxmanJhula' type bridge 'Sudama Setu' on June 11, 2016 (Saturday) at Dwarka. The cablestaid suspension bridge on Gomati River has been built by Reliance Industries Ltd (RIL) and Gujarat PavitraYatradhamVikas Board on Public Private Partnership (PPP) mode at a cost of
Rs. 7.70 Crore.
On this occasion, the Chief Minister said that fresh water wells in Panchkui is nothing but blessings of Sri Krishna. She said that audio visual exhibition of the glorious history of Dwarka and friendship of Lord Krishna and Sudama would be set up eventually so that future generation get to know about the same. The project for development of Panchkui area will be on PPP mode between the Government of Gujarat and Reliance Industries Limited. She added.
Rajyasabha member and vice chairman of DwarkaMandirVyavasthapanSamiti Shri ParimalNathwani said that RIL and its chairman MukeshbhaiAmbaniare always ready to support the government's initiatives for development of Dwarka. He requested the government to set up escalator on traditional ChhappanSidi (56 steps) to enter 'SwargDwar' of the Dwarkadheesh Temple so that old and disabled pilgrims can use SwargDwar and exit from MokshDwar. He also said that all the government agencies like Tourism Department and Gujarat PavitraYatradhamVikas Board should provide equipment and help Dwarka Municipality to keep Dwarka clean and maintain decorum of 5500 years old town as well as the temple of Lord Dwarkadheesh.
SudamaSetu, a symbol of unique friendship of King of Dwarka Shri Krishna and poor Brahmin of ParbandarSudama, connects Gomati Ghat to PanchnadTirth. The bridge, built at total cost of Rs7.70Crore, is 166 meter in length and 4.2 meter in width. It will facilitate 25,000 pilgrims in an hour to cross over PanchnadTirthfrom the bank of Gomati river behind JagatMandir and Shardapeethwithout any hassle.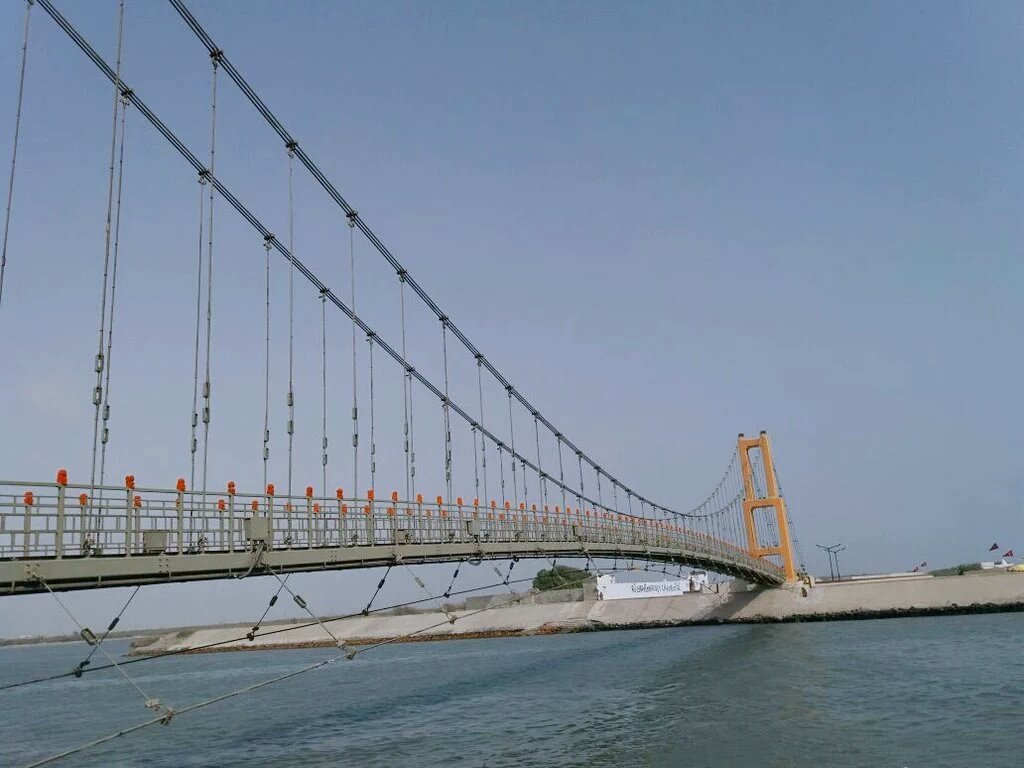 PanchnadTirth, popularly called PanchKui,hasunique mythological significance. It is believed to be associated with Pandavas.Five fresh water wells are found at this place right on the sea-shore. Temple of Laxmi Narayan, Caves of Pandavas and a floating stone with carving of Ram are also there on the island.
SudamaSetuilluminates with LED lights after Sunset which adds beauty of Dwarka's skyline. It is one more attraction for pilgrims and tourists of Dwarka who avoided visiting PanchnadTirth area because of fear of boat ride or its accessibility otherwise. The Government of Gujarat has plans to develop PanchKui area for unlocking tourism potential and RIL reaffirms its commitment to extend support for development.
Reliance Industries Ltd is keen for development works in Dwarka in association with the Government of Gujarat or otherwise. Renovation and maintenance of Gomati Ghat, building DhirubhaiAmbaniMarg, KokilaDhirajDham for pilgrims, Development of DwarkaParisar and temple precincts, extending support to Dwarka Municipality etc reflect RIL's participation in development of Holy City Dwarka.
On this occasion, MLA of Dwarka Shri PabubhaManek, District Magistrate and Collector Shri H.K. Patel, vice chairman of Gujarat PavitraYatradhamVikas Board Shri Raju Dhruv, senior officials and functionaries of RIL and Government of Gujarat also remained present.

Salient Features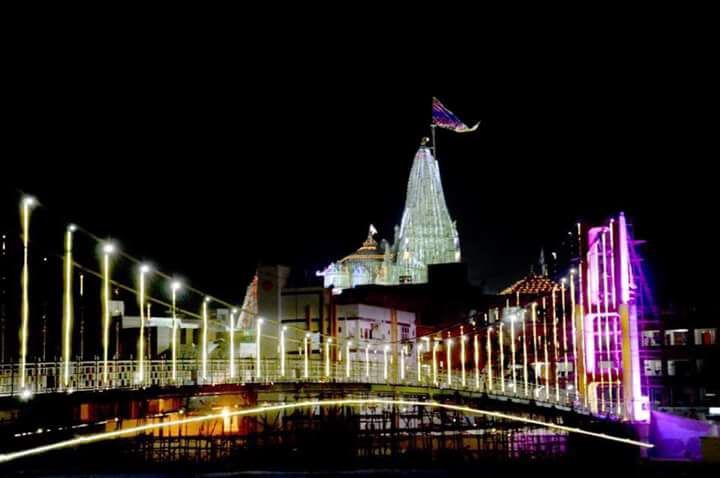 • Total length of the Bridge – 166 Mtrs. Having 2.4 Mtrs. width.
• Main and Side cables- Specially designed locked cables for corrosion resistance.
• LED based lighting system for the deck slab, pylons and surroundings having least electricity consumption and for high illumination.
• Wooden Deck Slab and creosote treated for durability and contemporary look.
• More than 1300 Cum of Concrete, 200 tons of Structural and reinforced steel have been used.
• Pylon Height 21 Mtrs. from the Ground Level.
• All structural members hot dip galvanized for maximum protection against severe corrosion
• Pile Depth up to 17.00 Mtrs from the Ground Levels.
• Maximum Hourly Traffic – 25000-30000 persons per hours.
• Area Development work of more than 24000 sqft. developed on both temple and Panchkui side for traffic management during peak hours.
• Work completed in a record time of 10 Months only without any cost overrun at cost of Rs. 7.42 Cr.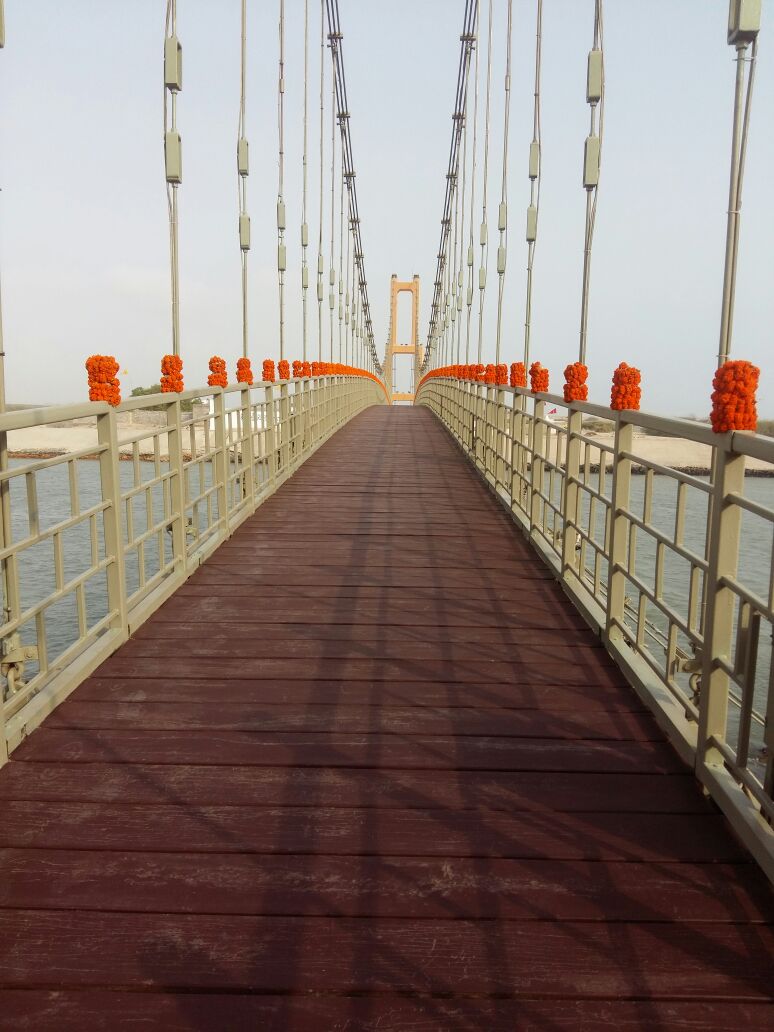 – DeshGujarat