You may have lost Guru, I have lost father: PM Narendra Modi breaks down at BAPS Sarangpur
August 15, 2016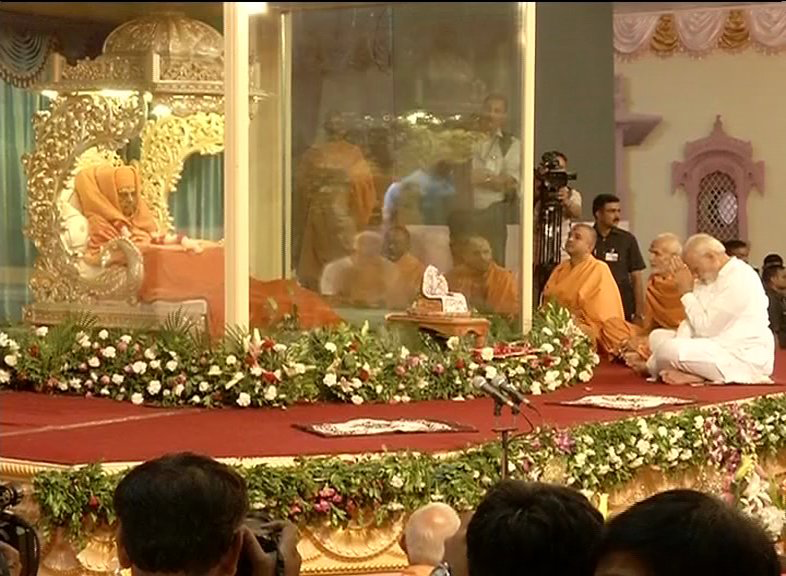 Sarangpur: Speaking at Bochasanvasi Akshar Purushottam Sanstha(BAPS) campus in Sarangpur, Prime Minister Shri Narendra Modi told a gathering of Swaminarayan sants: "you may have lost a Guru, but I have lost a father."
Modi broke down while speaking these words.
Prime Minister was here to pay last respect to Shri Pramukh Swami Maharaj whom he had described as his mentor in his tweet soon after passing away of Pramukh Swami Maharaj on 13 August.
PM arrived at Ahmedabad airport today morning after his 15th August speech at Red Fort in Delhi and moved to Sarangpur in a helicopter.
Modi in his speech recollected several experience he had with Pramukh Swami and also narrated his observations.
– If we look at Pramukh Swami as Guru, he was best as Guru, but if we view him from the angle of Yogiji Maharaj who was his Guru, Pramukh Swami was best disciple too. Yogiji Maharaj went to bank of river Yamuna and just spoke that we should do something here. Yogiji Maharaj passed away, but after years Pramukh Swami fulfilled Yogiji Mahraj's with by making Akshardham on the bank of river Yamuna.
– Many of you will be surprised to learn that when Pramukh Swami got time, he would call for video of my speech. After two-three days he would call and tell me that you should not speak this word(Modi broke down). You have to do lot of work, and you commit such mistake? Perhaps no newspaper, none of my superiors led my attention…. And this didn't happen for once, it happened for dozens of times. It means, to construct a life of one person, he had so much attachment.
– Sometimes we would think, how such a busy person would be able to know the things about others. Delhi Akshardham was to be inaugurated. Pramukh Swami insisted that I should be there to sit in puja. There were major persons from across the society invited. I thought I was misplaced. But Pramukh Swami insisted for my presence in puja. I was sitting in a corner. Brahmvihari Swami rushed to me and gave me some money. Brahmvihari Swami told me that Pramukh Swami had told him to give me some money for making donation during puja as he thought I would not have anything in my pocket. Pramukh Swami told Brahmvihari Swami to give me money. Actually he was knowing that there was nothing in my pocket!
-It was 26 January in 1992 when I was in Srinagar to hoist the Indian tricolor. As soon as I reached airport after completing the programme, I received two phone calls. First call was from Pramukh Swami, the other call was from my mother. Flag hoisting, Srinagar, terrorism…….. and a saint! He said Bhagwan Swaminarayan would do all good, you returned back safely. In those days there was no technology available to know (real time) updates. He was a Jagrut sant.
-When I was Chief Minister, two years ago Ishwarcharan Swami or Brahmvihari Swami called me to inquire about my location. I replied, I was on tour. I was worried as Bapa's health was not well those days. I was told that I should reach there as Bapa was not taking meal and he was not accepting anyone's request. I was told that if I could come, a father would not turn down son's request. I said I would not be able to reach immediately there but let me speak to him on phone. I told Pramukh Swami that he should accept his son's request and start taking meal. A great sant of this order didn't argue with me. He just said, 'OK bhai, you be happy'. I called after one hour or so to inquire and I was told by Brahmvihari Swami that Bapa had started taking meal again. This was the proximity I enjoyed with him.
-He was nishkam karmayogi. He was detached from everything. He was dedicated to divyata, but his arrangements had bhavyata. He would not compromise when it comes to Bhavyata(grandness).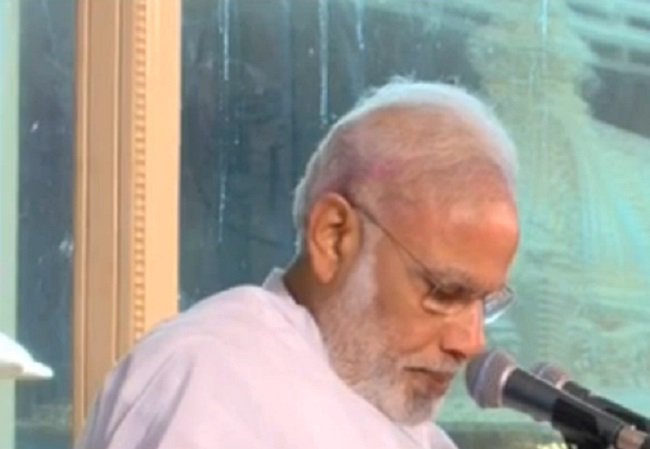 -A few days back, I spoke to him on phone call. Words were not clear but he was not ending a phone call to hear me. He wanted to say something, but he was unable to speak.
-Today Pramukh Swami is not here, but the he has institutionalized the tradition. It's not person oriented but institution oriented system that he has established for best sant tradition with discipline, rigorous training and many values.
-Dr APJ Abdul Kalam had said that his year 2020 vision for India if had any one person's impression, that person was Pramukh Swami. Even in India's 2020 vision, Pramukh Swami's impression was there.
-His absence will not be felt anytime in future. His aachar(action), vichar(thoughts), tyag, jivan(life), sanyam, naitikta(ethics) will be in our breaths. It is our responsibility to take that ahead.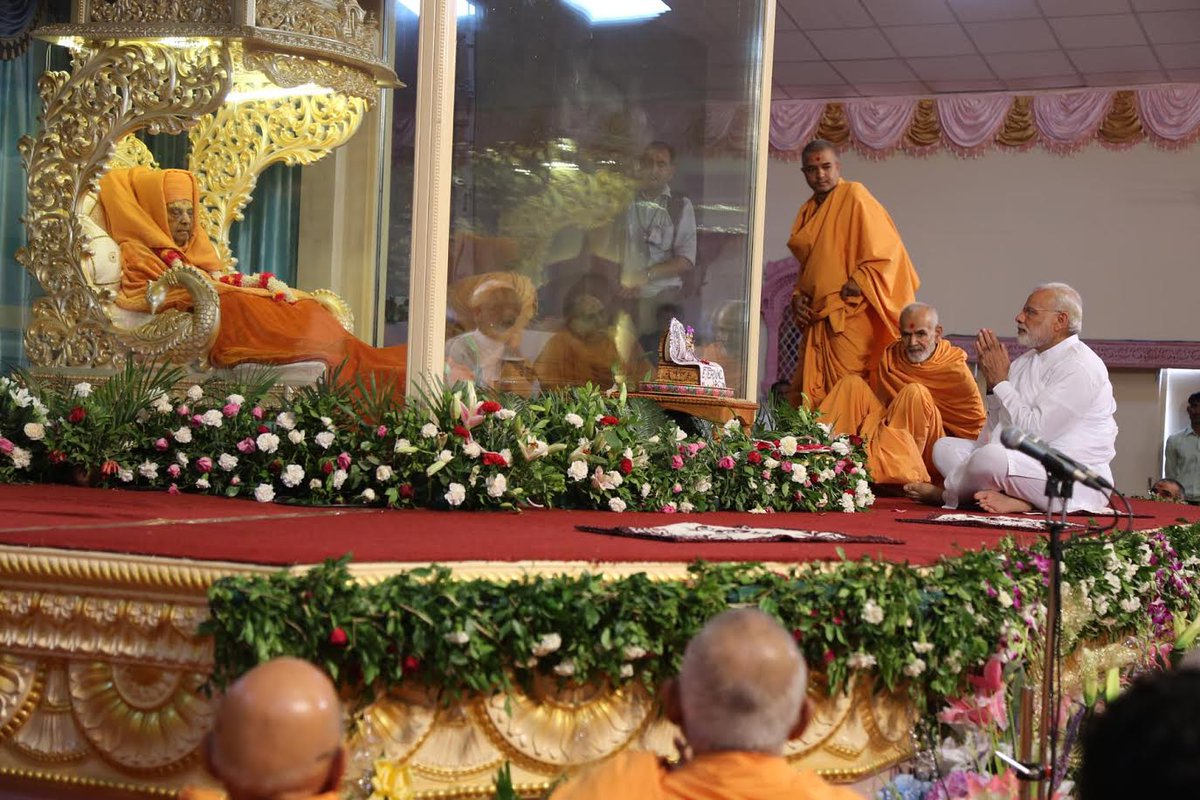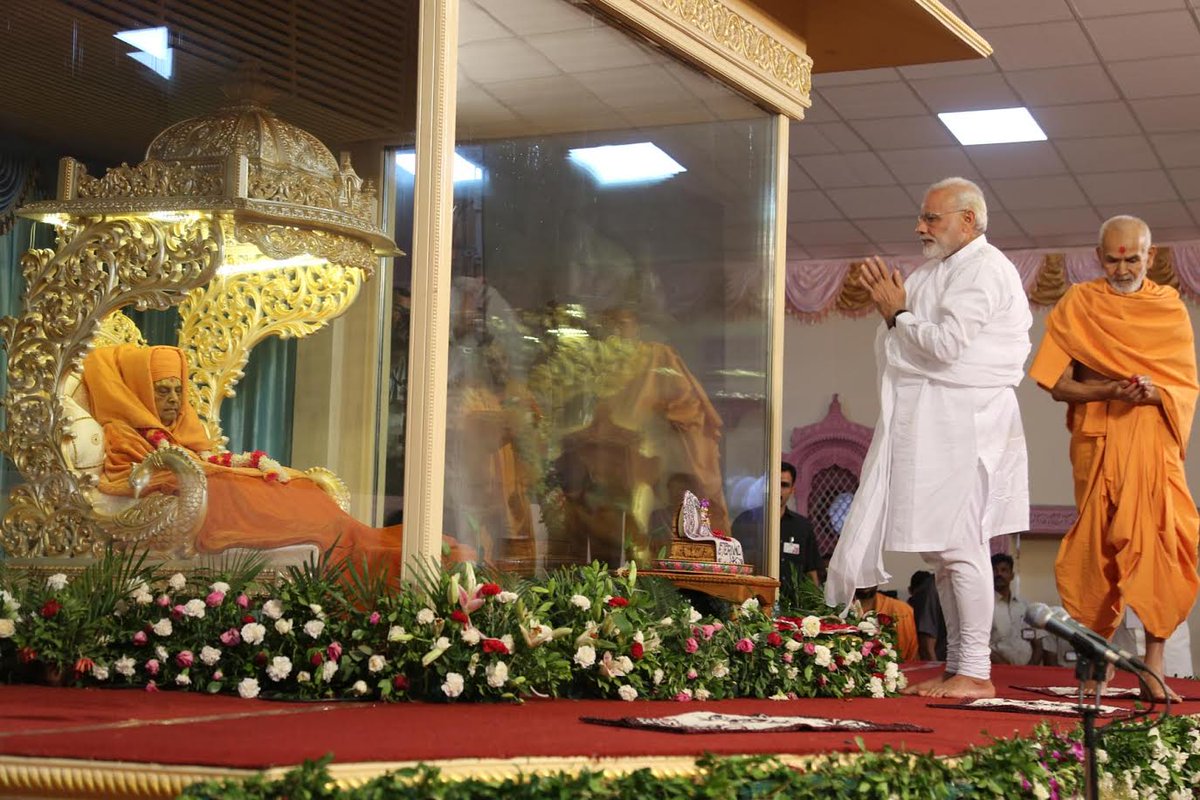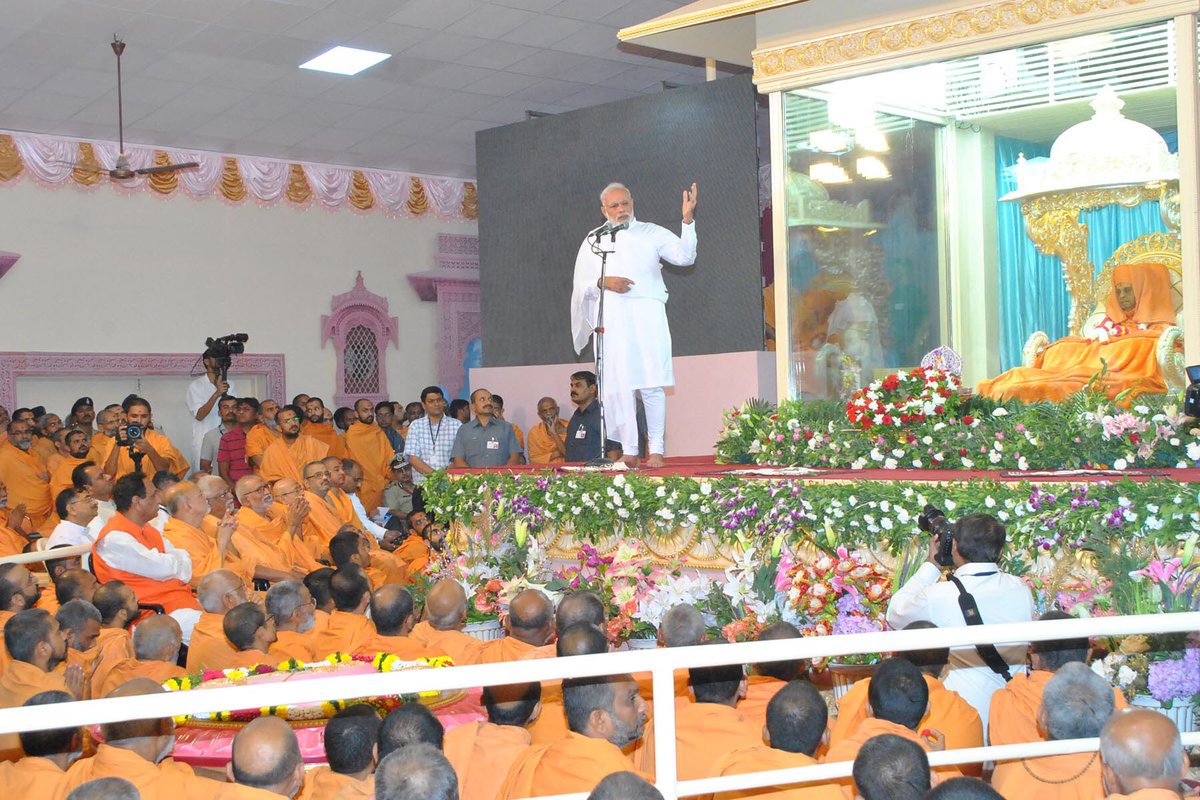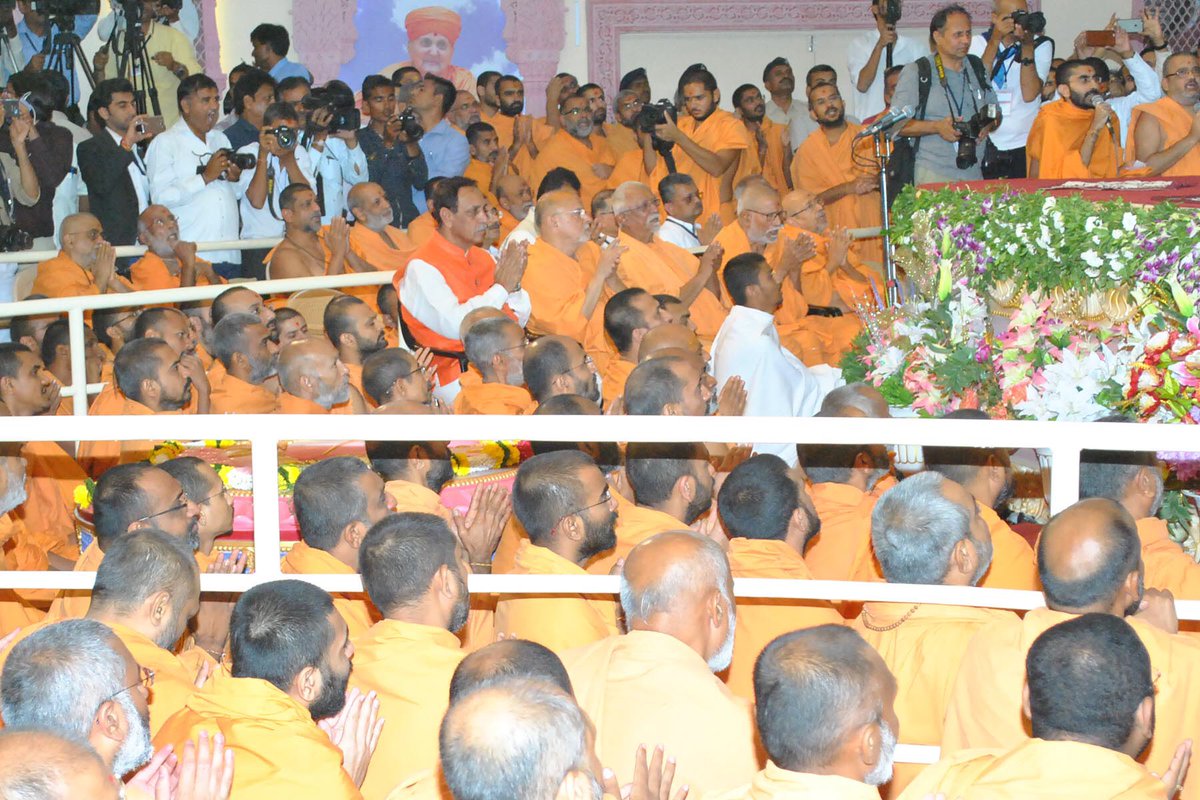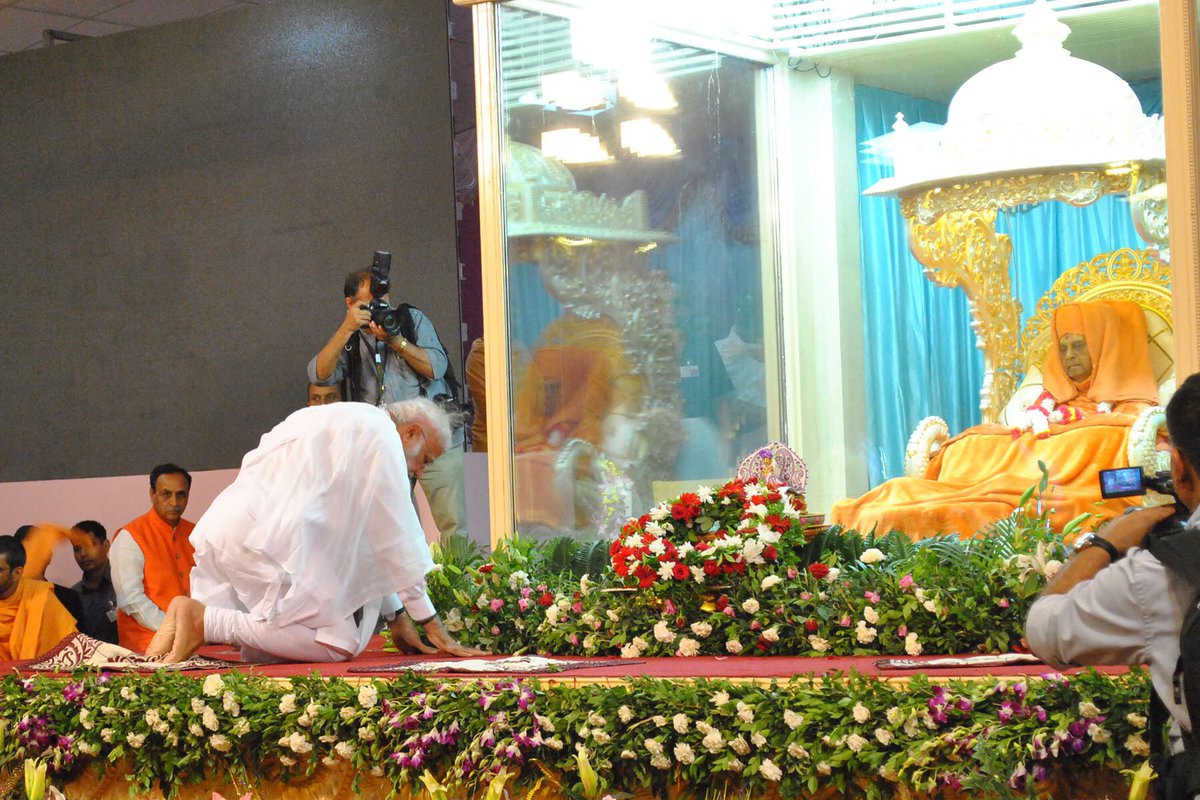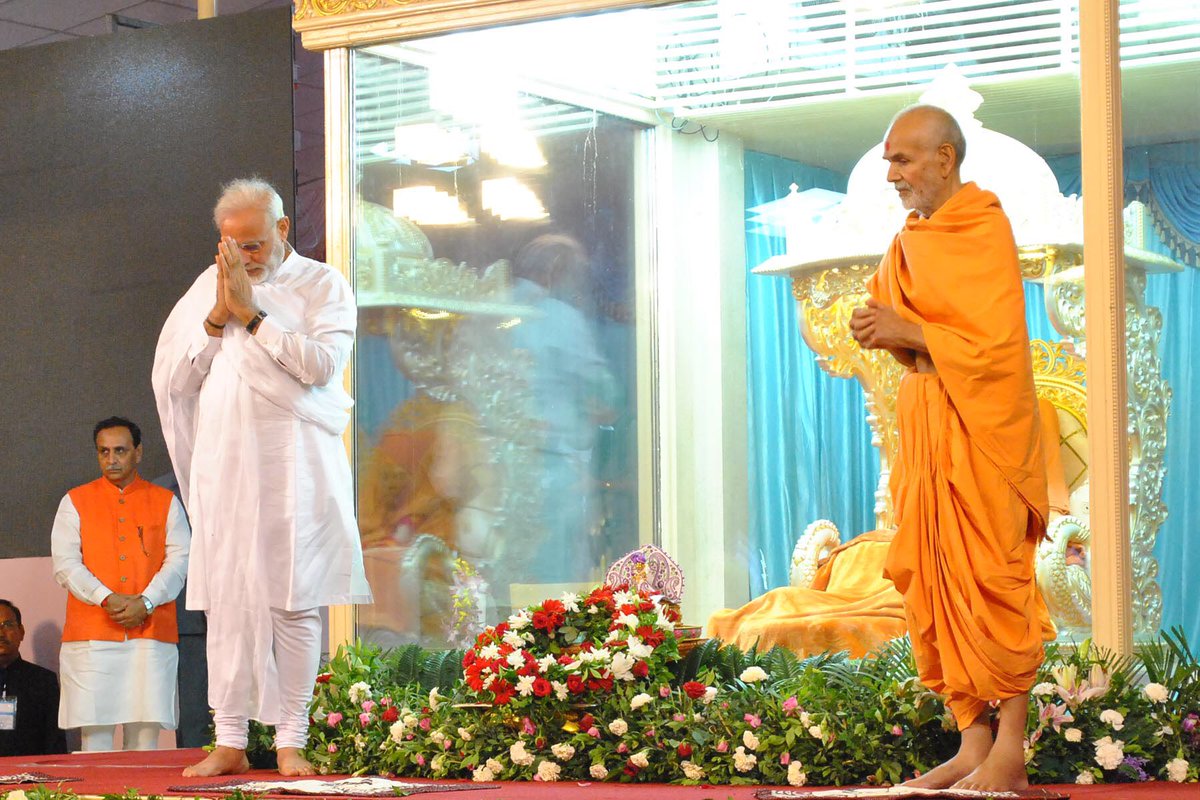 DeshGujarat