Highlights of Abe – Modi Gujarat visit
September 13, 2017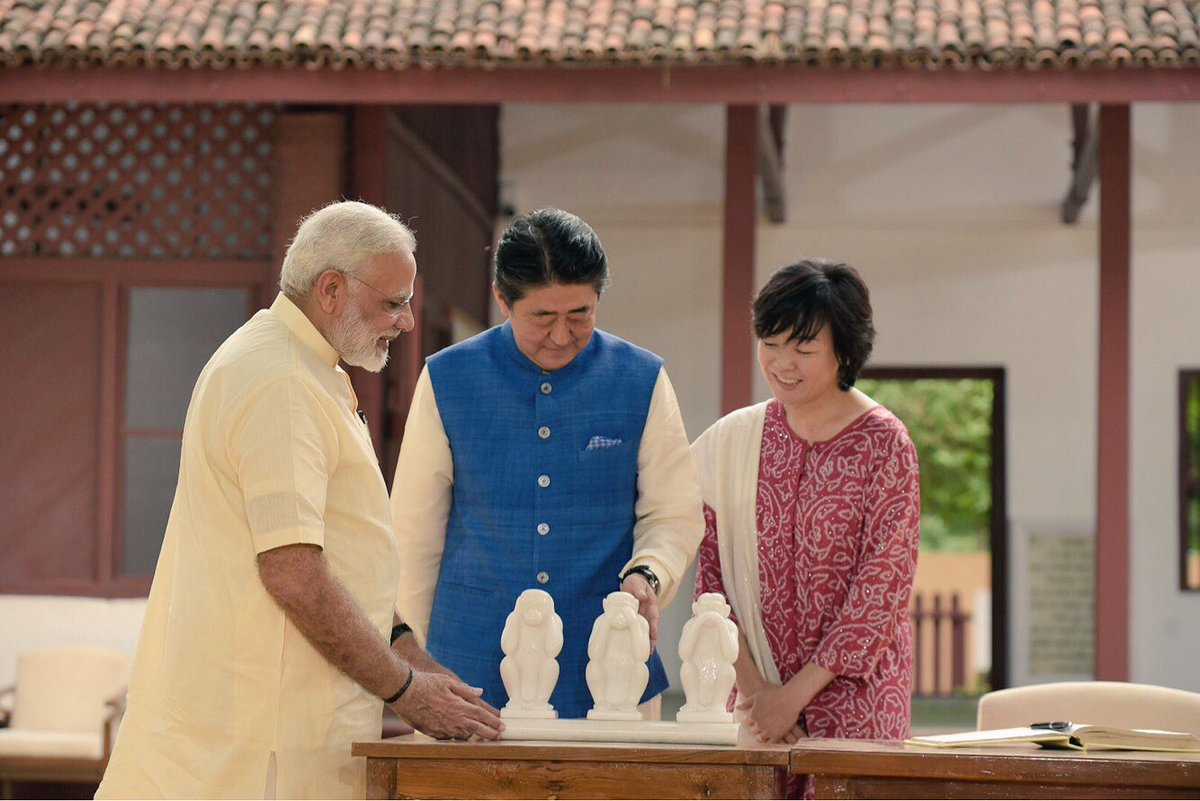 Ahmedabad: Just before Prime Minister Narendra Modi's plane landed at Sardar Patel airport in Ahmedabad today afternoon, there was strong wind, roaring sky and dark clouds in the city. There was even a round of shower too here. There was a fear that rainfall if heavy could adversely affect the 8-km long road show and Gandhi ashram visit. God is truly with Modi that nothing like that happened actually. As Modi's plane arrived the atmosphere improved. There were dark clouds which was good for the road show and Gandhi ashram visit. At the same time sky stopped roaring and shower stopped. The road show and Gandhi ashram visit – two scheduled programmes of day one of Abe's Gujarat visit that were open to sky concluded smoothly.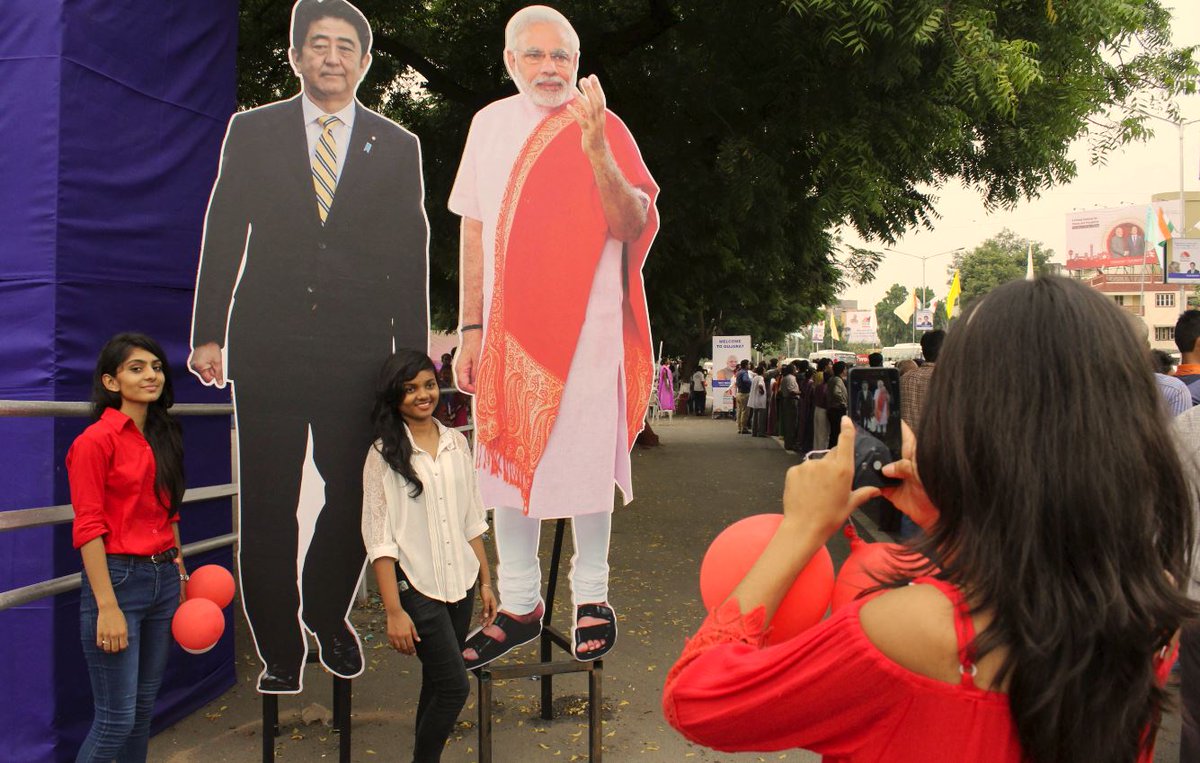 -Several eye-catching things. There were flags of India and Japan over Abe's plane. Abe and his wife both were dressed western attire when the landed at the airport and received guard of honor, but post airport terminal their attires changed. Both were wearing Indian traditional attires. Abe was wearing kurta, payjama and koti while Akie Abe was wearing salwar kamiz and dupatta. They were seen in India attire throughout the day during road show, Gandhi ashram visit and even at Sidi Saiyad jali and Aashiye hotel visits.
– Shinzo Abe's wife and first lady of Japan Akie Abe would capture the things in her mobile phone. First she saw Tarnetar folk dance performance at the airport just after leaving the plane. She pulled out her mobile from purse to capture it. She was seen capturing the videos and photographs even when standing in open jeep during road show.
– 8 km long road show from Sardar Patel airport to Sabarmati Gandhi Ashram route saw huge crowd of people on both sides of the road. There were 29 stages over which cultural performances were displayed from across India. Two persons were spotted dressed like Mahatma Gandhi and Sardar Patel on road show route. Several women were seen dancing with Japanese umbrellas. The road show passed through the riverfront too during which Prime Minister Modi appeared to have explained the riverfront project to Abe.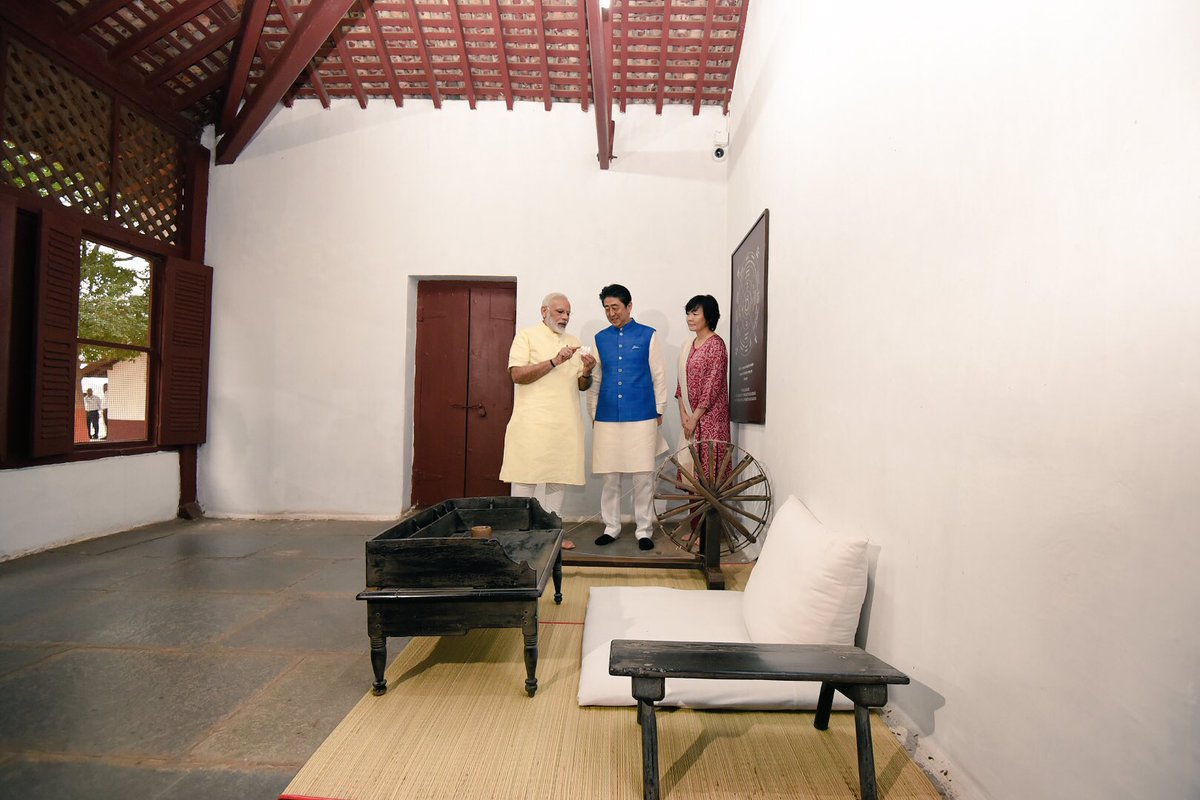 – After 8 km long road show, Abes and Modi reached Sabarmati Gandhi ashram. Modi explained three-monkey toy to Abe at Hriday Kunj – the residence of Mahatma Gandhi in Sabarmati Ashram. Modi took Abes to ghaat area behind the ashram and showed them Sabarmati Riverfront from the ghat itself. A chabutara (bird feeding tower) which is integral part of Gujarati culture was installed there. Modi explained chabutara to Abe. Wooden carved chabutaras are found in villages and old city areas of Gujarat. They are used to feed the birds. Chabutara provide safety to birds against the attack of cats.
The Japanese PM jotted down his feelings in the visitor's book in his mother tongue, meaning, "Message of love and peace from Shinzo Abe" pic.twitter.com/bDDIXqAreV

— CMO Gujarat (@CMOGuj) September 13, 2017
– There were three Sankheda wooden chairs arranged for Modi and Mr. and Mrs. Abe at the ghat. They sat here and discussed the things. Sankheda is Gujarati traditional furniture manufactured in Sankheda village of central Gujarat.
– Japan Prime Minister Shinzo Abe noted down one line message in Japanese language in message diary at Sabarmati Ashram.
– Abes then left for Hyatt hotel which is located next to Vastrapur lake close to IIMA road.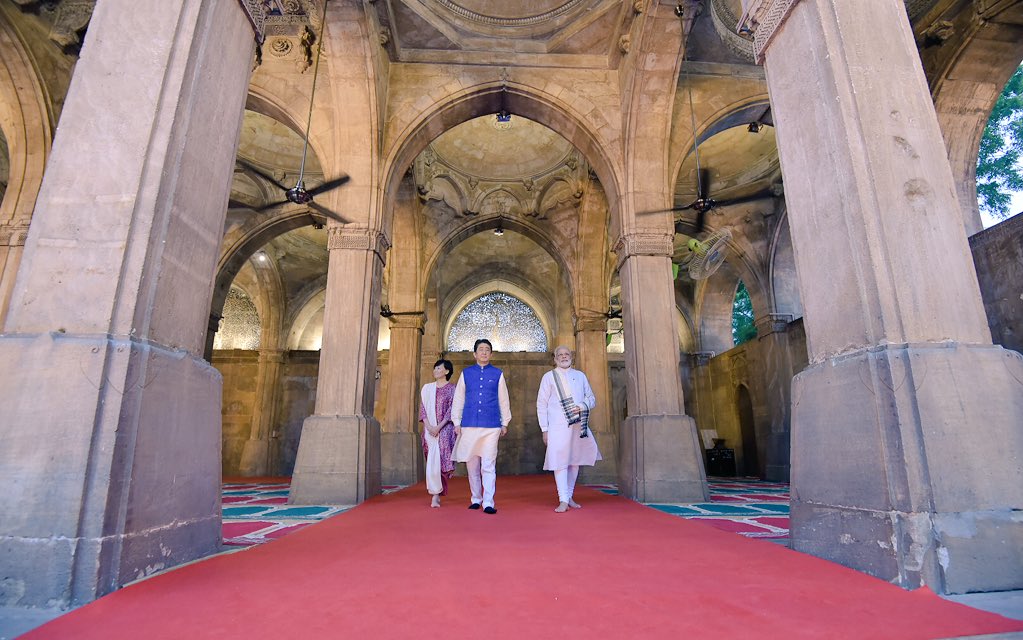 – In the evening, Modi first arrived outside the Sidi Saiyad Jali mosque which is located exactly opposite the Agashiye heritage hotel which is also known as House of MG. Modi welcomed Abes on their arrival here and played a role of guide at Sidi Saiyad jali(carved in stone). All three later crossed the road walking on red carpet and entered into Agashiye hotel. They were welcomed inside the hotel with Kathak folk dance. Tabla and Jaltarang music was arranged inside the hotel to welcome them.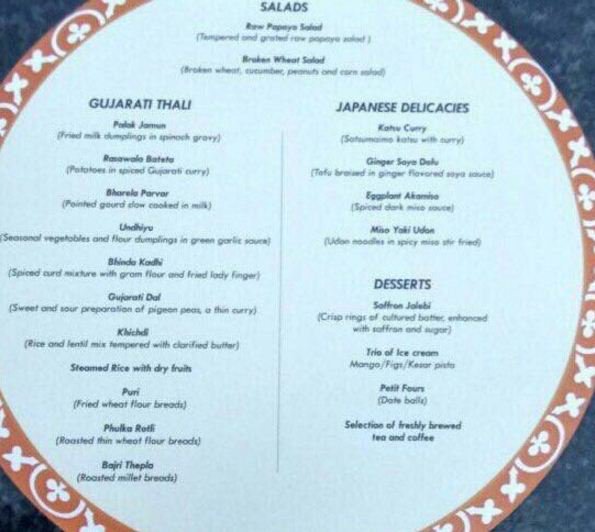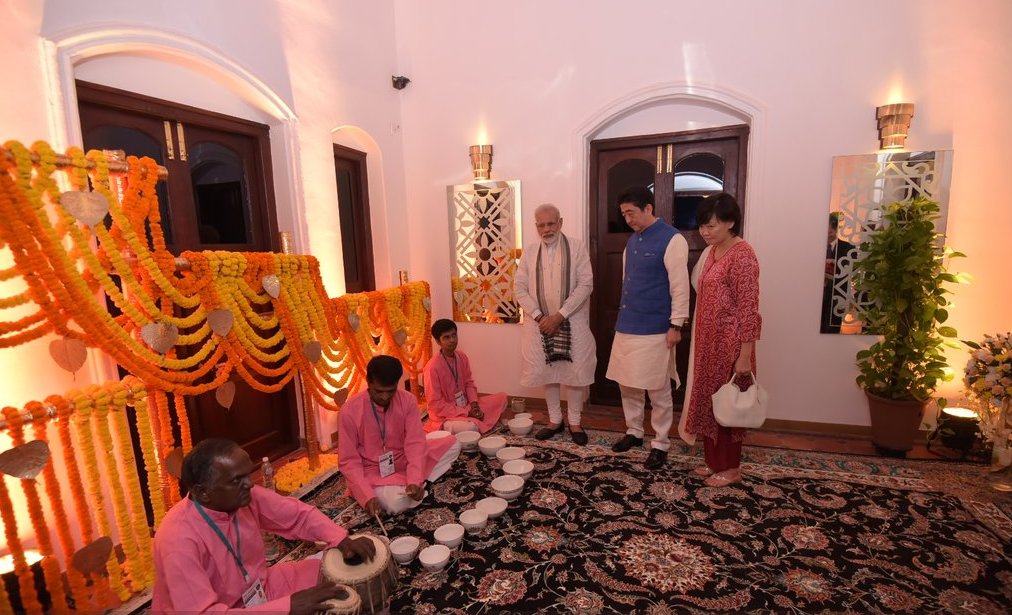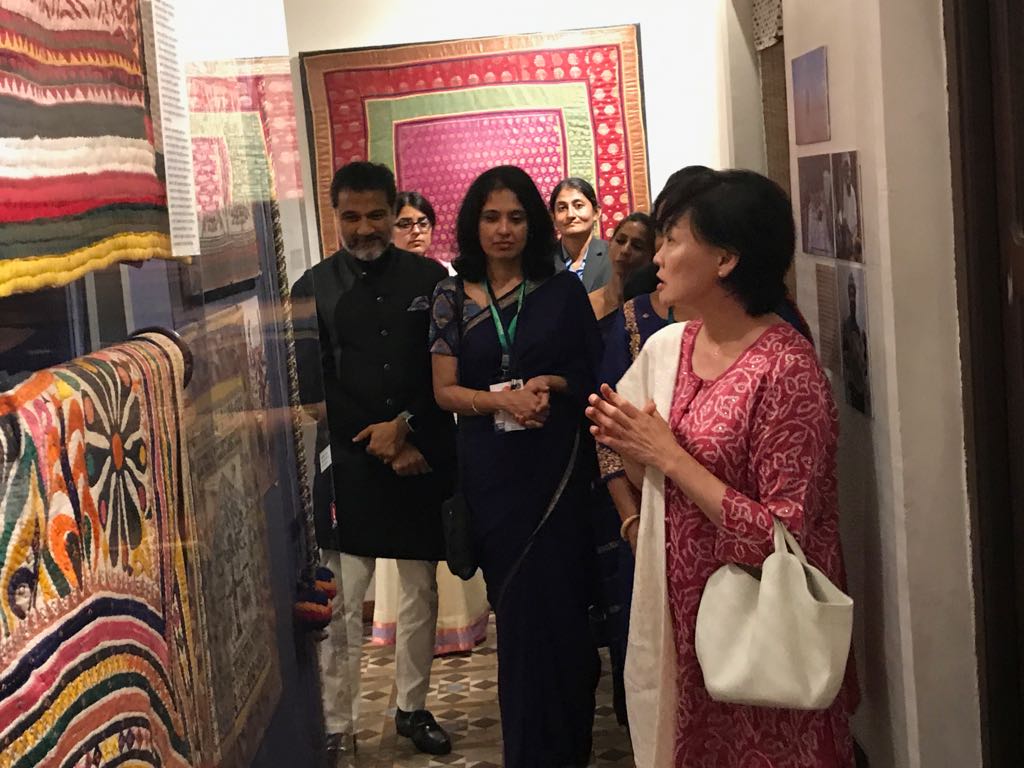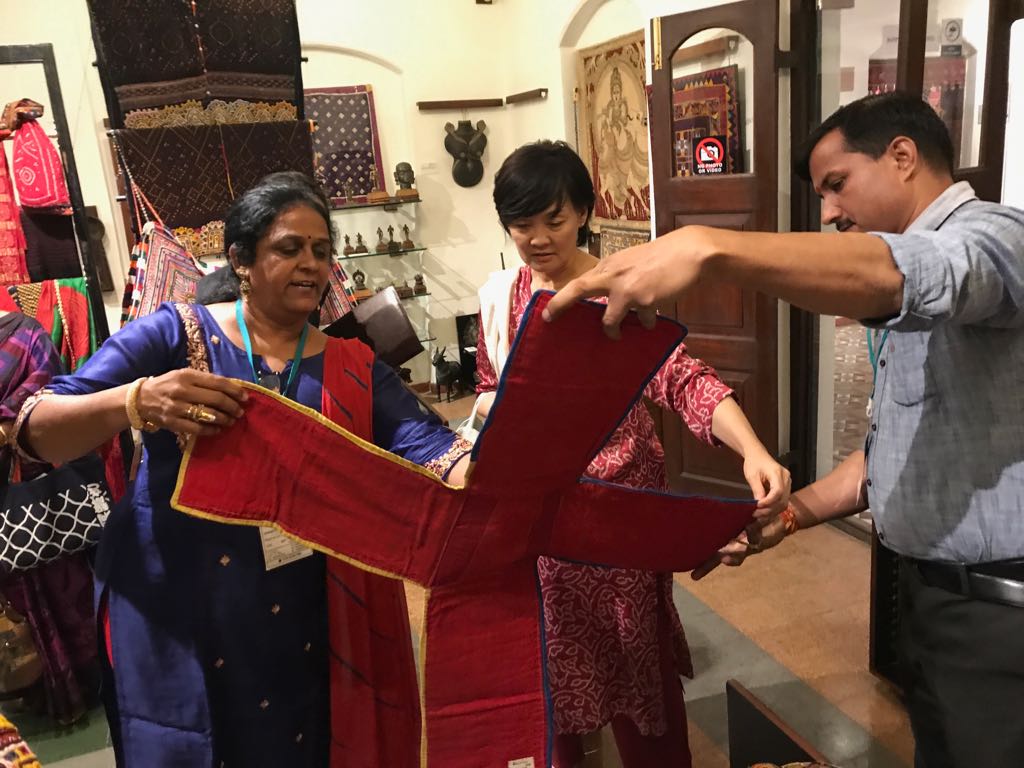 -Later Modi left for Raj Bhavan in Gandhinagar for night halt, while Abes returned to Hyatt hotel in Vastrapur passing through the bridge and roads decorated with lighting.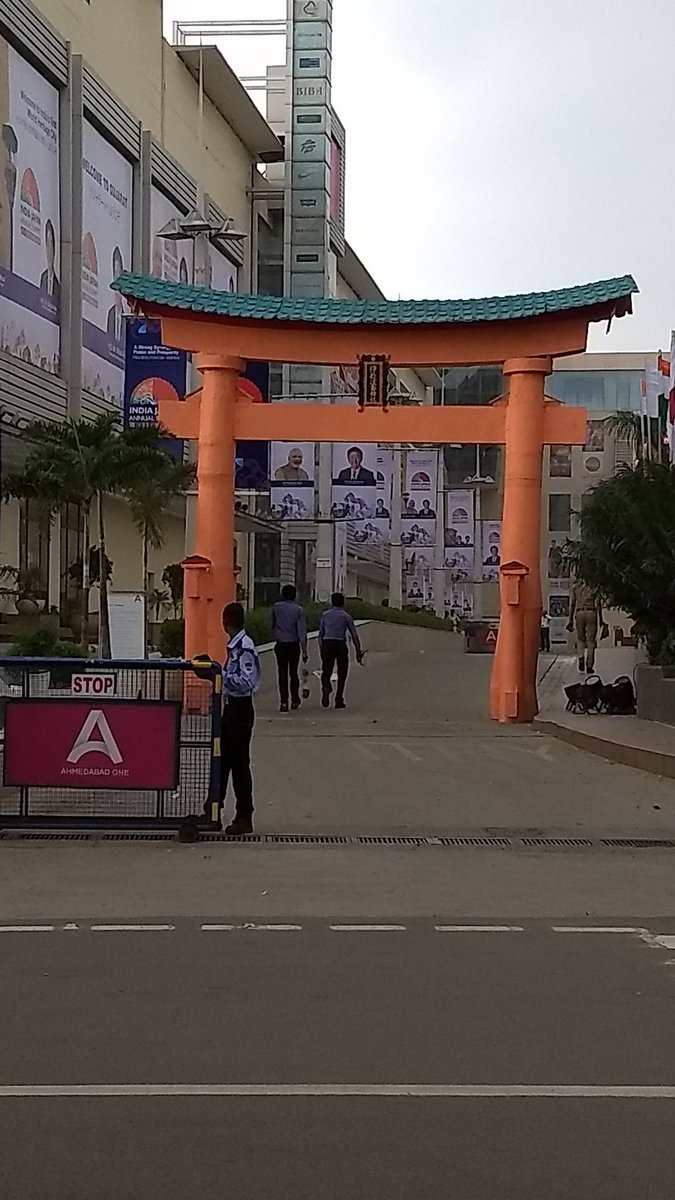 -Modi and Abe will reach Sabarmati railway ground tomorrow morning to kick off the works for Ahmedabad – Mumbai high speed railway project(bullet train project). Later at Mahatma Mandir there will be Indo-Japan summit and MoU signing ceremony. Visit to Mahatma Mandir museum and dinner at Science City in Ahmedabad are among other progammes planned tomorrow. Mrs. Abe meanwhile will be visiting Ahmedabad Management Association(AMC) for Origami function and gettogather with former exchange students (there's an exchange programme going on between Japan's Otoman Gaikun University and Gujarat University since decades). Mrs. Abe will also visit Gujarat University, Blind Men's Association and Kantisen Shroff's Srujan in Mithakhali area. A bullet train shape icecream has been prepared for Mrs. Abe at AMA. A Gujarat- Japanese song Kem Chho Konichiva will also be performed by school students tomorrow in presence of Mrs. Abe. Mrs. Abe is also likely to visit Calico Textile museum.
– A simulator machine of bullet train is awaiting Prime Minister Modi at Mahatma Mandir tomorrow. Modi may sit in the simulator and feel like he is inside the bullet train thanks to a video screen.
DeshGujarat