President of India declares Rural Gujarat open-defecation free
October 02, 2017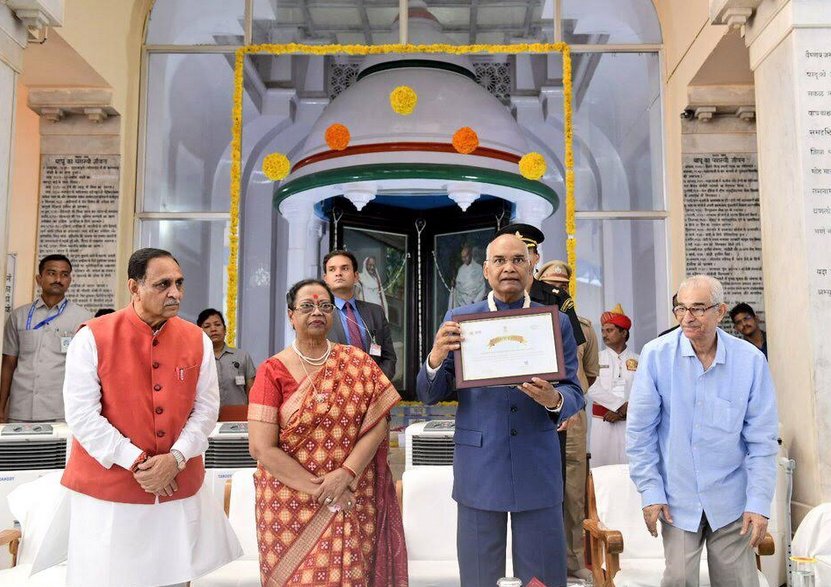 Porbandar: President of India Shri Ram Nath Kovind today declared Rural Gujarat open-defecation free (ODF), at Porbandar, commemorating the birth anniversary of Mahatma Gandhi on Monday, October 2, 2017. 14060 village panchayats of 247 talukas of 33 districts of Gujarat becoming ODF, marks a significant contribution in PM Shri Narendra Modi's vision of Swachh Bharat Mission.
On the occasion, President Kovind congratulated Chief Minister of Gujarat, his Cabinet and the entire team for accomplishing the goal of becoming ODF, two years before the set deadline. He shared that it was inspiring to announce this achievement of Gujarat from the birth place of Gandhiji. In his speech, President also said that like Gandhiji, who led by example and spread the message of cleanliness, we the people of India should also work hard towards realising the dream of Swachh Bharat.
A Rural Comprehensive Cleanliness Program was also launched at the event that covers 3300 village panchayats with population more than 3000. On the occasion, awards were given away to 19 districts of Gujarat that stood at first position in National Swachhata Darpan Contest, making Gujarat the leading state in the country with maximum awards.
CM Rupani expressed pride in sharing that out of the 46 districts that stood at first position in National Swachhata Darpan Contest, 19 belongs to Gujarat and added that Gujarat will continue its commitment towards cleanliness. So far states of Sikkim, Uttarakhand, Himachal Pradesh, Haryana and Kerala have been declared ODF. CM Shri Rupani announced that Gujarat now joins this list of ODF states, becoming the first of the bigger states-geographically and population-wise, to become ODF.
The ODF report presented on the occasion by Commissioner and Secretary, Rural Development Department, Smt Mona Khandhar, stated that 32.45 lakh toilets have been constructed successfully in rural households, which is 100% of the Base Line Survey 2012. 92.33% geo-tagging of toilets has also been attained. It was mentioned that three-fold validation process has been carried out to verify these reports. 100% checking was done by self verification by Gram Panchayats and inter block verification. 10% sample checking was done in third party validation by Quality Council of India. Issues brought out during validation or otherwise have all been resolved and reported by class 1 officers appointed for this purpose. Formal protocol for ODF is 95% access. However, Gujarat has ensured 100%.
President of India Shri Ramnath Kovind, First Lady, Chief Minister of Gujarat Shri Vijaybhai Rupani, Governor of Gujarat Shri O P Kohli and Minister of State Shri Jayantibhai Kavadia were present on the dais.
– Information