Gujarat BJP announces third list of candidates for assembly polls 2017
November 20, 2017
Gandhiinagar: The ruling BJP today released its third list of 28 candidates for the Gujarat Assembly polls, fielding former minister Saurabh Patel from Botad and former state party chief R C Faldu from Jamnagar-South seat.
In the third list, the party has dropped as many as 16 sitting MLAs, including three ministers, and given tickets to 10 legislators.
The ministers who have been dropped are Jayanti Kavadia (the MLA from Dhrangadhra seat in Surendranagar), Vallabh Vaghasia (Savarkundla seat in Amreli) and Nanu Vanani (Katargam seat in Surat city).
Kavadia recently announced that he was not willing to contest the polls and instead wanted to work to strengthen the party.
The parliamentary secretary in Chief Minister Vijay Rupani's government, Jetha Solanki, the legislator from Kodinar (SC) seat, was also dropped.
Solanki resigned as the MLA and from all party posts two days ago, alleging that Dalits faced atrocities under the BJP-led state government.
Sitting MLA from the Jamnagar-South seat, Vasuben Trivedi, who was the women and child development minister when Anandiben Patel was the chief minister from 2014 to 2016, has also been dropped by the BJP this time.
Former state BJP president R C Faldu has been given ticket for the Jamnagar-South seat.
The Gujarat Assembly speaker and BJP's Dalit face in the state, Ramanbhai Vora, who represents Idar (SC) seat of Sabarkantha, has been picked to contest from Dasada(SC) seat of Surendranagar, as the sitting MLA, Punambhai Makwana, has been denied ticket.
The state's former finance minister, Saurabh Patel, whose future had appeared uncertain after he was dropped as a minister from the new ministry sworn-in under Chief Minister Vijay Rupani last year, has been fielded from Botad, with the party dropping sitting MLA T D Maniya.
Patel represents Akota in the outgoing Assembly.
Last week, the BJP had declared its candidates for 106 seats. With today's addition of 28, the party has so far announced its nominees for 134 out of the total 182 seats in the Gujarat Assembly.
The polling for the two-phase elections in the state will take place on December 9 and 14 and votes will be counted on December 18.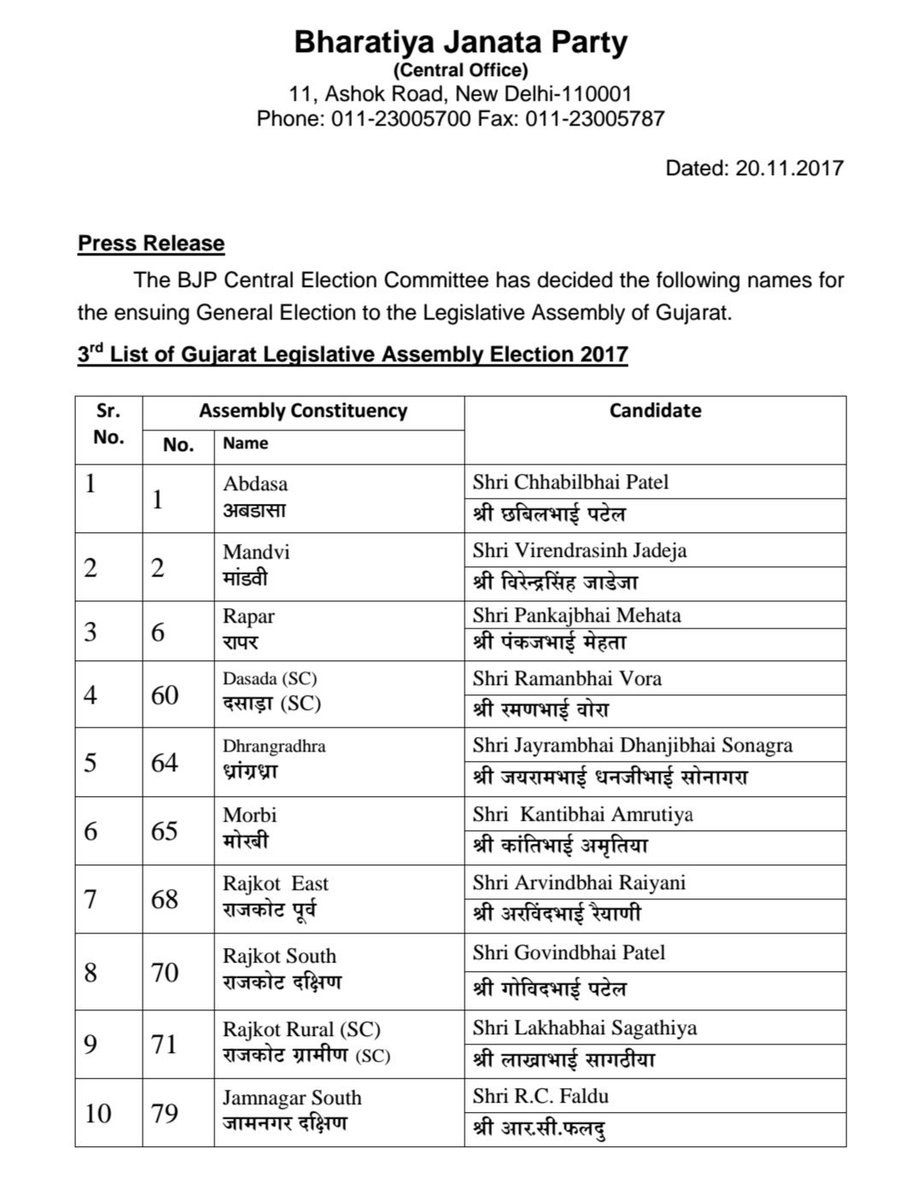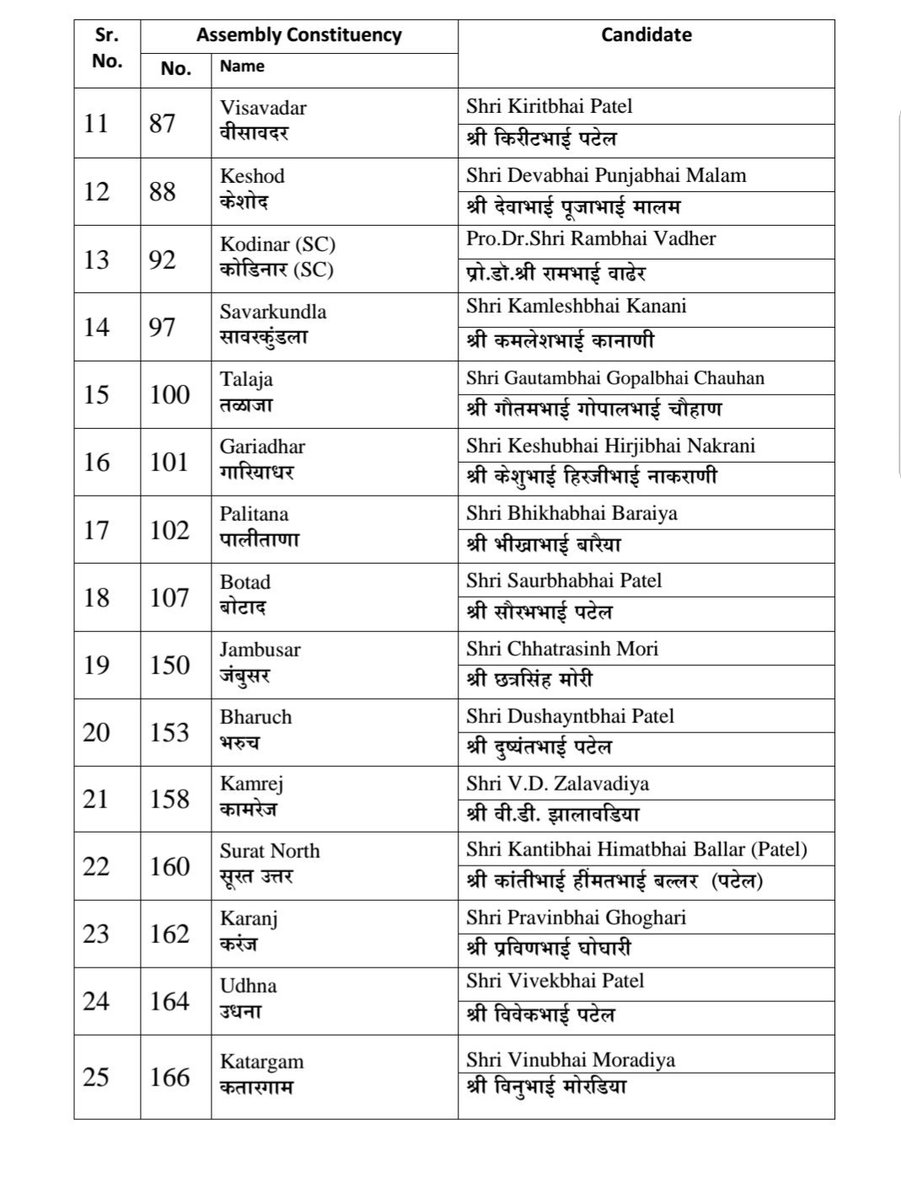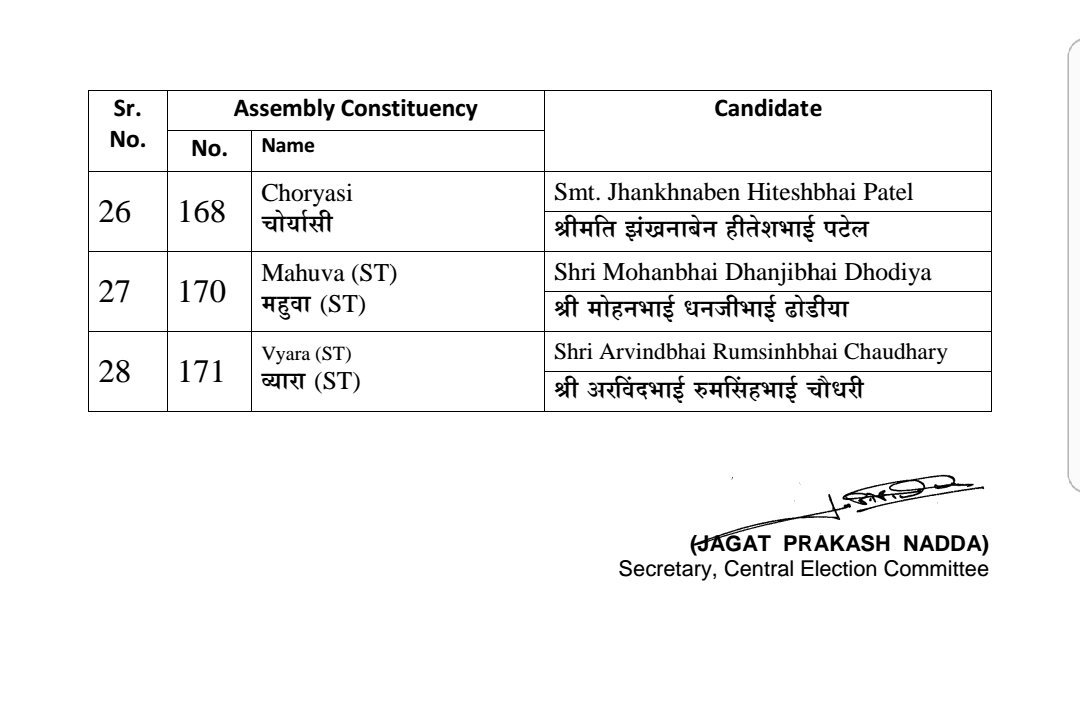 In addition to this Piyush Desai has been repeated as BJP candidate from Navsari seat in South Gujarat.
15 sitting BJP MLAs dropped

Tarachand Chheda, Bhanuben Babaria, Jethabhai Solanki, Dr. DT Mania, Janak Kachhadia, Poonam Makwana, Vasuben Trivedi, Vallabh Vaghasia, Prafull Panseria, Narottam Patel, Jayanti Kavadia, Arvind Ladani, Shivabhai Gohil, Ajay Choksi, Nanu Vanani
9 sitting MLAs repeated

Pankaj Mehta, Keshubhai Nakrani, Zankhana Patel, Kanti Amrutia, Chhatrasinh Mori, Mohan Dhodia, Govind Patel, Dushyant Patel, Piyush Desai
16 new faces

Virendrasinh Jadeja, Kirit Patel, Kamlesh Kanani, VD Zalavadia, Vivek Patel, Jayram Sonagara, Devabhai Malam, Gautam Chauhan, Kantibhai Ballar, Vinu Moradia, Arvind Raiywni, Rambhai Vadher, Bhikhabhai Baraiya, Pravin Ghoghari, Arvind chaudhary
Caste balance act

So far 36 Patels, 15 Kolis, 11 Thakors, 26 SC, 7 ST, 3 Ahir, 5 Brahmin, 3 Jains, 2 Anjana Chaudhari, 2 Karadia Rajput, 3 Lohana, 1 Vadher, 1 Barot, 1 Marathi, 1 Panchal, 1 Mer, 1 Rana, 1 Sindhi, 11 Kshatriya, 2 Anavil
BJP is yet to announce 47 candidates.