Maximum temperatures take a steep dip even as fear of Storm Ockhi proved to be a fiasco
December 06, 2017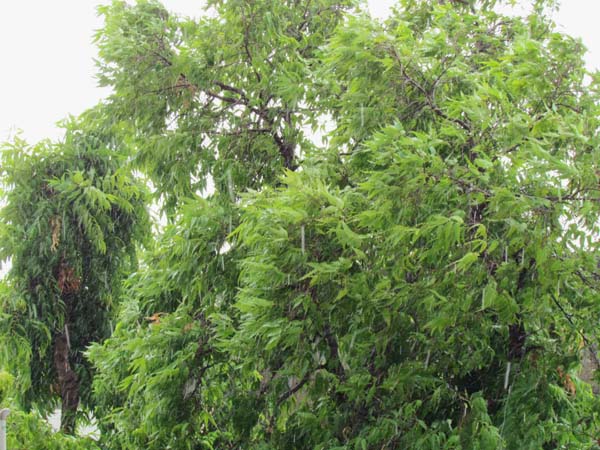 Ahmedabad:
The temperatures across the state have fallen significantly despite the fiasco of the fear of storm Ockhi which diluted and diffused in to a low pressure area before it could hit the Gujarat coast as a 'fierce' storm or deep depression.
Amid all the high alert and preparedness Ockhi could not do any damage in the form of a windy storm yet the rain caused under its influence has of-course damaged crop both in-the-field as well as recently sowed or sold one lying in open.
IMD center Ahmedabad Director Jayanta Sarkar, who had rightly predicted that the storm would loose much of its strength before arriving Gujarat, today said that it was not lying as a Low Pressure area over south coastal Gujarat and neighbourhood and has become less marked. However, associated cyclonic circulation extending up to 3.1 km above mean sea level lies over the same region.
He also said that there won't be any heavy rain today and the weather will become normal in a couple of days. There would be light rain in coastal Saurashtra and Gujarat region in next two days after which the weather would be completely dry. In the last 24 hours ending at 7am this morning a total of 143 talukas had seen light to moderately heavy rain with Umergam in Valsad recording maximum of 93mm and Vapi 90 mm. Today till 6pm despite overcast conditions only 32 talukas had seen rain and Godhara recorded the maximum of 6mm as per the state emergency operation center control room data.
About the over 12°C downturn in maximum temperatures at several places he said that it was because of lack of sunlight for continuous two days and presence of dense cloud in the atmosphere at these places. The minimum temperatures interestingly remained normal or above normal. He said that the maximum temperatures would also start moving towards normal figures from tomorrow.
Meanwhile the Okha-Bet Dwarka ferry service has been resumed today while the Ghoga-Dahej Ro Ro ferry service suspended yesterday would be resumed by the Gujarat Maritime Board from tomorrow.
The maximum and minimum temperature at various places across the state in the last 24 hours was as follows-
PORBANDAR 25.6 19.1 AHMEDABAD 19.0 15.6 RAJKOT 22.8 16.8 DEESA 21.2 17.6 VERAVAL 24.8 18.1 GANDHI NAGAR 19.8 16.0 DIU 24.4 18.0 IDAR 18.8 15.5 SURENDRANAGAR 20.8 16.5 V.V. NAGAR 18.1 16.4 MAHUVA 20.4 17.3 VADODARA 19.0 15.4 BHUJ 26.2 15.0 SURAT 18.4 16.6 VALSAD 26.9 12.6 NALIYA 25.2 12.6 KANDLA PORT 25.5 19.0 AMRELI 20.0 16.4 KANDLA AIRPORT 25.9 17.2 BHAVNAGAR 19.9 17.7 DWARKA 26.2 18.2 OKHA 24.3 20.4.
DeshGujarat