First phase of Gujarat assembly polls covering all 89 seats of Saurashtra, Kutch, South Gujarat tomorrow
December 08, 2017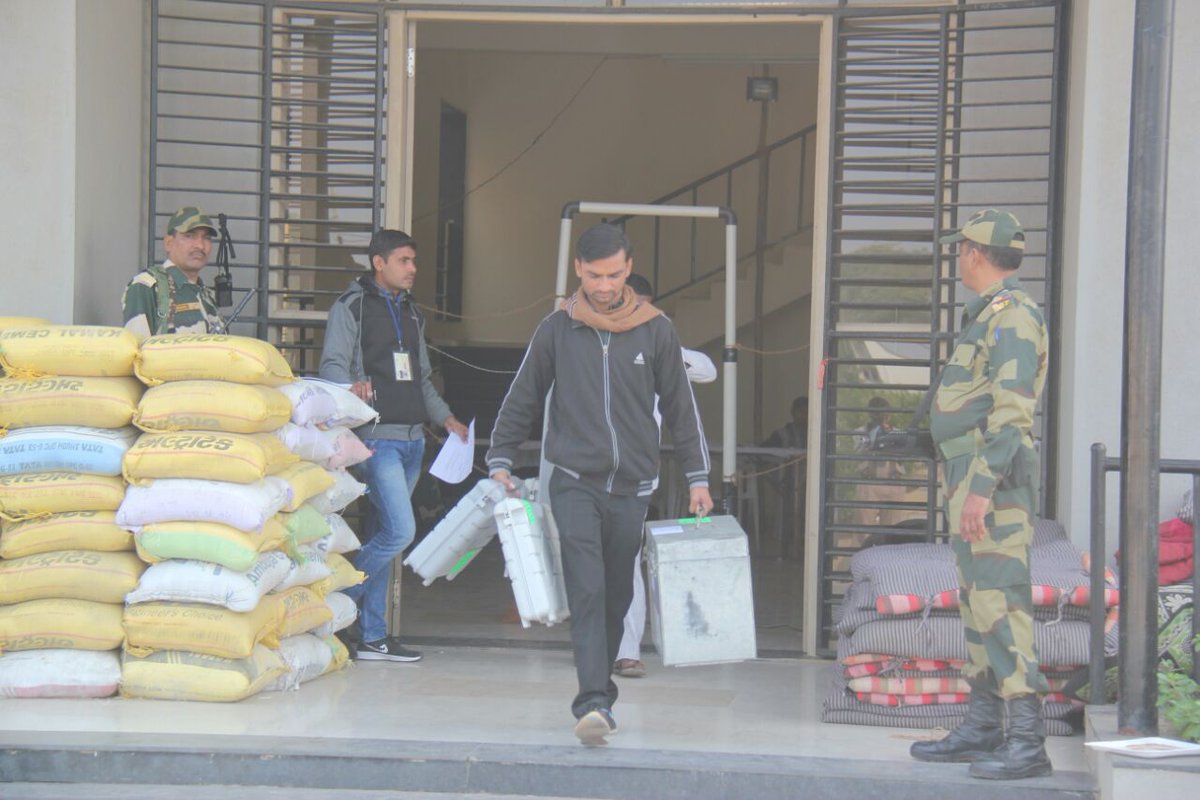 Gandhinagar:
Even as the Gujarat Assembly polls have become a 'battle of prestige' for many bigwigs including PM Narendra Modi and BJP president Amit Shah for the turf being home of the duo and Rahul Gandhi who is likely to take the rein of the grand-old party Congress as its president during its course, its first phase will be held tomorrow amid tight security on 89 seats of 19 districts in South Gujarat and Saurashtra-Kutch region will end at 5pm tomorrow.
Of the seats on stake BJP during the last assembly poll in 2012 had won 63 seats while Congress had go only 22. Two were won by Keshubhai Patel led GPP which later merged with BJP and NCP and JDU had won one each. Of these in the 11 districts of Saurashtra (Surendranagar, Rajkot, Morbi, Jamnagar, Devbhomi-Dwarka, Porbandar, Gir-Somnath, Junagadh, Amreli, Bhavnagar, Botad ) BJP had won 31 of the total 49 seats while Congress had got 15, NCP one and GPP 2. In the seven districts of South Gujarat (Narmada, Bharuch, Surat, Tapi, Navsari, Valsad, and Dangs ) of total 34 seats BJP had won a whopping 24, Congress six and JDU one. Of the six seats of Kutch BJP had won 5 and Congress the remaining one seat.
CEO B B Swain today said that in the polls to be held from 8 am to 5 pm the fate of a total of 977 candidates (57 women) including CM Vijay Rupani (Rajkot West), BJP state president Jeetu Vaghani (Bhavnagar West ), former Congress president Arjun Modhwadia (Porbandar) and senior leader Shaktisinh Gohil (Mandvi) will be at stake. BJP has fielded 89 candidates, Congress 87, BSP 64, SP 4, Janvikalp Morcha 48, AAP 21, JDU 14, NCP 30 Shiv Sena 25 and BLT 4 while 443 were independents. The polling will be held with EVM and VVPAT on all the over 26500 polling booths. Around 1.74 security personnel including the para military ones would be deployed.
The steering for campaign for ruling BJP was in the hands of PM Narendra Modi while that for main opposition Congress was led by its leader Rahul Gandhi.
While BJP made development its main and sole poll plank Congress tried to attack it on various issues including the alleged failure of demonetization and poor implementation of GST. Rahul repeatedly attacked BJP and PM Modi for their said proximity with a handful of big Industrialists. Congress also ran a social media campaign alleging that development has gone mad in Gujarat (Vikas Gando Thayo Chhe).
BJP countered it with its campaign Hu Chhu Vikas Hu Chhu Gujarat (I am development and am also Gujarat). PM Modi himself took a counter-offensive posture and answered various allegations and questions put forth by Rahul in his rallies. He and other BJP leaders also hit out at the 'flaws' and blunders of the statistics in Rahul's allegations. But after the use of indecent language by Congress leader Mani Shankar Aiyar against PM Modi has become a game-changer of sorts.
From BJP apart from Modi, party president Amit Shah and a host of union ministers including election in-charge and finance minister Arun Jaitley, defense minister Nirmala Sitharaman, Home Minister Rajnath Singh, Information and broadcasting minister Smriti Irani, Minister of external affairs Sushma Swaraj and CMs of Uttar Pradesh, MP and Rajasthan participated in the first phase campaign.
Congress also fielded former PM Manmohan Singh and various former union ministers including P Chidambaram, Kapil Sibbal, Ghulam Nabi Azad, Anand Sharma and young faces like Jyotiraditya Scindia, Sachin Pilot and former Delhi CM Sheila Dixit etc for poll campaign. Both the parties also ran an extensive door to door campaign last month.
Though actor turned politician Paresh Rawal, Manoj Tiwary, Hitu Kanodia and Naresh Kanodia and Rajbabbar and Nagma did campaigning for their respective parties yet the campaign was not film star oriented as such. SP leader and former UP CM Akhilesh Yadav and BSP supremo Mayavati also participated in the campaign.
PAAS leader Hardik Patel also held various rallies and road show for his anti BJP campaign. But he has received another last minute jolt from his close aide Dinesh Bambhaniya today as he alleged that he was silently witnessing the betrayal of Patidar community by Congress on quota issue.
The weather affected by approaching cyclone Ockhi however marred the campaign during its peak on December 5 and 6 with a large number of rallies including that of PM Modi, Rahul, Shah and others getting cancelled.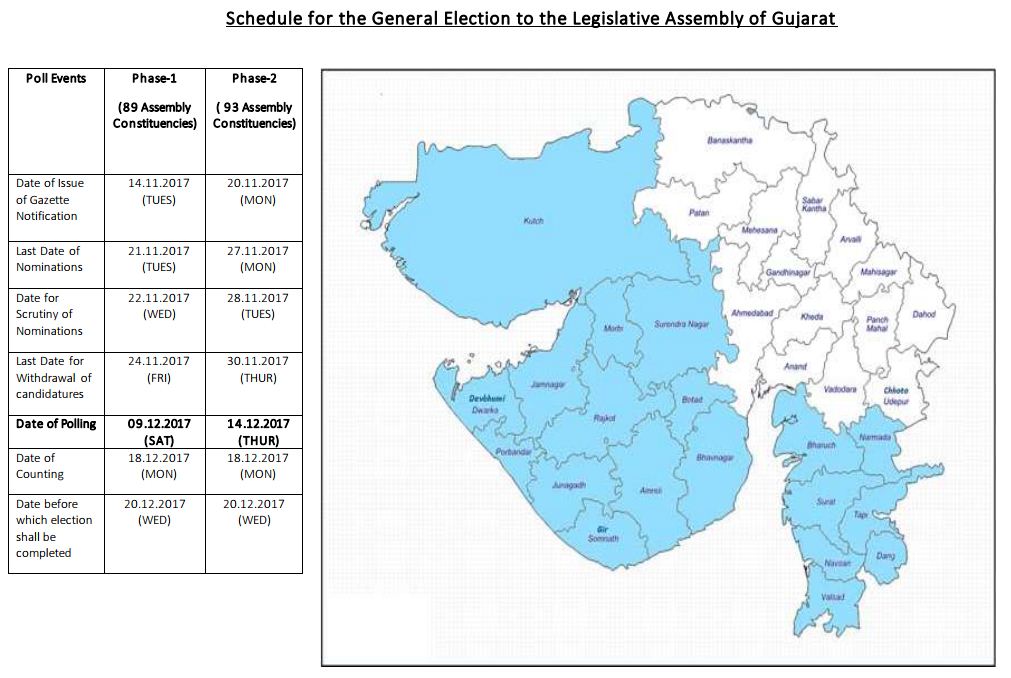 Among the 89 seats by area, the smallest is Karanj (4 Sq.Km.) and the largest one is Abdasa (6,278 Sq.Km.). By size of the Electorate, the smallest is Surat North with 1,57,250 electors and the largest being Kamrej with 4,28,695 electors. 7 of the constituencies have a total voter base between 150000 – 200000 and remaining 82 have over 200000 voters. Of the total 2.12 crore voters 1.11 crore were male 1.01 crore female and 247 third gender. Of these 35.29 lakh were of 18-25 years 78.68 lakhs of 26-40 age group ie a total of over 50% voters were below 40 years of age. Over 27 thousand EVS with VVPAT will be used on over 24 thousand polling stations. Maximum 27 Candidates were on Jamnagar Rural seat while minimum 3 were on two seats Jhagadia (ST) and Gandevi(ST).
DeshGujarat