Rupala, Mandavia file nomination papers for re-election to Rajya Sabha seats
March 12, 2018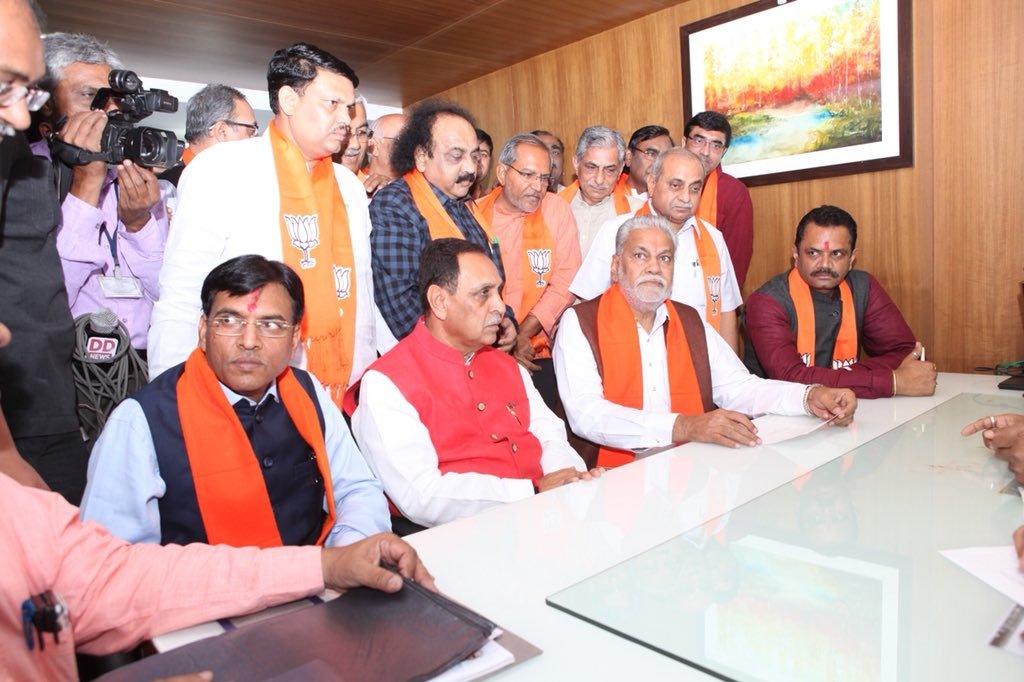 Gandhinagar:
Union Minister of State for Agriculture Parshottam Rupala and MoS for Road Transport, Shipping, Highways, Chemicals and Fertilizer Mansukh Mandavia today filed their nomination forms as BJP candidates for re-election as Rajyasabha members from Gujarat.
Both ministers handed over their filled up nomination papers to senior assembly official A B Karova who accepted it on behalf of secretary D M Patel.
CM Vijay Rupani, Deputy CM Nitin Patel, BJP state president Jeetu Vaghani and other senior party leaders were present on the occasion.
The terms of 4 current seats Rajyasbha seats from Gujarat including those of Rupala and Mandaviya are due to mature in April this year. The other two seats are also occupied by BJP; one by Finance Minister Arun Jaitley (who is seeking re-election to the upper house from UP this time around) and Shankar Vegad (dropped this time).
Today is the last date of filing nomination. The election would be conducted if the need arises (not likely) on March 23.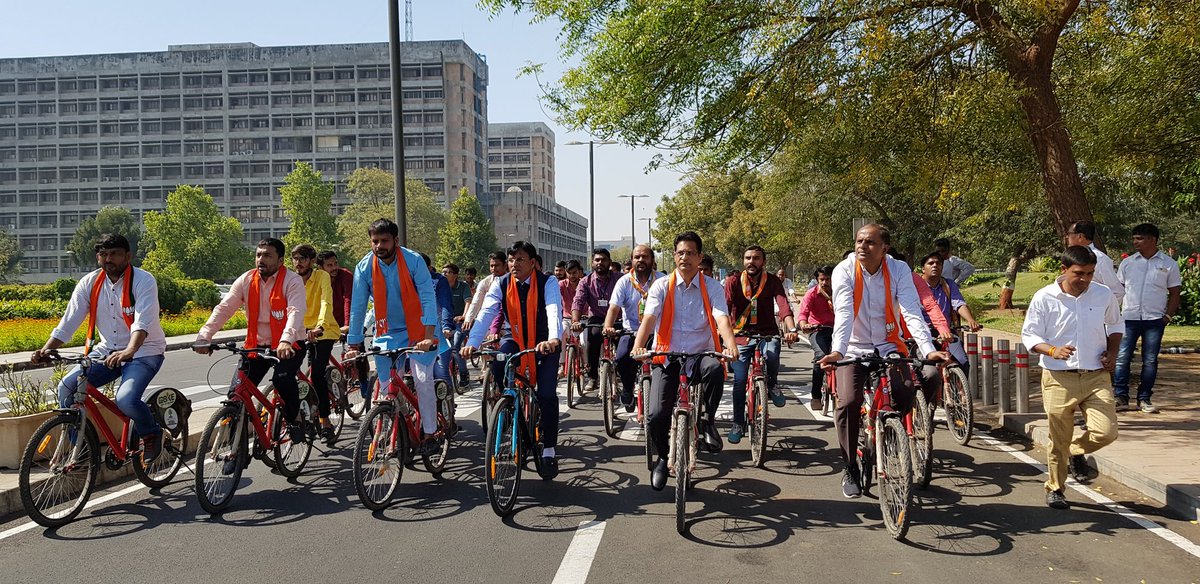 In the changed situation after the December assembly election Congress which can easily win two of this seats has fielded Naran Rathwa and Lawyer Ameeben Yajnik as its candidates. The duo will file their papers today. As per the arithmetic of the Rajya Sabha election rules, each contesting candidate will have to gain at least 37 votes from among Gujarat MLAs. Congress has 77 seats in the Assembly and the BJP has 99. So, both Congress and BJP can get two members elected on their current strength in the Assembly. And both parties will have some surplus members.
Meanwhile, some of the Gujarat woman congress leaders including its incumbent president Sonalben Patel were vehemently opposing Yagnik's candidature. Patel has reportedly put in her papers in protest. Many of the woman congress leaders have given ultimatum to do so. They were terming her a candidate brought ignoring the party cadres.
Congress state president Bharatsinh Solanki however claimed that the situation would be resolved amicably.
'Cycle-man' Mandaviya chooses fuel-less two-wheeler to reach Gujarat assembly for filing Rajyasabha nomination
Gandhinagar:
Union Minister of State for Road Transport Mansukh Mandaviya, who is known for his concerns for climate and attending parliament session on bi-cycle, today also chose the fuel-less two-wheeler to reach the Gujarat assembly secretary office for filing nomination for Rajya Sabha election.
Talking to newsmen Mandaviya later said that it was a zero pollution mode of transportation which was highly beneficial for the control of environmetal pollution.
He said that he runs a cycle club in Delhi which has 38 members of the parliament who prefer cycle as a mode of transport. cycles did not consume petrol or diesel and did not cause any pollution. These were not only cost-effective mode of transportation but also the best ones for the environment.
Mandaviya said that cycling was also a kind of exercise and good for health..
BJYM president Dr Rutvij Patel also accompanied Mandaviya during his cycle ride to assembly along with other BJP cadres
DeshGujarat