PM not to come to Madhavpur fair; CMs of North Eastern states to participate
March 20, 2018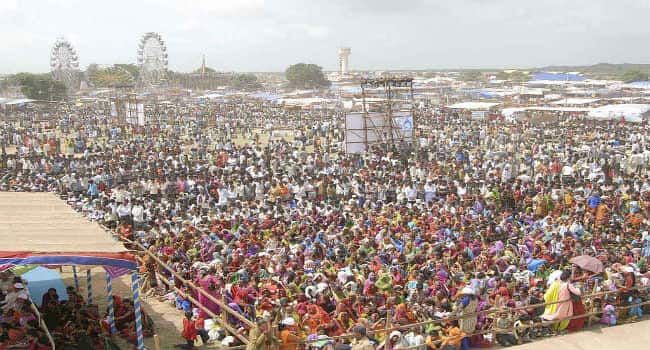 Porbandar: Prime Minister Narendra Modi was expected to visit the Madhavpur fair in coastal Saurashtra in the last week of this month, however it has been now confirmed that Prime Minister will not come.
Madhavpur fair which is one of the three largest fairs in Saurashtra region is going to be celebrated as a national event with participation of the Gujarat government and the Centre.
There will be 200 stalls in the fair. Artistes from across seven zones of the country including Padma Bhushan recipient classical dancer Sonal Mansingh will give performances. 200 artistes and officers from west zone cultural centre and 146 artistes and officers including 80 from Northeast states and 66 from Varanasi representing east zone cultural centre of Union Ministry of Culture will perform at the fair.
The five-day long fair starting from Ram Navmi will witness presence of Chief Ministers and Goernors from the North East region on invitation of Gujarat Chief Minister. Core part of the fair is marriage of Madhavraiji or Lord Krishna to princess Rukmini. As per Hindu scriptures Krishna had rescued his grandson Aniruddha from Sonitpur (present day Tezpur in Assam) after he was abducted by Chitralekha.
– CMs and Governors of Arunachal Pradesh, Manipur, Tripura, Assam are expected to participate the event along with union ministers Nirmala Sitaraman and Kiran Rijiju.
– According to Rijiju, Rukmaniji belonged to the Idu Mishmi community of Arunachal Pradesh. She lived in Mishwaknagar. Lord Krishna brought her to Madhavpur-Ghed and married her. Rukmani's father king Bhismaka wanted her to marry Shishupala, the king of Chedi, which is in present Madhya Pradesh. But that was against her wish. Shishupala was Ravan in his previous birth. Krishna rescued Rukmani and brought her t Madhavpur-Ghed.
– Five stages will be set up at the site of fair and three on beach for cultural performances. A grand rehearsal will take place on March 24.
DeshGujarat