Sanguine Cera sets up a 'frit' manufacturing plant at Hansot in Bharuch district of Gujarat
April 17, 2018
Bharuch: Badri Mahapatra led Sanguine Cera's frit manufacturing facility will be commissioned at Rohid village in Hansot taluka of Bharuch district in Central Gujarat. The plant will serve domestic market. It will have a capacity of 21,600 mtpa with 3 continuous furnaces technology. Though the plant is located in remote area, it is designed with all the modern equipments, technologies and amenities.
The plant is located near State minister Ishwarsinh Thakorbhai Patel's native village. Patel is MLA, Ankleshwar and minister of state for cooperation, sports, youth and cultural activities with independent charge. Patel will inaugurate the plant on Saturday, 21st April.
Ceramic glaze mixture(glass frit) is used in glazed wall tile, glazed floor tile and glazed vitrified tiles. It is used for 8 mm layer atop the tiles for glass like smooth shinning look and feel. Sanguine Cera is one among few players in this industry.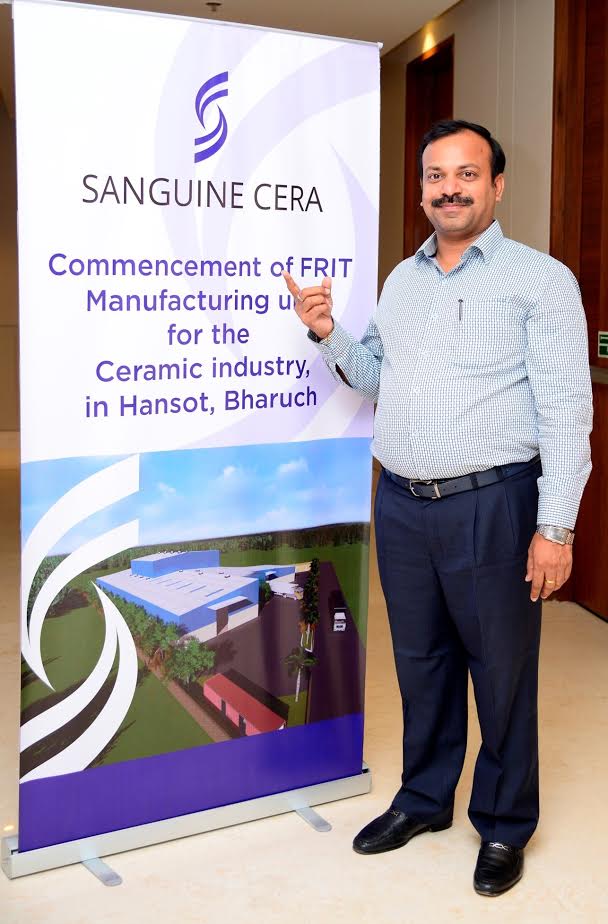 Mahapatra, the man behind this Hansot unit has been partner in Sunshine Glass, Subheart, a leading brand in ceramic industry a Rubber and Plastic injection moulding company and advised several multi national companies in setting up their manufacturing facility in Gujarat. he has also set up a micro finance company.
Mahapatra started his career as an employee with joint venture of Gujarat Gas, Bharat Petroleum and with few Gujarat government organizations. He later started entrepreneurial career in 2006 leaving behind lucrative employment growth. He was executive director of TiE, an international organization to promote entrepreneurship in Gujarat.
Speaking to DeshGujarat, he said the reason of choosing a remote location of Hansot for the plant was cheaper fuel available there from ONGC. While in conventional ceramic cluster at Morbi, the gas fuel which is major component of input cost is available at Rs 27 per cubic meter, at Hansot it is available for Rs 12 per cubic meter.
He said the company has tied up with three multinational players and dialogue is going on with two more. He said all three furnaces will be functional in the plant by the end of current calendar year to meet targeted full production capacity of 21,000 mt.
'Sanguine', Mahapatra said means 'Optimistic'.