Gujarat Police cracks Surat rape and murder case
April 20, 2018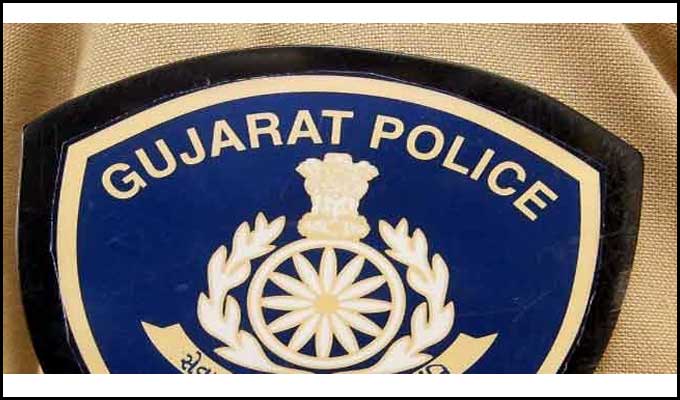 Surat: Ahmedabad crime branch has solved the rape and murder case of 11 year old girl in Surat.
A car used to dump the body of victim girl has been identified and seized.
Two persons, first detained in this case are owner of the car which was used to dump the body and his friend.
The main accused Harsahay Gurjar has been picked up from Rajasthan.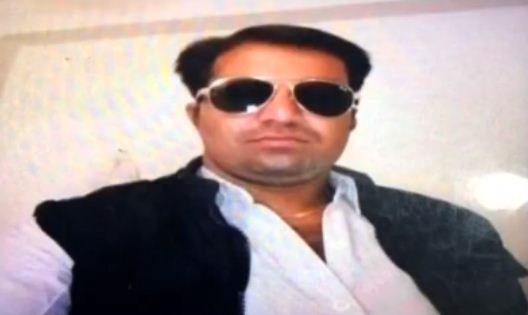 Minister of State for Home, Pradipsinh Jadeja congratulated State DGP, City police commissioner of Surat and Ahmedabad city Crime Branch officials for skillfully solve this difficult case. Jadeja said the State government will appoint special public prosecutor Ja in this case and see that it is treated as fast track case.
Accused Harsahay Gurjar who has been held from Rajasthan had taken the mother and daughter to Surat on 15th March for labour work on his tiles fitting and construction site in Surat. The mother was missing since 20th March. Unidentified dead body of daughter was found on 6th March while mother's body was found on 9th March.
The detailed statement by police(translated from Gujarati)
Early in the morning on 6th April, at around 6.45 am Omprakash Rajput's wife Poonamben and neighbor Manishaben were on morning walk behind the Sai Fakir cricket ground and they spotted a dead body of unidentified girl child. They contacted police control room through their mobile phone in response to which Pandesara police station inspector VP Gol and another cop Prahladsinh reached the spot. The dead body was sent to civil hospital in Surat and reason of death was described as ' died due to asphyxia as a result of manual strangulation associated with smothering. Also there are evidences suggestive of sexual assault and physical violence.'
PSI VP Golna filed complaint of murder, rape, POCO on 6th April at 7 pm. The city police used social/print/electronic media to search for victim girl's parents but no fruitful result was achieved. Andhra Pradesh based citizen claimed victim girl was his daughter following which the Surat police carried out DNA test procedure, however no thing fruitful was achieved.
On direction of the State DGP Shivanand Jha, the city crime branch team from Ahmedabad was roped in to join the probe. Ahmedabad city DCP Deepan Bhadran reached Surat on 14th April with three teams of city crime branch and joined the investigation. CCTV camera footage were checked by the team. The Ahmedabad crime branch team also visited the spot of crime and studied its geography. In one CCTV camera located around 1.5 km away from the spot, a small light of some vehicle was spotted. The vehicle had halted for 55-60 second at the spot of crime. But when checked linking CCTV cameras, it was found that the vehicle which was hatchback type four-wheeler had not entered the main roads. Later when checked other CCTV footage, it was realized that the vehicle had black color. After going through all CCTV footage, it was confirmed that the vehicle had not left Bhestan road – Someshwarnagar area. After going through all black four-wheel cars in the area, one black Chevrolet Spark car was found suspicious. Its registration number was GJ 05 CL 8520. When checked it was found that the car was with some Ramnaresh. When questioned, Ramnaresh revealed that Harshsai Gurjar, brother of his house-owner had taken his car and returned at around 4.30 am. When asked where did he take car late in the night, Harshsai Gurjar had replied Ramnaresh that a girl living with him had died and he had asked for car to transport her body. When asked further, it was revealed that Gurjar was working at various construction sites for tiles fitting work. Gurjar had brought victim girl and a woman who could be girl's mother for contract work during 1st to 5th April. Later, Gurjar had left Surat on 16th April with his luggage, wife and children for native place.
The house owner Harisinh Gurjar said Harshsai was his brother. He had left for Kunkura Khurd village of Gangapur taluka of Sawai Madhopur district in Rajasthan. DCP Deepan Bhadran contacted DCP Sawai Madhopur and sent crime branch PI Barad's team to Rajasthan to nab Harshsai Gurjar.
Police has doubt that a woman who could be mother of victim girl was also murdered.
Under the guidance of DGP Shivanand Jha, Surat CP Satish Sharma DCPs, ACPs, PIs, in total 400 cops were part of the probe teams. Ahmedabad city crime branch's JCP JK Bhatt, DCP Deepan Bhadran, Ad DCP Rajdipsinh Jhala, PI JN Chavda, RH Suvera, KG Chaudhary, VB Barad, Vijay Malhotra and others worked day and night for success in this case.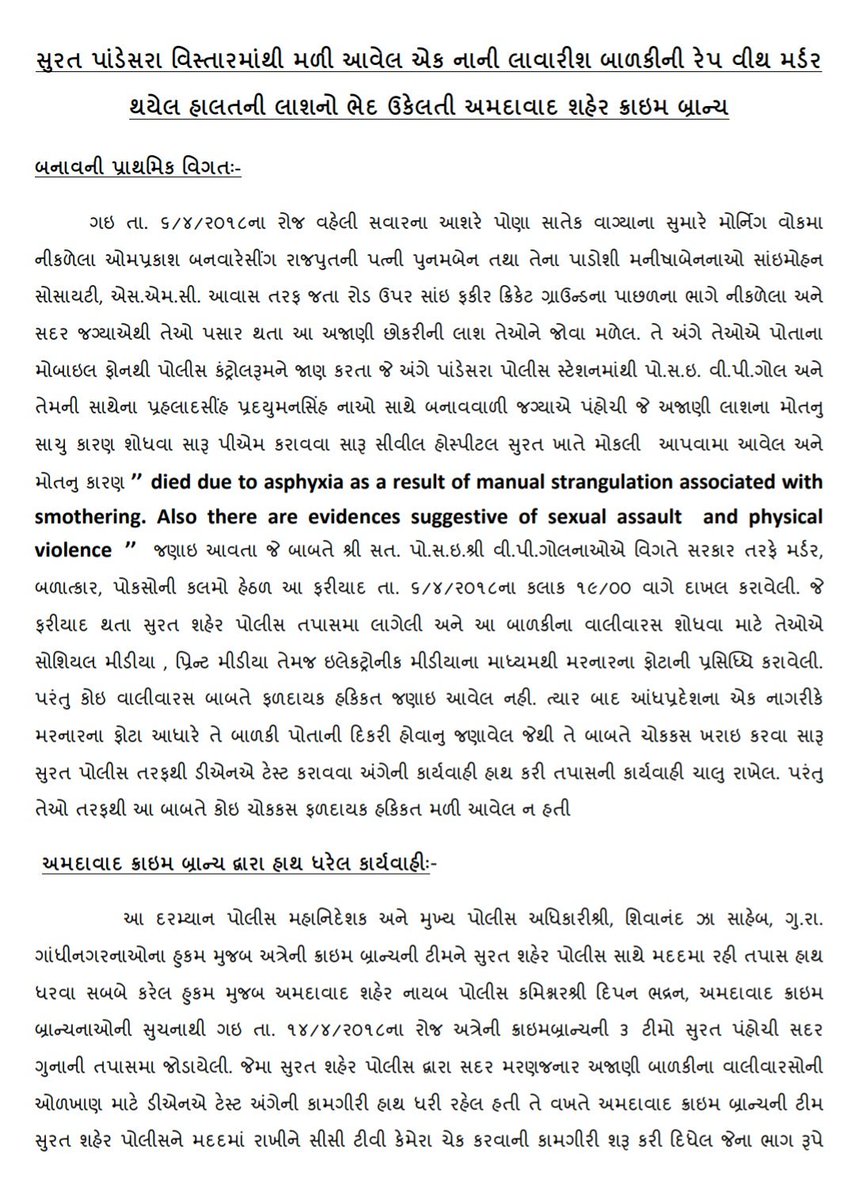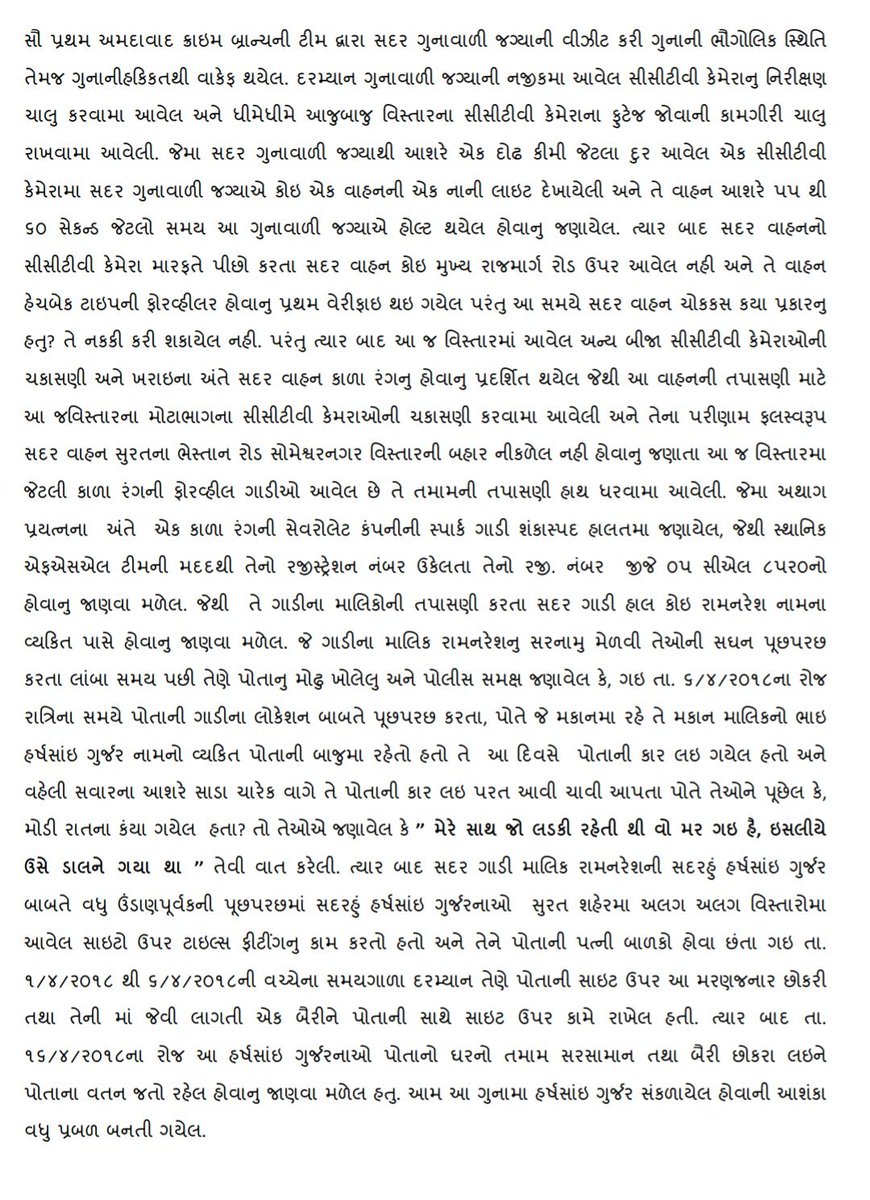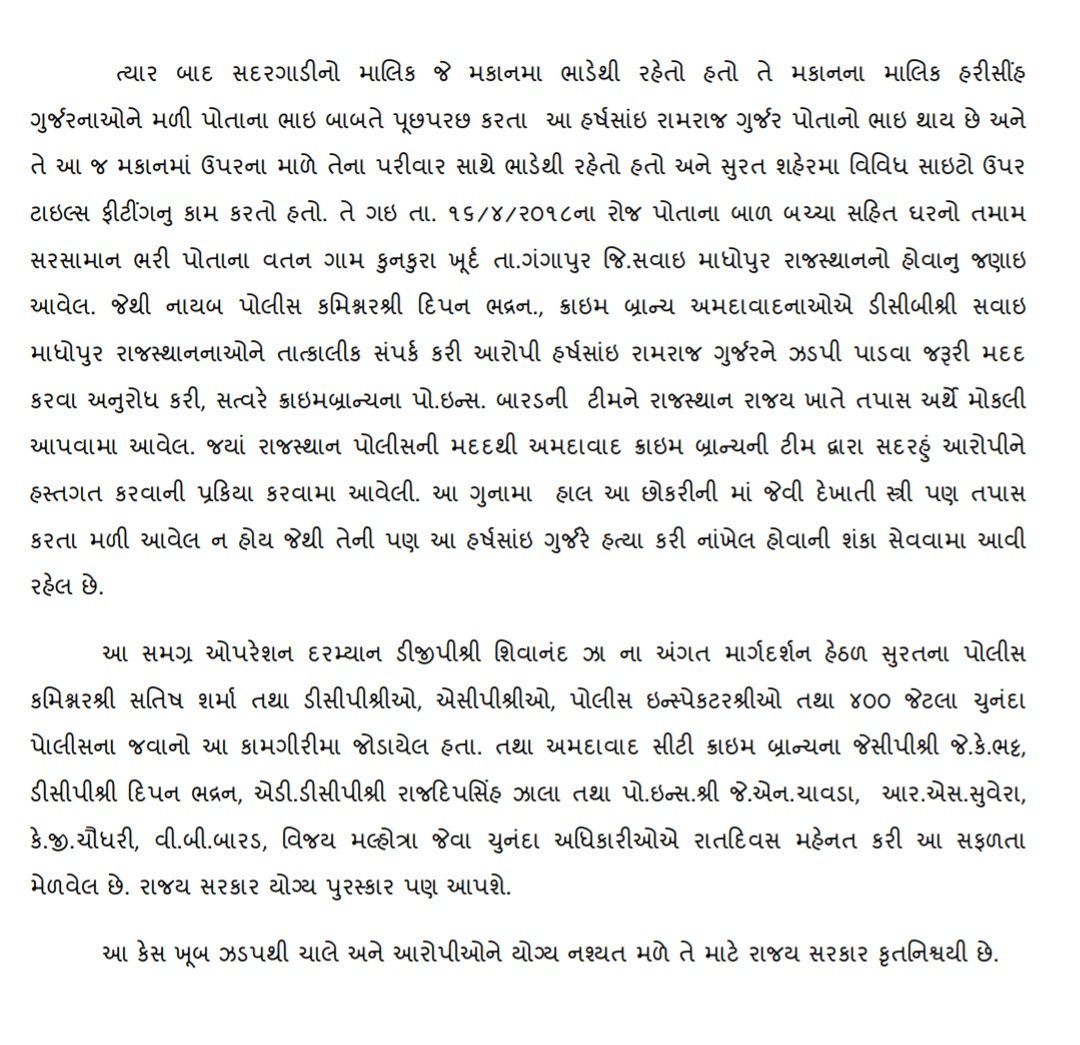 DeshGujarat