Russian gas giant Gazprom begins LNG supply to India; Dharmendra Pradhan receives first cargo at Dahej in Gujarat
June 04, 2018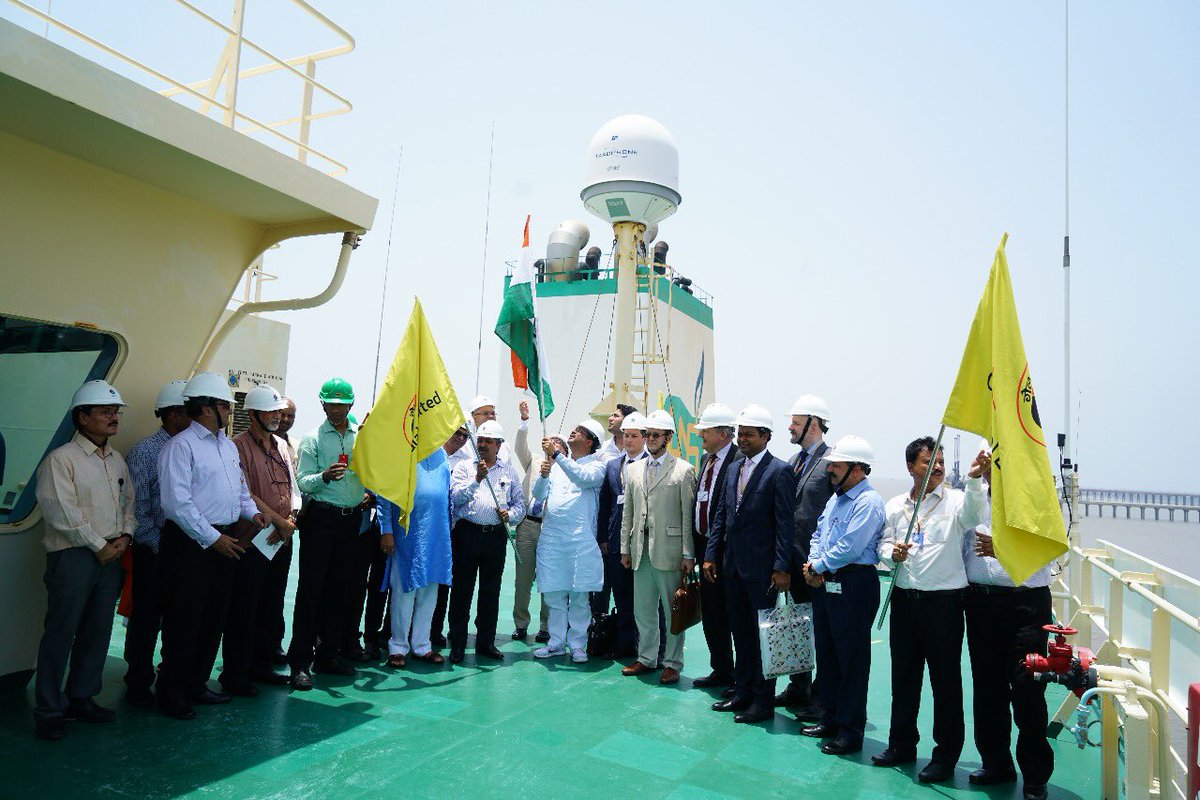 Dahej:Union minister Dharmendra Pradhan today at a function at Dahej in Central Gujarat, received "LNG KANO", the 1st long term LNG cargo from Gazprom along with Russian delegation and officials from Gail India.
The arrival of today's cargo marks a milestone in India-Russia energy ties & has built another strong bridge to 70 years of bilateral friendship, said Pradhan.
The long term LNG contract between Gail India and Gazprom for supply of 2.85 MMTPA of LNG not only adds a new dimension in the hydrocarbon engagement between India and Russia, it also diversifies India's energy sourcing & is a significant boost to our energy security, said Pradhan.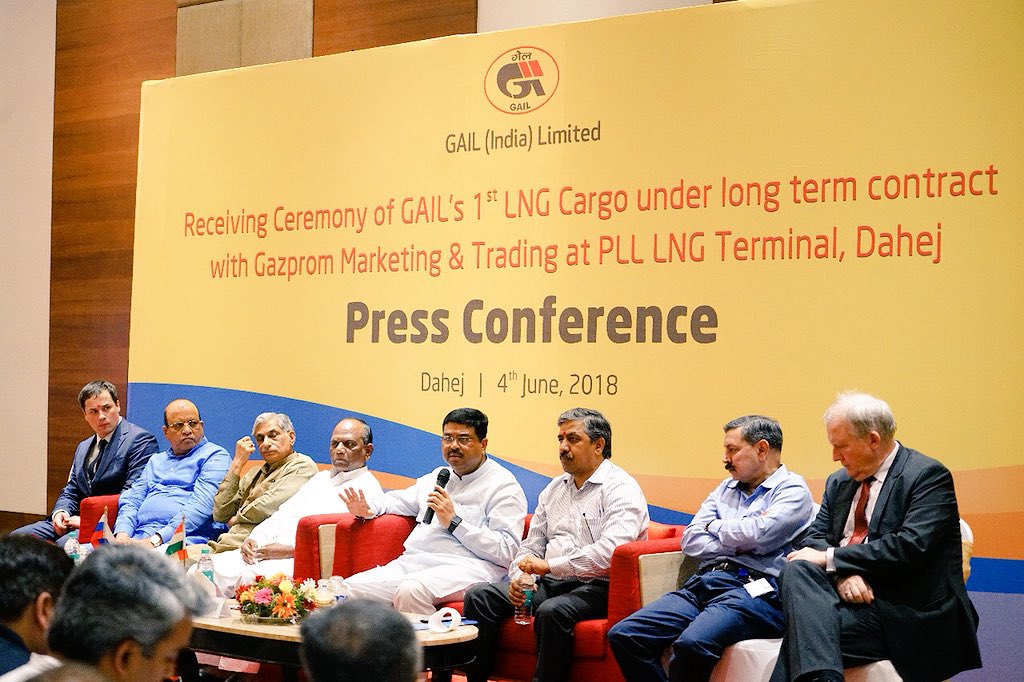 Pradhan reviewed a presentation by Gail India and Petronet LNG Ltd on India-Russia strategic energy ties and progress of gas infrastructure programs in India. Pradhan shared his suggestions to further pace up the use of LNG as transport fuel.
This is the 3rd long-term supply contract by Gail India this year resulting in availability of 25-30 MMSCMD of additional gas for India. LNG sourced will be used to develop the natural gas market in India & increase the contribution of natural gas to 15% in India's energy basket.
It is also satisfying that Gail India and Gazprom have amended the LNG Sale Purchase Agreement with volume ramp-ups & reductions in prices. In later stages, this contact will also allow India to import LNG from Russia's Yamal Project. The acquisition of sizeable stakes in Vankor and Tass-Yurayakh producing blocks by Indian PSUs in the last few years is a vindication of growing hydrocarbon engagement between India & Russia. The increase in bilateral trade & investments between India-Russia in the oil and gas sector has a win-win effect for either sides. While providing a major market to high volume gas reserves of Russia, It also helps India address it's energy needs & establish a gas based economy.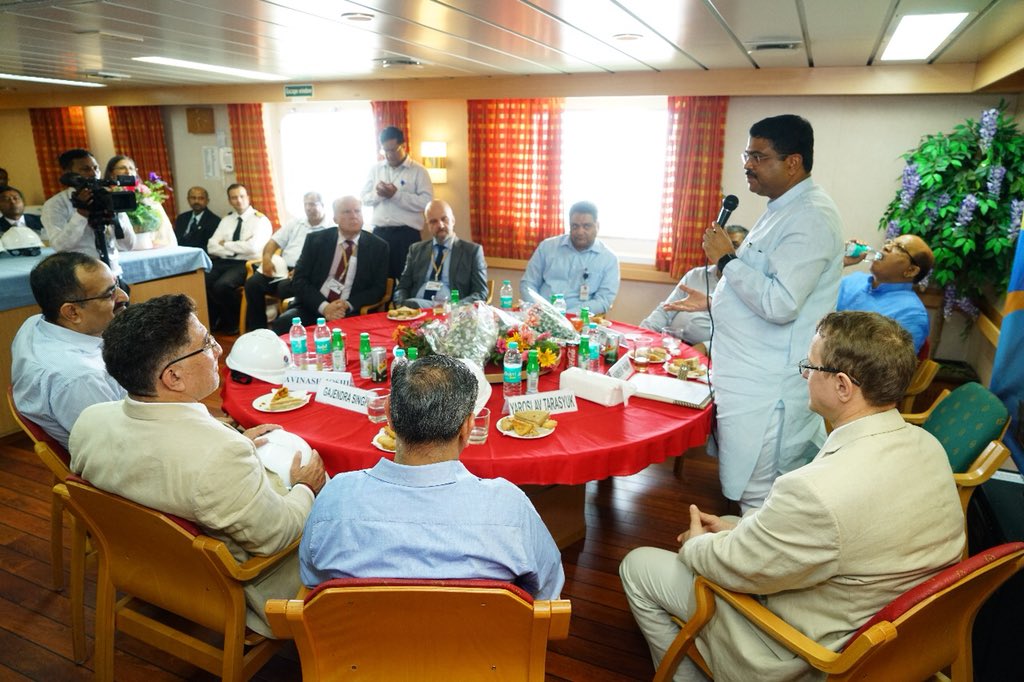 Pradhan said, India has big scope of gas market and Gujarat is example of it. World's energy basket has 24% gas. Gujarat's energy basket has gas portion of 26% against 6-8% nationwide, which is thanks to Prime Minister Narendra Modi's vision. Pradhan said gas based energy is cheaper, enviornment-friendly and convenient. Shri Narendra Modi government set up LNG terminal, pipeline, CGD network in Gujarat and gave incentive to related industry. India needs to replicate it.
Pradhan continued, availability of gas remains the main thing. Due to corrective steps, country's domestic gas production has increased, but that's not enough, we need to import the gas. When we came to government we had long term contract with Qatar. Contract with Australia, Russia and America were also done. The government renegotiated gas deal with Qatar. After Qatar, Australia and America, finally we are today bringing Russian LNG to India. This is golden day therefore Approximately Rs 10,000 crore worth gas we will be purchased from Russia every year through this deal. Russia has played a big role in giving boost to India's petroleum industry. Bombay High was set up in partnership with Russia.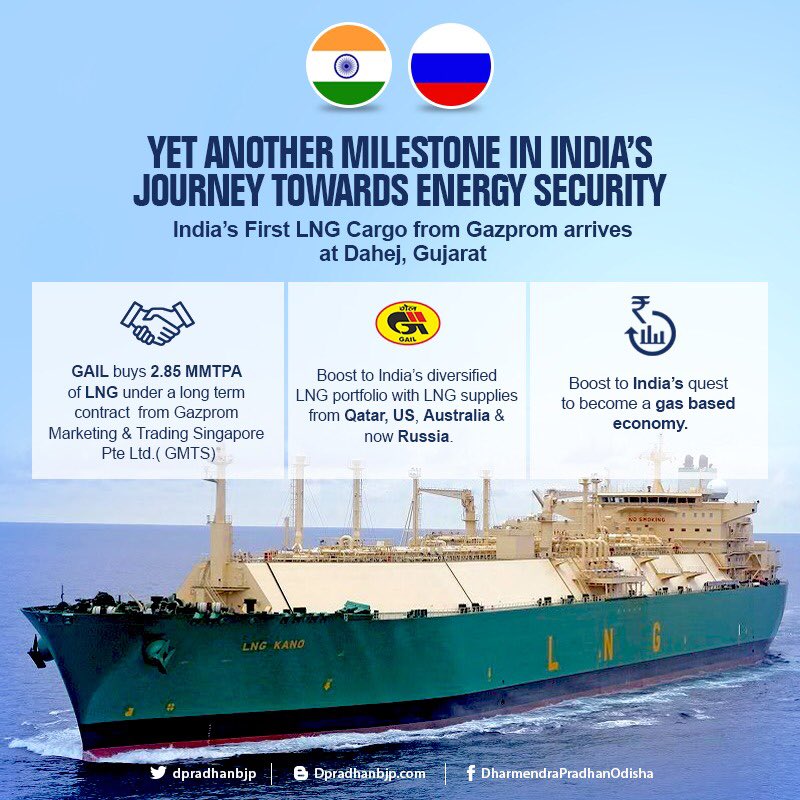 Pradhan said Gazprom is world's largest LNG company, that has world's largest gas reserve. Gazprom has Russia's 2/3rd gas reserve. World's largest gas producer/supplyer is Russia, and Russia's 2/3rd gas is with Gazprome.
Pradhan said fertilizer industry is gas operated today while in ,power generation gas is a big component. Gas is also used in urban transportation and urban household which is priority of the government today. Apart from that two three new sectors will add such as steel sector.
Pradhan said, India has now four long term contracts for delivery of gas. Average mid size cargo will arrive from Russia, thrice in month. More long term contracts result into competitive rate. Pradhan said the government is going to set up an exchange for that. Major consumer remains fertilizer sector where pool price mechanism is in operation.
DeshGujarat