Lok Rakshak recruitment exam Paper was leaked from Delhi, 4 including PSI and woman arrested, alleged mastermind still to be nabbed: SP Gandhinagar
December 03, 2018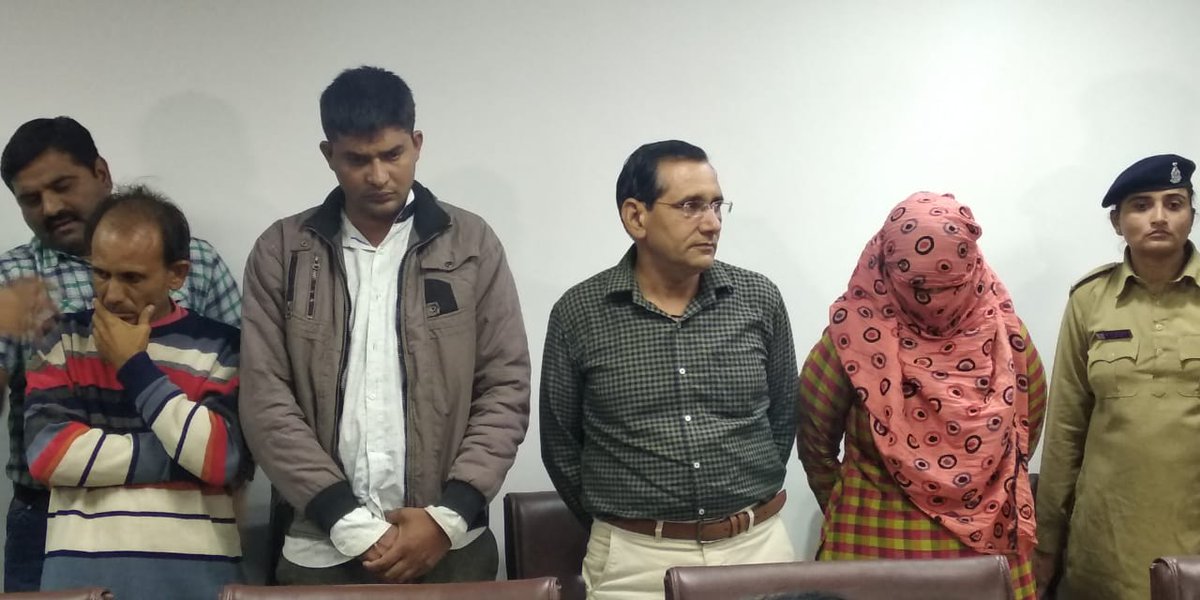 Gandhinagar: Police has arrested four people including a woman and a police official in connection with the sensational Lok Rakshak recruitment exam paper leak incident, Gandhinagar SP Mayur Chavda today said.
He also informed that the paper was brought from Delhi by the seemingly main conspirator and temporary employee of Vadodara Municipal Corporation Yashpalsinh Solanki, a native of Lunawada, who has not yet been arrested.
Addressing a press conference here today Chavda said that four people including the PSI in wireless department P V Patel (also suspended today), Rupal Sharma, who works in a private hostel here and was also to appear for the exam, Manhar Patel of Bayad in Aravalli and Mukesh Chaudhary of Banskantha district (also an exam candidate) have been arrested in this connection.
'Information about possibility of paper leak was received by Police recruitment board head Vikas Sayah yesterday morning before the start of the exam and even though the investigation was on, it was decided in the larger interest of the examines to postpone the exam,' he said.
'During the parallel investigation by a team of Gandhinagar police, ATS and Ahmedabad Crime branch constituted by DGP Shivananad Jha and the sector 7 police of Gandhinagar on the basis of the complaint lodged by the member of the police recruitment board member Virendra Yadav, it has come to fore that the main conspirator was Yashpal who had gone to Delhi on November 29 and brought the paper by air from there. Manhar on the other hand had got the paper through one Jayesh patel. The paper and its solved answers were shared with 8 to 10 students of Banaskantha here in the office of Rupal Sharma, who was daughter of a late Police Inspector and was also to appear in the exam. The wireless department PI was involved in this to get the paper for two of his relatives who were to appear in the exam,' SP Gandhinagar said.
He said that so far there was no proof of any payment involved in it or that of any political connections. 'Primary interrogation suggested that the money was to paid in installments after the exam and the final result.
The SP said that the location of Yashpal has been tracked and he would soon be nabbed. After that a joint interrogation of all the accused would make the picture more clear.
He said that the complaint lodged in sector 7 police station was under various sections of the IPC including 120 (B) (criminal conspiracy), 206, 409 and 420.
Notably, the exam to be conducted yesterday was postponed and CM Vijay Rupani had announced that the examines would be given to and fro ST bus fares from their residences to centers when the exam would be re-conducted.
Reportedly Manahar and Mukesh were associated with ruling BJP which has now suspended them in the wake of the incident.
Sequence
– Class-3 police men recruitment exam was scheduled yesterday.
– In the morning, Recruitment board chairman IPS Vikas Sahay received information that answer sheet of exam was being distributed. When checked, several answered in answer-sheet were found in match with actual question paper.
– With this initial inquiry was commenced, however, exam was going to start soon. One option before the examination board was to continue to conduct the exam, the other option was to suspend the examination.
– It was decided that honest, needy and hard-working applicants should not face even slighted injustice and get fair opportunity. Recruitment Board Chairman decided to postponed the exam and announcement was made for the same.
– Teams of Gandhinagar district police, Anti Terrorist Squad(ATS), Crime Branch – Ahmedabad were formed to inquire how papers were leaked.
– Virendra Yadav, recruitment board member filed complaint in sector 7 police station of Gandhinagar. Police Inspector Mevada conducted further investigation.
– When probe was started, names of Manhar Patel from Bayad, Mukesh Chaudhary from Banaskantha and Rupal Sharma from Gandhinagar emerged.
– Gandhinagar police wireless PSI was known to Manhar Patel. Manhar Patel's two relatives were exam candidates. Rupal was doing job at a hostel in Gandhinagar. Her place was used for meeting. Rupal is daughter of late police sub inspector. She lives in Gandhinagar with her children. Mukesh Chaudhary is also exam candidate. Some students from Banaskantha were called to hostel where Rupal works and answers were discussed. There was some 8-10 students. After discussing answer sheet, the students left the place.
– It came to knowledge during investigation that Manhar Patel was sent paper from one Jayesh. Jayesh is linked to Manhar. Jayesh Patel received paper as per instruction of Manhar and came to Gandhinagar to hand it over to Manhar.
– When investigated further, it emerged that Lunawada based person who works in Vadodara had given paper to Manhar Patel. His name is Yashpalsinh Solanki. Yashpalsinh had visited Delhi on 29/30th night. He had received answers and reached Vadodara by-air from Delhi and he had sent papers. Thus paper was leaked from Delhi. Yashpalsinh is in main role. He is yet to be arrested. So far Four accused are arrested. They are Rupal Sharma, Manhar Patel, Mukesh Chaudhary and wireless PSI Patel.
– Wireless PSI is suspended. Yashpal is temporary staffer in Vadodara civic body.
– No financial deal has been made over paper leaked. It was decided that if answers were found in match with actual question paper, certain money should be paid. If candidate pass the exam, certain more money should be paid.
DeshGujarat