Anil Ambani thanks Mukesh and Nita Ambani as RCom pays off dues to Ericsson
March 18, 2019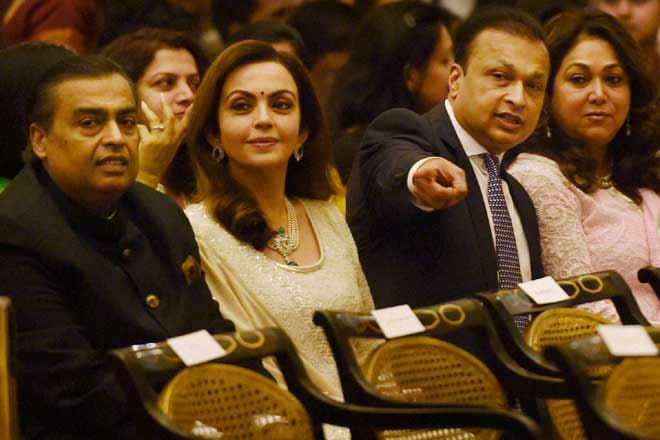 Mumbai: Thanks to timely intervention by elder brother Mukesh Ambani and bhabhi Nita Ambani, Anil Ambani led Reliance Communications has paid Rs 458.77 crore to Ericsson India as per the Supreme Court's directive, after the court had held chairperson Anil Ambani and two directors guilty of contempt of court for wilfully not paying Rs 550 crore to the latter.
A RCOM spokesperson stated, 'The requisite payment of Rs. 550 crore and interest thereon to Ericsson has been completed today in compliance of the judgment of the Hon'ble Supreme Court.'
Anil D. Ambani, Chairman, RCOM, said: "My sincere and heartfelt thanks to my respected elder brother, Mukesh, and Nita, for standing by me during these trying times, and demonstrating the importance of staying true to their strong family values by extending this timely support. I and my family are grateful and deeply touched with their gesture."
RCOM's #AnilAmbani thanked his brother Mukesh & Nita for timely support to pay to Ericsson requisite Rs 550 cr. This shows large heart of Mukeshbhai & Nitaben in extending support to Anilbhai in his difficult time. @reliancejio @flameoftruth @ril_foundation #RIL @reliancegroup pic.twitter.com/21HpAzszFW

— Parimal Nathwani (@mpparimal) March 18, 2019
The Supreme Court, on 20 February, had held Reliance Communications in contempt and said Ambani and two directors have to pay Rs 453 crore to Ericsson India within four weeks. A three-month jail term would have followed if they had failed to pay the amount within the time period assigned, the bench comprising Justices RF Nariman and Vineet Saran had said. The two directors who had been held guilty of contempt are Reliance Telecom Chairperson Satish Seth and Reliance Infratel Chairperson Chhaya Virani.
The apex court had also directed Reliance Telecom and Reliance Infratel to pay Rs 1 crore each in four weeks to the apex court's registry or the chairperson would have to serve an additional jail term of one month. It had directed that the Rs 118 crore already deposited by the Reliance Group in the apex court's registry be disbursed to Ericsson.
The apex court had also specified that any unconditional apology given by Reliance needs to be rejected as they have breached the undertaking and the order.
DeshGujarat