Approx. 4,500 hectares of land added to Coconut cultivation in Gujarat: Govt
September 01, 2023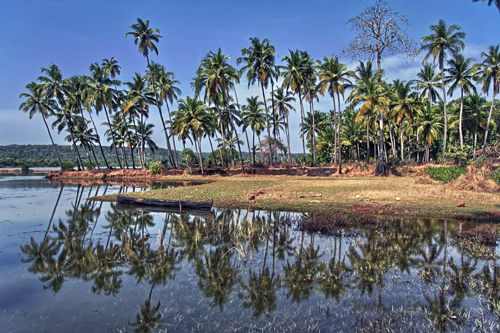 Gandhinagar:  Gujarat, with the longest coastline in India, has emerged as a frontrunner in coconut production. Data from the Department of Agriculture reveals a noteworthy surge in coconut cultivation in the state over the past decade. In 2012-13, Gujarat had 21,120 hectares dedicated to coconut cultivation, a figure that has now escalated to an impressive 25,672 hectares as of 2022-23. This substantial increase of 4,552 hectares underscores the remarkable growth of the coconut industry in Gujarat.
Providing insights into coconut production in Gujarat, Mr. P.M Vaghasia, the State Director of Horticulture said that the coconut plantation area in the state has now expanded to cover 25,000 hectares. Remarkably, this extensive cultivation yields a staggering 21.42 crore ripe coconuts. Mr. Vaghasia further highlights that the primary regions for coconut production in Gujarat encompass Gir-Somnath, Junagadh, Bhavnagar, Valsad, Kutch, Navsari, and Devbhoomi Dwarka districts.
Types of Coconut and its Uses
Talking about coconuts, the Joint Director of Horticulture Mr. Bipinbhai Rathod says, "Of the total coconut produced in the state, 20 percent of coconuts are produced as green coconuts, while 42 percent of coconuts are produced as ripe coconuts. 5 percent of the farmers produce coconuts for themselves and as seeds." According to Mr. Rathore, 33 percent of the coconuts from Gujarat are exported to states like Delhi, Punjab, Haryana and Madhya Pradesh.
It's noteworthy that coconut production follows a biennial cycle. However, it's during the summer months, spanning from March to June, that the demand for coconuts experiences a notable surge.
Significantly, the Government of Gujarat has launched the "Gujarat Coconut Development Programme." An allocation of Rs. 403.30 lakh has been earmarked for this initiative in the budget. This strategic move by the state government is poised to be a crucial and transformative step forward in advancing coconut cultivation in the region.
Coconut Production and Value Addition
In Indian culture, the coconut holds a revered status as a fruit. This Kalpa tree-like offering is not only a symbol of spiritual significance but also boasts a multitude of health benefits for individuals. Consequently, it extends beyond being a mere energy drink or a form of prasad (religious offering) during auspicious occasions.
Coconut is a versatile resource with a wide range of applications, including the production of coconut oil, virgin coconut oil, coconut milk, coconut cookies, coconut barfi, vinegar, flakes, chips, oil cake, and neera, among others. Beyond its utility in edible oil, coconut finds its place in various industries, including toiletries. Coconut milk, a versatile ingredient, has applications in allergy remedies and is especially beneficial for newborns' nutrition. Moreover, it offers advantages for diverse age groups, aiding in conditions such as diabetes, obesity, gall bladder disease, and pancreatitis.
Additionally, there exists substantial untapped potential for the development of various coconut-based products, including coconut water in convenient tetra packs or bottles, coconut milk powder, coconut oil derivatives, neera, and coir products. These possibilities can be harnessed by augmenting coconut production in the state and leveraging advanced processing techniques.
Coconut Production and Farmers
To promote coconut cultivation among farmers in the state, both the state and central governments offer a range of enticing incentives. For instance, the Gujarat Coconut Development Programme extends support to coconut farmers by covering 75% of the plantation costs, up to a maximum limit of Rs. 37,500 per hectare. This financial assistance is disbursed in two installments, with a 75:25 ratio. Additionally, an additional subsidy of up to Rs. 5,000 per hectare is provided for integrated nutrition and pest management in coconut, equivalent to 50% of the associated costs.
Under the State Plan scheme, a substantial subsidy of Rs. 13,000 per hectare is allocated to cover up to 90% of the expenses associated with procuring coconut planting materials.
Efforts by the Central Government to Promote Coconut Production
The Central Government has established the Coconut Development Board with the mission of advancing coconut cultivation and its related sectors. Starting from September 2, 2022, the board's regional office in Junagadh has become operational. This significant development has sparked heightened interest in coconut cultivation in the region, aligning with the board's objectives.
Providing comprehensive insights, Mr. Ajay Kumar, the official in charge of the Coconut Development Board, has shared that the board's endeavors have resulted in a noteworthy expansion of the coconut plantation area, with an increase of 1,708 hectares. Moreover, he highlights that from 2017 until the present, a total of Rs. 444.05 lakhs has been invested in these initiatives, underscoring the commitment and impactful contributions of the Coconut Development Board.
Under the Integrated Productivity Improvement Program, the board has invested Rs. 377 lakhs to establish new demonstration plots, covering an extensive area of 2,295 hectares. Additionally, as part of this initiative, the board has also launched 10 organic fertilizer units, with an allocation of Rs. 5.41 lakhs. These concerted efforts underline the commitment to enhancing coconut productivity in the region.
As part of the Skill Development Program aimed at boosting coconut production, comprehensive training has been provided to individuals under the "Friends of Coconut Tree" program. This training, which was conducted in two batches, involved 45 trainees and incurred an expenditure of Rs. 98 lakhs. Additionally, the Coconut Handicraft Training Program witnessed the training of 45 individuals across three batches, with a total cost of Rs. 2.05 lakhs.
It's noteworthy that more than 4,000 beneficiaries have reaped the rewards of various schemes offered by the Coconut Development Board. This collective effort underscores the transformation of coconut into a symbol of prosperity for Gujarat's economy.