Gujarat BJP chief reveals why he doesn't wear garland in functions
October 02, 2023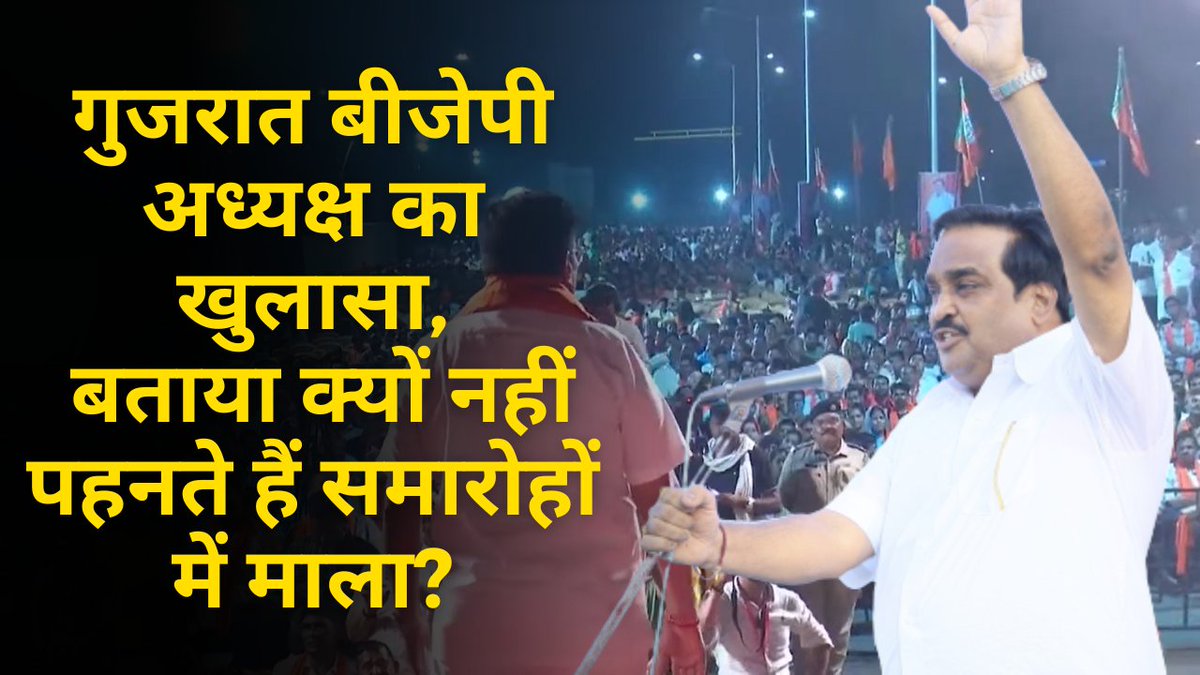 Surat: Gujarat BJP Chief CR Patil, during a public meeting on Sunday here, explained why he does not wear a garland at any public functions. He also talked about the BJP's victory in the state elections of Gujarat last year. While addressing the gathering of BJP workers and the public, Patil talked about the goal of the BJP to secure over 400 seats in the upcoming Lok Sabha elections in 2024.
Speaking at the party event in Surat Patil said, "You did wonders in the Gujarat Assembly elections. I had stated that we needed to win 182 seats, but you all stopped at 156. I'm deeply sorry for this, and it's the reason I haven't worn the garland. I had decided that I would wear it when we reach 182 seats. So, please keep in mind that whether I am the President or not, you must aim to win 182 seats next time. After winning 156 seats, we lost 20 seats by less than 5000 votes."
"We lost by 922 votes in Gir Somnath, by 3000 in Khambhat, by 3700 in Gariyadhar, by 3000 in Manavdar, by 2000 in Danta, by 1600 in Khedbhrama, by 1400 in Chanasma, and Jignesh Mevani lost the seat by 4000 votes. Amit Chavda is currently parading as a big leader of Congress, and we lost that seat by 2700 votes. If others had put in a little more effort like you, we could have reached 182," Patil added.
The state BJP Chief also said, "The entire country has witnessed your unwavering determination. It's a testament to the public's love for Modi Saheb. The people of Gujarat have shown this with 156 seats, which is a result of Narendra Modi Saheb's popularity. The trust of Gujarat's voters in Modi Saheb is the reason. It's also because of Amit Bhai Shah Saheb's guidance and strategy. Victory is achieved through the efforts of every worker and leader of the Bharatiya Janata Party who takes responsibility for the campaign. Thanks to their hard work, we reached 156. I applaud you for your accomplishments and offer my heartfelt congratulations. I'm confident that in the upcoming Lok Sabha elections in 2024, out of the 26 seats, live you had won twice before; this time, you will win all 26 seats, and each seat should have a lead of more than 5 lakhs. This is our commitment, and you know that it's possible, especially in South Gujarat, where we can win all the seats in the entire country. Whenever you visit villages, go to UP, go to Bihar, where you have relatives and friends, remember that they all share one thing: Jai Shri Ram and a vote for Modi Saheb."
"Start spreading the message now that anyone can be a candidate, and even you have some displeasure about the candidate, they should put aside any grievances. Tell them to forget the candidate's face. When they cast their vote, they should do so with the understanding that they are voting for Modi Saheb. There are lakhs of people form all states here in Surat. If you start campaigning nationwide from now, winning 400 seats won't be as challenging as it seems, I have already mentioned that this time, Abki Baar Modi Sarkar. Now we say 'Phir ek baar Modi sarkar and Abki baar 400 par' and each seat will have a lead of Rs 5 lakhs," Patil further added.